Welcome to the 243rd Metamorphosis Monday!
Thanks so much for sharing so many great "blue" colors for painting a porch ceiling "haint blue" in the comments on the recent haint blue post. I'll try to create a post soon sharing all the ones you named in the comments and on Facebook. That should come in handy for anyone trying to find the right shade of blue for a haint blue porch ceiling.
My friend Marie, decorates her beautiful Victorian home for the holidays and the seasons. Here's how it looked for Valentine's Day.
For Easter…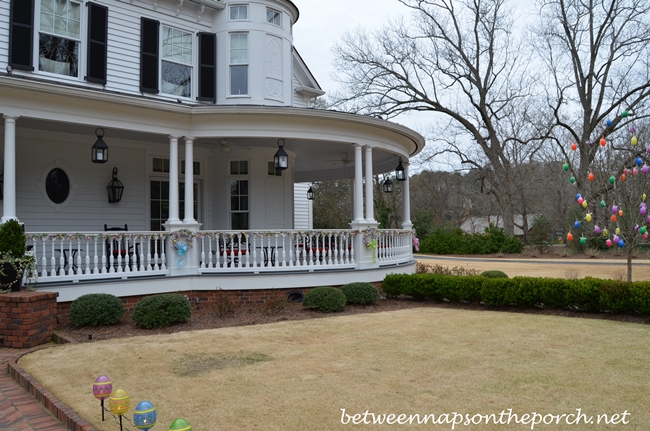 For the 4th of July…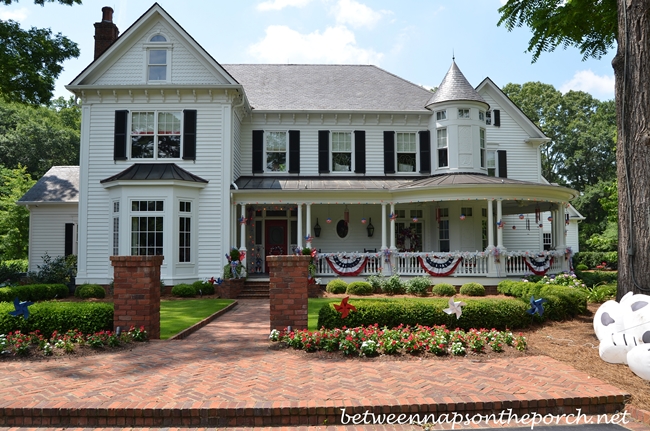 And for Christmas.
Hello Halloween!
I owe you some nighttime pics. See those balls hanging in the air from the trees. They are covered in lights that glow orange and purple for Halloween and red and white for Christmas. I was there during the daytime, but I promise I'll make a trip back soon to snag some evening/nighttime pics.
The lights are all throughout the trees–can't wait to see how they look at night!
I know Marie's six grandchildren must love coming to their grandparent's home! I keep telling Marie, in my next life I'm coming back as one of her grandchildren. 🙂
Folks come from all around bringing their kiddos to trick-or-treat at Marie's home. Cars flow through the circular driveway all Halloween evening long, just to get a close-up of this amazing display on Halloween night..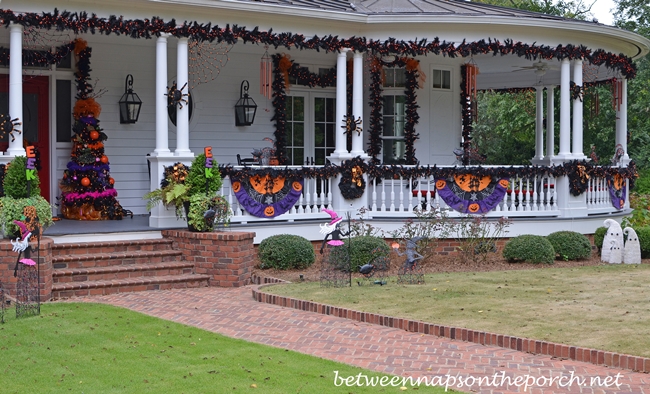 I don't blame them! If I was a kid out trick-or-treating on Halloween night, I would definitely make a stop here, too!
Even though it was still daylight, you can see the lit spiderwebs in the corners near the columns.
Love the Halloween bunting and lit garland!
Do you see the giant spiders? Appropriately, it says, "EEK" under each one!
Let's go up the steps onto the porch for a closer look.
The figure on the wreath made me think of the witch in the Wizard of Oz–not the good one but the bad one that ends up meeellltttiiinnnggg. Remember her?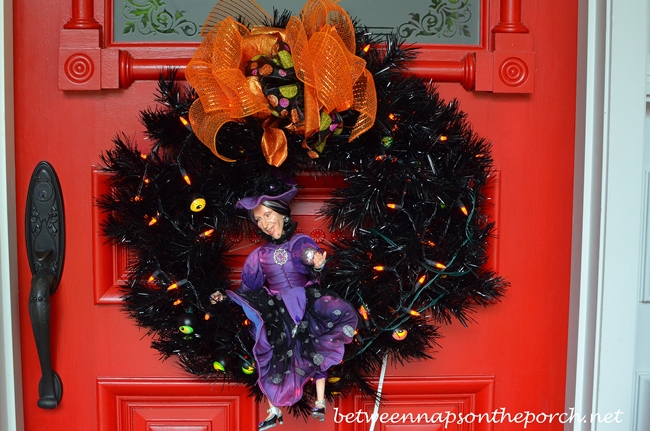 Fun!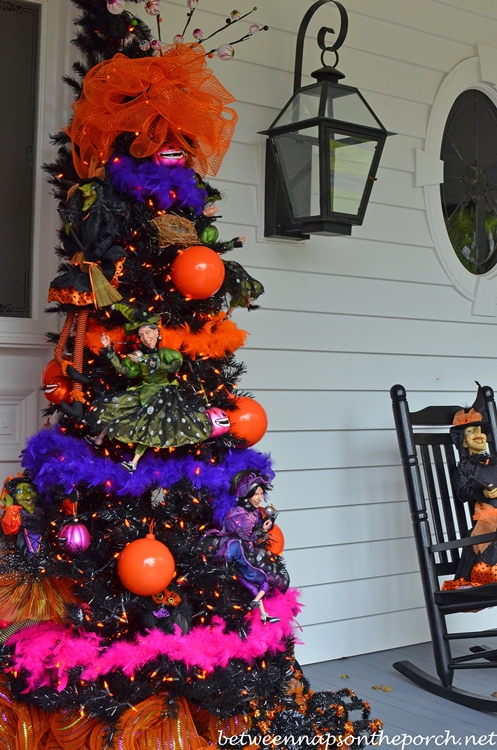 Marie and I spent the day out playing and shopping and as I was about to leave, it was starting to get a little darker, You can barely see the lights starting to glow orange. I promise to make a trip over after dark soon to take some evening pics. Hopefully I can capture the lights if I take my tripod and crank up the ISO.
Big thanks to Marie for sharing her love-for-life and her beautiful home decorated for the upcoming Halloween holiday!
Pssst: BNOTP is now on Instagram! To follow, click on the Instagram button at the top of the sidebar or click HERE.
Looking forward to the Before and Afters linked for this Met Monday!
If you are participating in Metamorphosis Monday, you will need to link up the "permalink" to your MM post and not your general blog address. To get your permalink, click on your post name, then just copy and paste the address that shows up in the address bar at the top of your blog, into the "url" box for InLinkz.
In order to link up, you'll need to include a link in your MM post back to the party so the other participants will have an opportunity to receive visits from your wonderful blog readers.
Please observe these few rules:
Only link up Before and After posts that are home, gardening, crafting, painting, sewing, cooking, DIY related.
Do not link up if you're doing so to promote a website or product.
Do not link up a post that was just linked last week since a lot of readers will have already seen that post.
Do not type in ALL CAPS. It spreads the links waaaay out.




Welcome! Thanks for coming to the party!
*If a post is sponsored or a product was provided at no charge, it will be stated in post. Some links may be affiliate links and as an Amazon Associate, I may earn from qualifying purchases. *