I first heard about the highly respected English design firm, Colefax and Fowler via Mario Buatta. Mario is one of my favorite designers and in interviews, he often mentions how he was greatly influenced by their work back when he was just starting out in the 1960's. His book comes out in October…I can't wait! If you want to pre-order it, you'll find it on Amazon. I rarely pre-order books, but I did this one!
If you visit the Sibyl Colefax and John Fowler online site, you'll find rooms decorated in traditional style, some with a modern twist. The ones that are a bit more modern are a little too modern for my taste, but the following four rooms made my heart sing. (Next four pics are from their site and can be found at the link above.)
Loved this cozy entrance hall. The door is the perfect shade of green, isn't it? Love the hats! That would be an easy thing to duplicate in any entry. Wish we could see from what they are hanging. I can just barely make out the edge of a hat rack, also painted in a pretty green. There are chairs for sitting so you can pull on your boots before heading out.
I absolutely love a dining room that doubles as a library. I keep trying to think of a way to incorporate that into my home, but unfortunately, my dining room just isn't large enough. Wish my living room and dining room were flipped. I would create a library in there in a heartbeat if that were the case.
Also love the brown and white buffalo-check fabric on the chairs. The fabric appears to be a moire, doesn't it? This room would look wonderful with some of the small Roe deer heads and/or brown and white transferware on the walls like we saw in this post: Decorating with Deer Heads, Antlers, Real and Whimsical. I'm so drawn to that brown/cream combination, have no idea why. Maybe because it's just such a soothing combination.
Love this space: the slant of the ceiling, the cozy seating area, the windows that open out.
This was probably my favorite room from the Sibyl Colefax & John Fowler site. It's perfect! I love the little brass lights mounted on the bookshelves. Notice how the furniture in the room feels like it was collected over time. The room feels like it came together naturally, not decorated within an inch of its life. This is the kind of room one could live in forever. It's truly timeless.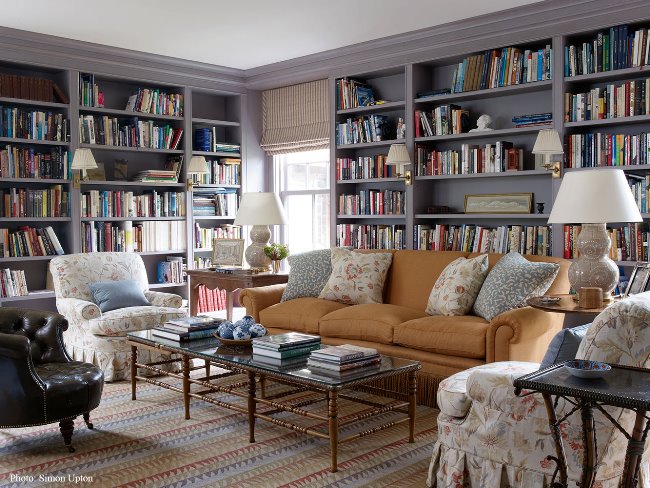 These rooms from Colefax & Fowler make me think of the rooms I love in the Bunny Williams book, An Affair with a House. Bunny opened her home, Manor House, for a holiday tour a while back. So would have loved that tour!  The following four images from Bunny's home were found here.
Doesn't this room feel like Colefax and Fowler could have designed it? I love it!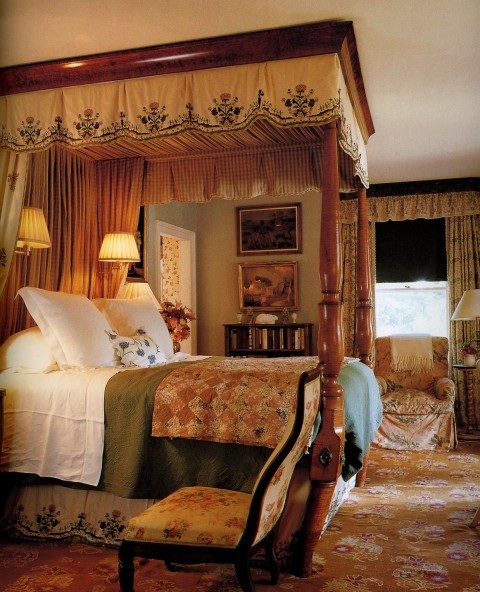 Bunny's home has a cozy library, too.  Are you noticing all the brass lamps? I wonder if Bunny has since ripped out that evil brass and sprayed painted it ORB . 😉 Kidding!  If you've been reading BNOTP for very long, you know I love quality brass pieces. It makes me happy to see it in the home of one of my favorite designers.
Every library needs a cozy fireplace and Bunny's has one. It's a good thing I don't live nearby because if I had attended this tour, they probably would have had to call the authorities to come remove the crazy woman who wouldn't leave!
Bunny has a wonderful conservatory. Imagine having a dinner party in this magical space!
I have a fun table to share tomorrow for Tablescape Thursday…see you then!
Pssst: I post every day on Instagram. Follow Between Naps on the Porch on Instagram here: Between Naps On The Porch.
*If a post is sponsored or a product was provided at no charge, it will be stated in post. Some links may be affiliate links. *