Welcome to the 439th Metamorphosis Monday!
There's 1 day left to enter the giveaway for a $500 Shopping Spree Credit to Noritake China! If you still haven't thrown your name in the hat, you can do that here: $500 Store Credit to Noritake China.
Each year Debbie, a BNOTP reader, hosts a "My Favorite Things" Party. In case you missed it I shared her 2017 party in this post: Breakfast at Tiffany's Party Event.
Debbie decided to make her first Favorite Things party a "bee" themed party. A few days ago I shared the wreaths she created for her party in this post: You're Invited To a French "Queen Bee" Themed Party.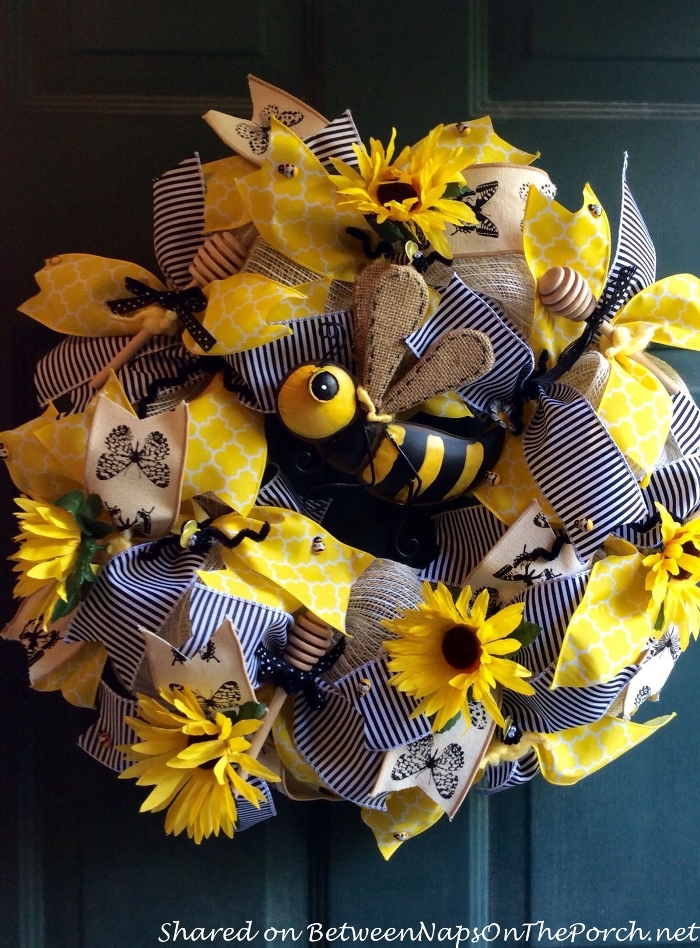 See the beautiful bee plates. and the food Debbie served for the party in this previous post: You're Invited to a French "Queen Bee" Party!
For this week's Met Monday, I'm sharing some of the decorations and party favors Debbie created for her Bee-themed party, as well as some of the fun games enjoyed by her guests. You'll also get a look at the beautiful porch Debbie added to her home, replacing a deck that was in rough shape.
Debbie decorated her home for her party with her "bee" theme in mind. She said, "In addition to the wreaths, I decorated my kitchen chandelier that's set over the dessert table. I used the same fabulous butterfly and bee ribbon found at Hobby Lobby."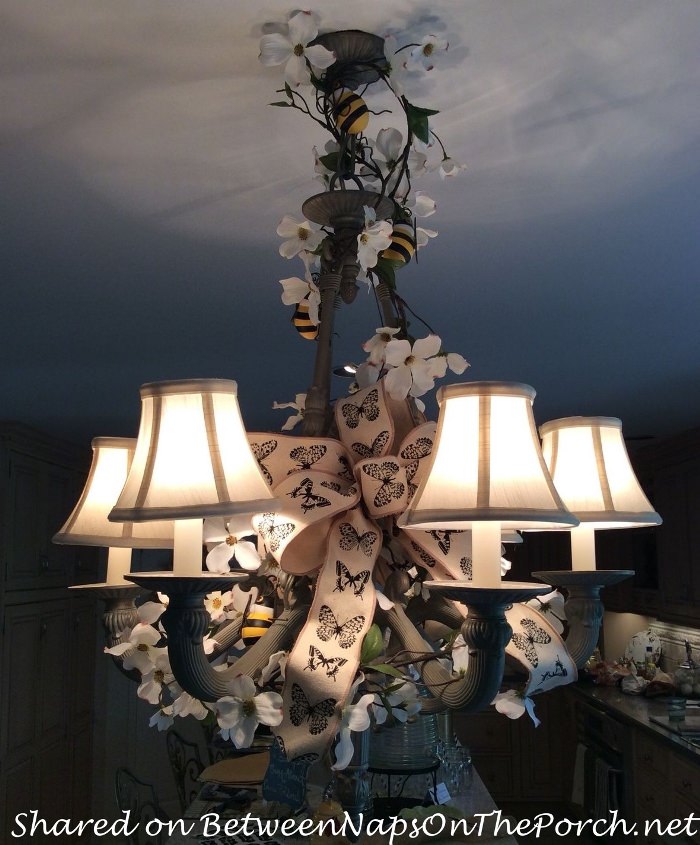 "The bees are actually pot hangers I found at Michael's along with two dogwood garlands."
Debbie found the perfect pants to wear to her party. Debbie said, "I also dressed as The Queen Deb-Bee. I don't have a pix of me during the event, but a friend took this closeup of my bee pants. They, along with bee earrings and bracelet came from Talbots the year before. I pulled my hair back and put chenille bees in my hair too."
"And, what's a Queen Bee without a drone or worker bee. That's my Scottie boy, Fibber Magee, in that bee Halloween costume looking none too happy, like he could just sting me for the indignity of it all. I only left him in that getup for a few minutes at the end to buzz around the girls before they left."
Debbie's guests really enjoyed her beautiful, new porch for the party. Debbie said, "My party was the porch's official debut since it wasn't finished until the previous November, replacing a pitiful eyesore original to the house. That deck was badly weathered with no steps, roof and half the size.
The new porch has composite materials and construction, except for a wonderful washed grey headboard ceiling. It also has a paddle fan and lights on dimmers, which I love. The flooring is grey too. We had the three main posts enclosed in brick to match the house, making it look more like an addition. Landscaping really helped too.
You'll see I outfitted it in black and white. I bought the wicker on Craig's list and spray painted it black. And those Sunbrella stripped drapes came from Ballard's, down your way."
Debbie said, "Although we started out on the porch, it was a pretty warm day, so I set up the gift exchange in the family room. The chevron bags were from Michael's and began my tradition of giving each guest a large bag to take home their gifts, favors and prizes.
I had three games, mixers for the party. These took place after our initial beverages and food on the porch. The ladies came inside, got dessert, refreshed their drinks and some grabbed a coffee. I asked them to sit next to someone they didn't know. We had already done a round of introductions on the porch: name, where they lived and how they knew me."
Debbie said, "The first game is pretty standard at my parties, you answer your favorite to a list of say favorite movie, ice cream flavor, song, etc. I made a sheet for each to fill out. I also gave them each a silly little black pen (8 or 10 for $1) that I created a bee out of black and yellow chenille with google little eyes glued on (that was the hard part!). These supplies are always at Michael's."
"People had a few minutes to fill out the sheets. I didn't explain the scoring until afterwards. If they matched one other person they got a point. If it matched more than two, no points. If it was the same as me, the Queen Bee, they got 2 points. Winner had the most points. I asked each person, going around the room to start off each category and name their favorite. Then others would speak up.
Remember those little Tiffany Blue purse 'boxes' that held the three color-coded gift draw numbers? For the first "My Favorite Things Party," I used adorable bee boxes from Party City."
(See the Tiffany Blue Purse Boxes Debbie mention in this previous post: Breakfast at Tiffany's Brunch.)
Debbie said, "That first year I decided to add a little 'drama' to the gift exchange by creating what I called Wild Honey Cards. I made these using the RSVP cards and envelope from a wedding invitation kit. I printed the envelopes using another image from Vintage Fairy. The three different cards were made using ink stamps. Queen Wanna Bee card meant u could steal another gift. Honey Pot cards could claim a gift from the pike. Beekeeper card meant you could block a steal."
"The cards were strung on the fireplace screen by this neat wire covered in yellow yarn. I also took the clothespins and turned them into bee clips that guests took as another small favor when they chose their card. The ones I still have are used now as large paper clips."
Debbie displayed the games, favors and wrapped prices on her dining room table. She said, "Another fairly standard shower game is, "What's in Your Purse." Here the women worked in pairs, scoring each other. Again, I made up a card with a list for each. Some items were worth 5 points, others 3, and most common things only 1. It's easy to find ideas for the Favorite Things or Purse games on Pinterest. I got ideas and then made up my own too."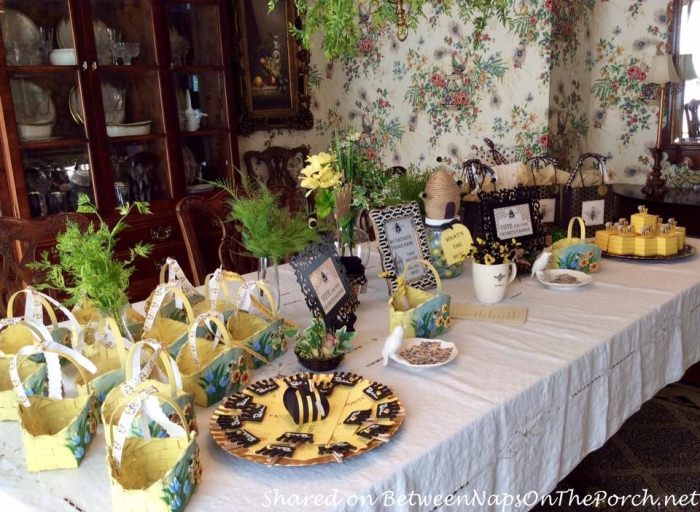 "People were asked to vote for their favorite gift, package and fashion (what someone was wearing). The votes were held in little white bird plates I acquired 8 of (two of each) from stalking Home Goods.
You might notice black lattice or black/white frames that I used for signage for the Tiffany party. I reuse them every year. The lattice ones are from Michael's, the others from Home Goods.
The last game really broke the ice, generated a lot of laughter and teasing. I sorta made it up myself, calling it, "What's the Buzz?" It was a little like truth or dare, but only the truth! I took a jar I had and filled it with lemon drops from Party City. The skep on top is a duplicate of the one in the wreath. The decorated jar did double duty as a decor."
"So, I made a list of questions. If you were "guilty" or answered yes, you passed a piece of candy to the person on the left. Say, "have you ever double dipped your chip?" I was very careful not to have anything embarrassing, just funny. Other times,questions were more of "I exercise regularly" and if the answer was "no" you passed the candy. If you ran out of candy you still played along, waiting to get candy passed to you.
Everyone received three pieces of candy to start, and an adorable mini yellow basket decorated with bees to hold them. They were $1 each at Pat Catans and the clerks there went to great lengths to locate me enough for the party."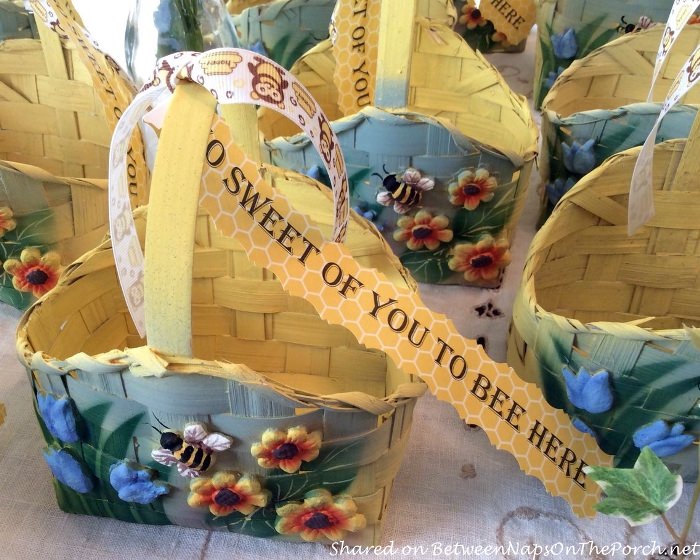 "Prizes including honeycomb shaped soaps, lavender honey soap in a hive shaped dispenser, a bee pot hugger, gourmet honey, and a set of paper plates and napkins with sunflowers and bees of course. These came from TJ's, Marshall's, Tuesday Morning and Home Goods."
At the end of the party, Debbie had cute honey dippers for every one to take home.
Debbie said, "For the final thank you, everyone got a honey dipper."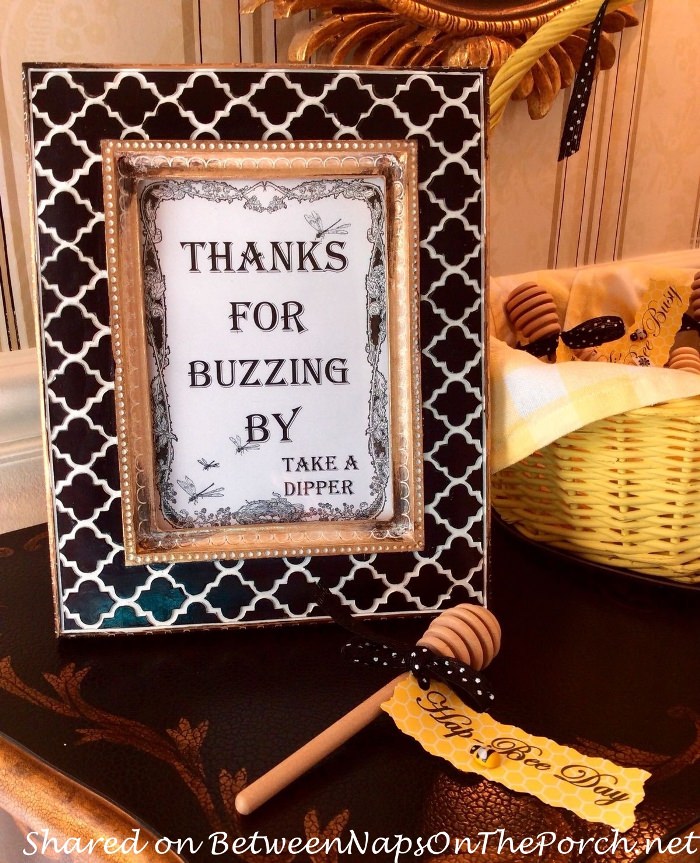 Thanks so much to Debbie for sharing all the wonderful details of her first ever "My Favorite Things" party. Debbie shared so many amazing ideas and inspiration, ideas that I know we could all use in a future party in our own homes.
Such a wonderful party, I know Debbie's friends and family are so glad that she's turned it into an annual event!
Update: Debbie has started her own blog! You'll find her blogging here: Debbee's Buzz.
Pssst: There's still 1 day left to enter the giveaway for a $500 Shopping Spree Credit to Noritake China! If you still haven't entered, you can do that here: $500 Store Credit to Noritake China.
I post almost daily to Instagram. Follow Between Naps on the Porch on Instagram here: Between Naps On The Porch.
Looking forward to all the great Before and Afters linked for this week's Metamorphosis Monday!
Metamorphosis Monday
Metamorphosis Monday is a party that's all about Before and Afters. If you are participating in Met Monday, please link up using the "permalink" to your MM post and not your general blog address.
To get your permalink, click on your post name, then just copy and paste the address that shows up in the address bar at the top of your blog, into the "url" box for InLinkz.
In order to link up, you'll need to include a link in your MM post back to the party so the other participants will have an opportunity to receive visits from your wonderful blog readers.
Please observe these few rules:
Please link up Before and After posts that are home, gardening, decorating, crafting, painting, sewing, cooking, fashion or DIY related.
Be sure to include a link back to the party in your post, so your readers will be able to find and visit the other bloggers who are participating.
Do not link up to the party if you're doing so to promote or sell a product.
To those who are linking up: If you notice a shop or store linking up to sell products (yes, unfortunately that does happen) please let me know so I can remove their link from the party. No one wants to click a link expecting a Before and After, only to find a spam link to an online business/store.
*If a post is sponsored or a product was provided at no charge, it will be stated in post. Some links may be affiliate links and as an Amazon Associate, I may earn from qualifying purchases. *