Welcome to the 204th Metamorphosis Monday!
For this Met Monday, I'm sharing my front porch transformation for the holidays.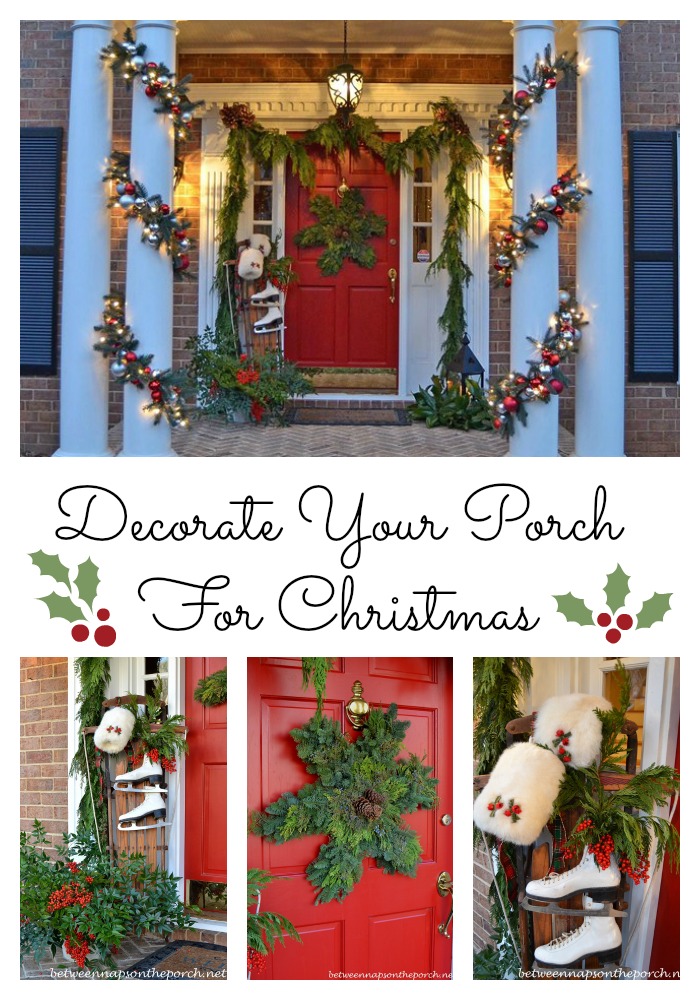 Once again I used my Pottery Barn Knock-off Garland along with fresh cedar around the door. (Pottery Barn Knock-off Garland tutorial can be found here: Pottery Barn Inspired Garland Tutorial: Make Your Own for 1/3 the cost.)
One change this year…the cedar garland has berries mixed in throughout. You can see some just to the right of the top peak.
Instead of accenting the peaks with bows this year, I used huge natural pine cones given to us many years ago by our niece. I'm not sure where she found them, but they are wonderful so I've saved them all these 20+ years and love using them at Christmastime. They are lightly covered with gold glitter.
Have you ever seen a snowflake wreath? I actually laughed out loud when I spotted this snowflake wreath in a local nursery. I thought it was just the most whimsical, cutest idea for the holidays. Have you ever done that…seen something that surprised you or delighted you and made you laugh right out loud in a store? I couldn't help myself. The guy who was cutting my cedar garland in the isle right beside me must have wondered what I was laughing about. You know I had to have one for my front door this year!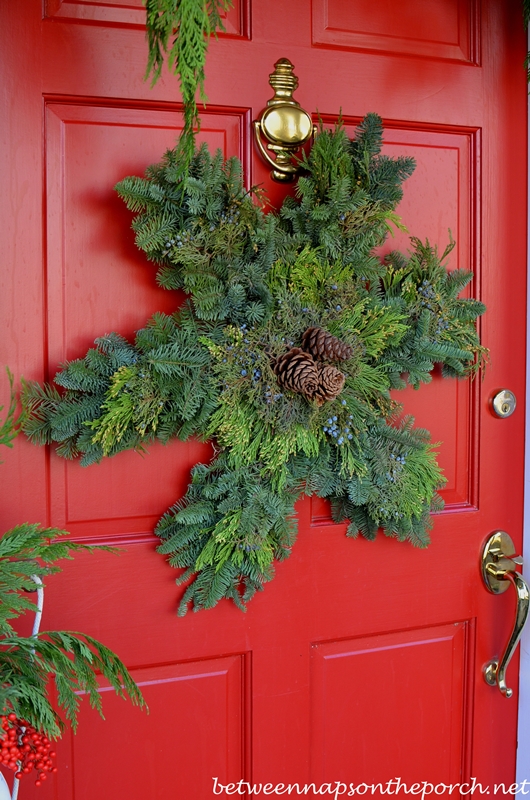 It's made with various types of greenery and the prettiest blue berries. The way they layered and varied the greenery, it really does have a lacy "snowflake" appearance. Its pine cone center worked great with the pine cone accents I added to the garland.
It was a bit more expensive than their regular wreaths, but I'll leave it up as long as it looks nice. I hope it lasts for a while past Christmas. I may try misting it to see if that helps it last.
I have to use the sled and ice skates each year…just love them on the porch at Christmastime. I placed a large container of nandina (with berries) at the foot of the sled. Nandina wilts quickly so I have it in water and it has stayed fresh for several days now. I was happy to see that it still looked pretty for the party last night.
I also used a large lantern again this year. Love a bit of candlelight on the porch. I surrounded the lantern with clusters of magnolia from the magnolia tree in my front yard. Behind the lantern you can see where I'm using one of the remote controlled outlets I blogged about in this post: A Plaid Christmas and Lighting the Tree via Remote
A few years ago I was out antiquing…gosh, I haven't gone antiquing in ages. I just realized that. Must go soon…it's like therapy, right up there with gardening. Anyway, I stumbled across this darling muff and hat in an antique store. (Hat not pictured in this photo.)
I loved it and was absolutely smitten by its softness and tiny red roses with green velvet bows. At the time I was thinking of placing a bench in the entry/foyer. I tried a bench there for a short while but it crowded out the space and I finally had to face the fact that my foyer just isn't large enough for a bench.
This year it hit me…why not use the muff and hat on a Christmas porch. One of my dinner guests last night loved it, saying it brought back memories from her childhood.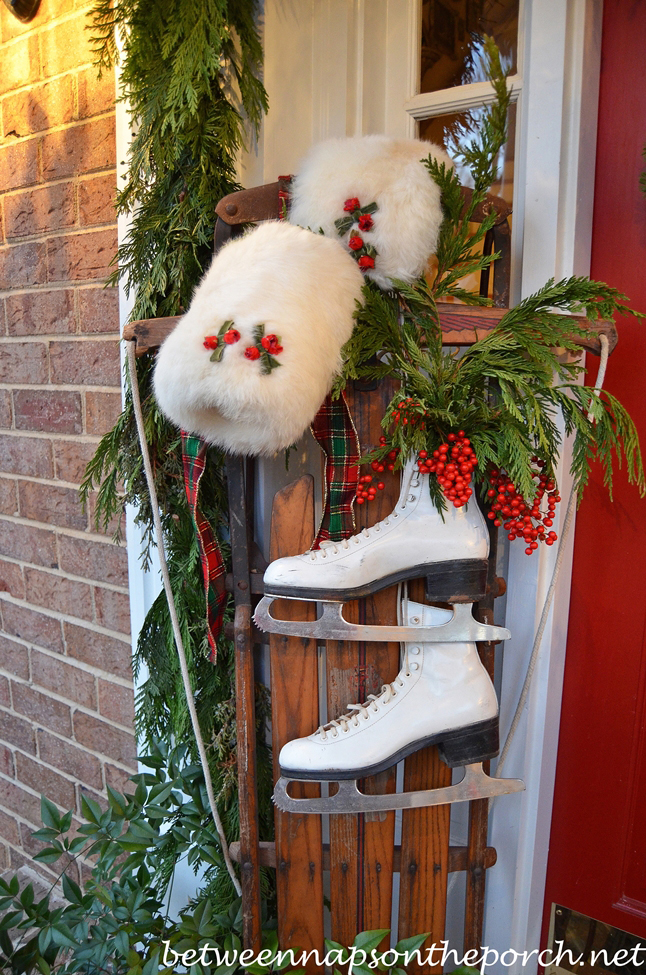 Per Wikipedia, muffs were first introduced to women's fashion back in the 16th century. I was surprised to read they were popular with both men and women in the 17th and 18th centuries. Can you imagine a guy using one today? Muffs saw a brief return to women's fashion in the late 1940's and 1950's. I'm wondering if this muff dates back to that time period? If it does, it's in remarkably good shape to be 60 years old. Doubt it's that old, but who knows.
I tucked some of the cedar from the cedar garland down into the top of the skate. I also tucked in a few berries from my nandina bushes.
A view as it was just starting to get dark.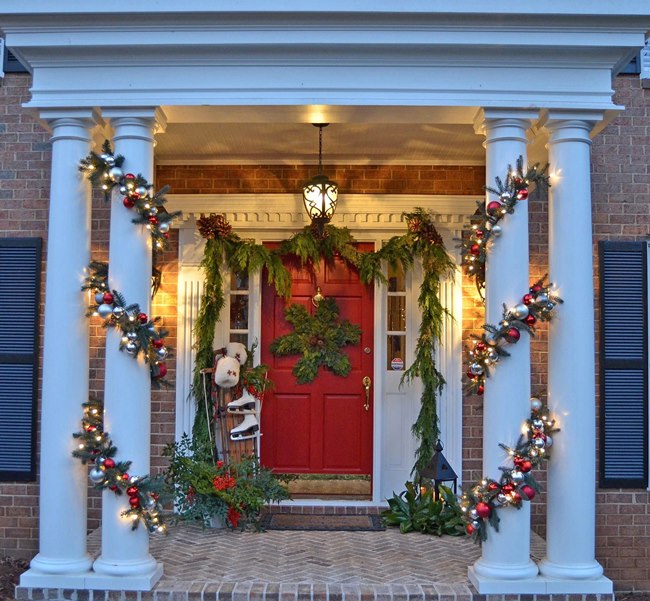 Merry Christmas! How are your Christmas preparations coming along? Friends and family coming in? Are you getting excited? 🙂
Looking forward to all the fabulous Before and Afters for this Met Monday!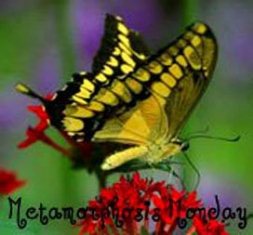 If you are participating in Metamorphosis Monday you will need to link up the "permalink" to your MM post and not your general blog address. To get your permalink, click on your post name, then just copy and paste the address that shows up in the address bar at the top of your blog, into the "url" box for InLinkz.
In order to link up, you'll need to include a link in your MM post back to the party so the other participants will have an opportunity to receive visits from YOUR wonderful blog readers.
Please observe these few rules:
Only link up Before and After posts that are home, gardening, crafting, painting, sewing, cooking, DIY related.
Do not link up if you're doing so to promote a website or product.
Do not link up a post that was just linked last week since a lot of readers will have already seen that post.
Do not type in ALL CAPS. It spreads the links waaaay out.
Let's try something fun today! Please visit the person who linked before you and after you…that way everyone will get some visits.


*If a post is sponsored or a product was provided at no charge, it will be stated in post. Some links may be affiliate links and as an Amazon Associate, I may earn from qualifying purchases. *