---
It's utter chaos at my house right now. I'm in the "has-to-get-worse-before-it-can-get-better" stage of reworking my dish storage. I've been pulling out all the dishes, chargers, etc… that I think I will want to store in the new cabinets that I've ordered. (Sorry about the dark photo, took this very early this morning.)
If you missed that post about the cabinets, you'll find it here: Attractive Storage Cabinets for Home, Garage or Basement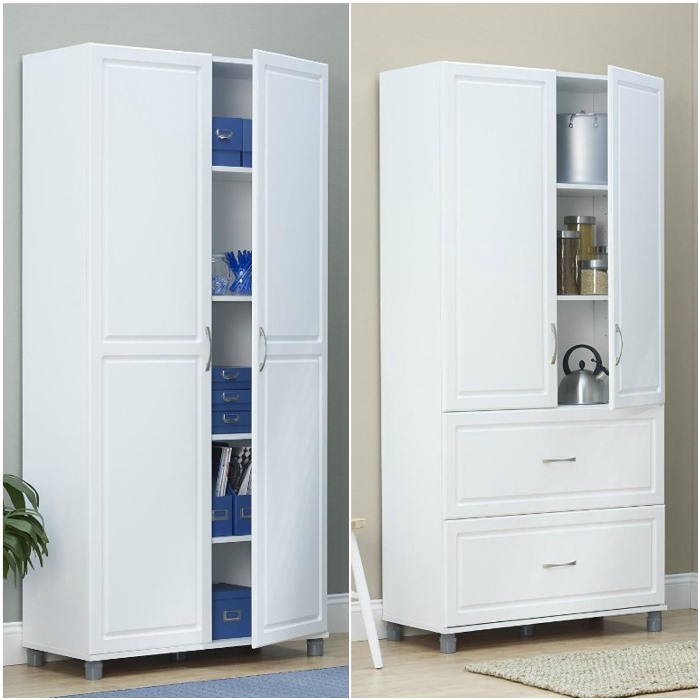 The OCD side of me is handling all this chaos pretty well, but I'm sure by the time the cabinets arrive this Friday, I will be beyond ready to get things back to normal around here. I don't like a mess and don't like seeing stuff out all over the place, but I wanted to get a head start on the organizing and planning so when I get the cabinets assembled, I can get to work on filling them.
These are a few of the dishes I've pulled out of my pantry in the laundry room. Remember the Dapper Animal plates from this table setting: Dapper-Dressed Animals Gather and this one: In the Library with the Candlestick: A Mystery Tablescape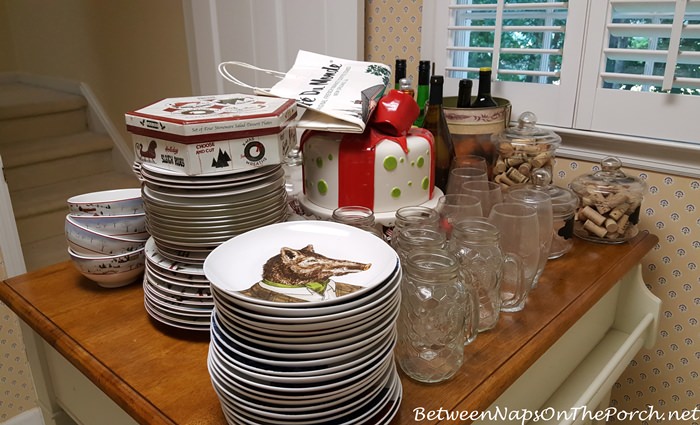 Even the garage is a mess! I've been carrying some things outside and stacking them there since that's where the cabinets will be. Originally I thought only five cabinets would fit on the wall where I want to place them, but I measured again and discovered that I can fit six cabinets, so that's what I ordered. It will be tight and one cabinet door will be slightly blocked by the laser/light thingy that keeps the garage door from crushing something underneath…what's that thing called?
Anyway, three are arriving this Friday and three more will arrive next week. It will probably take me all this next weekend to just put together the three that are arriving on Friday. Hopefully I can still move by the time the next three arrive the following week! lol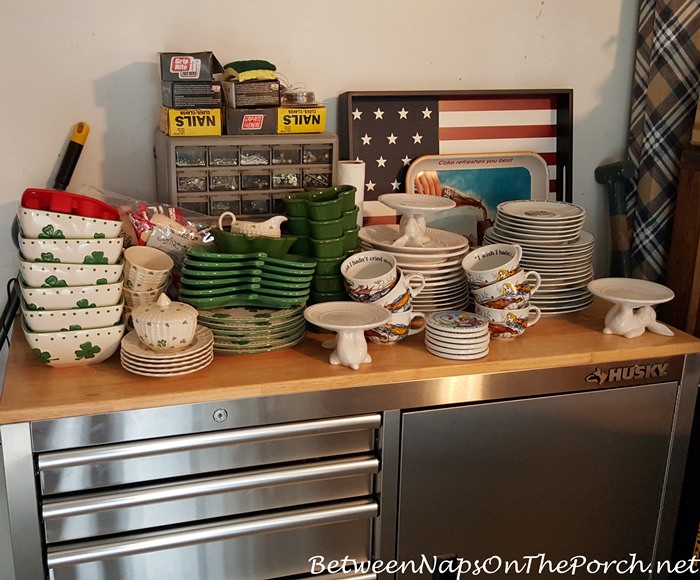 Birdie Update and a New Bird Feeder
This is still going on, out on my front porch. The most disturbing thing happened on Monday! I periodically look out to see if Mom is visiting the nest and to just check on the babies. I looked out mid-afternoon on Monday and a long, black snake was draped across the back and the arm of one of the benches, specifically the bench directly underneath the nest!
I briefly thought of taking a photo for you, but I wanted him gone right that second. So I ran out to the garage, grabbed a broom and ran back to the front porch. With a quick thrust, I shoved him off the bench and he went sailing into the shrubs beside the porch. He landed about two shrubs over and hurriedly slithered off.
I've been worried ever since that he would come back again. 🙁 The birding store where I buy my seed said it was probably a Black Racer. He certainly slithered off fast, so I bet they are right. We have a lot of snakes in Georgia.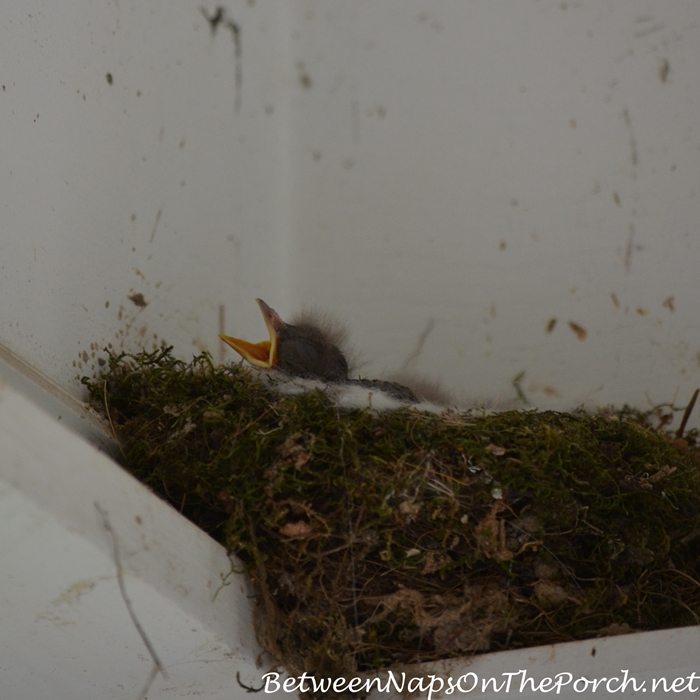 He was the exact same color as the bench, about 4-feet long and very shiny like the bench, too. It was a miracle I saw him on there since he was pretty well camouflaged.
I've placed both benches inside my entrance and will leave them there until the birds leave the nest. Apparently, the snake slithered up the edge of the porch, up the leg of the bench and was just about to get onto one of the porch columns that's just a few inches away from the bench.
The babies were all fine, thankfully he hadn't made it to the nest. I was worried about Mom since her favorite place to sit was on the top part of the bench, but I put some meal worms out and she and dad showed up right away. I bet she would have had a fit if she had realized how close a snake was to her babies!
Anne shared this photo with me of a snake that was going for a nest of baby birds on her porch. It looks very much like the one that was on my bench, only maybe a little fatter. My snake was pretty slender and jet black.
If my snake was a Black Racer, they are supposed to sleep at night and hunt during the day. So I've been looking out onto the porch often during the day and have done pretty well making myself sleep at night. I hope he doesn't come back!
I'm not afraid of snakes, I grew up handling them because one of my best friends had a brother who used to catch them. He would always show them to me and let me hold them. So snakes don't scare me, but I don't want one to eat the birds on my front porch!
On Monday, after throwing Mr. Snake off the porch, I ordered these: Solar Powered Mole Rodent Deterrent. They are supposed to drive snakes away, as well as moles. I've had a terrible time with a mole leaving big tunnels on my side yard, so maybe it will help with that problem, too. These are supposed to come today. I hope they send Mr. Snake packing his bags for another place to live. I'll probably just leave them in the ground until the babies have safely fledged and are no longer around.
I also purchased this. It's not supposed to hurt animals, birds etc… but I didn't want to take a chance that the baby birds would fledge and get down into the shrubs around the porch and touch any of the chemical.
So here's what I did, I placed the snake repellent in three jars that have a metal crisscrossed lid on top, and I taped the lid onto the jar. So nothing can really get to it, step in or eat it, yet I'm hoping the smell, which smells like moth balls, will keep Mr. Snake from coming back. I read that the repellent doesn't hurt them, that they just smell it and move away. I hope this will help. I just don't feel comfortable spreading it around the porch with new babies soon leaving the nest.
When I threw the snake off the porch with the broom, he landed beside the shrub that's furthest back in the photo below. There's a hole over behind the Hydrangea planter on the left in this photo. I wonder if he lives in that hole.
The little jars I used to hold the snake repellent are the same ones I used in this previous tablescape post here: Spring Table Setting.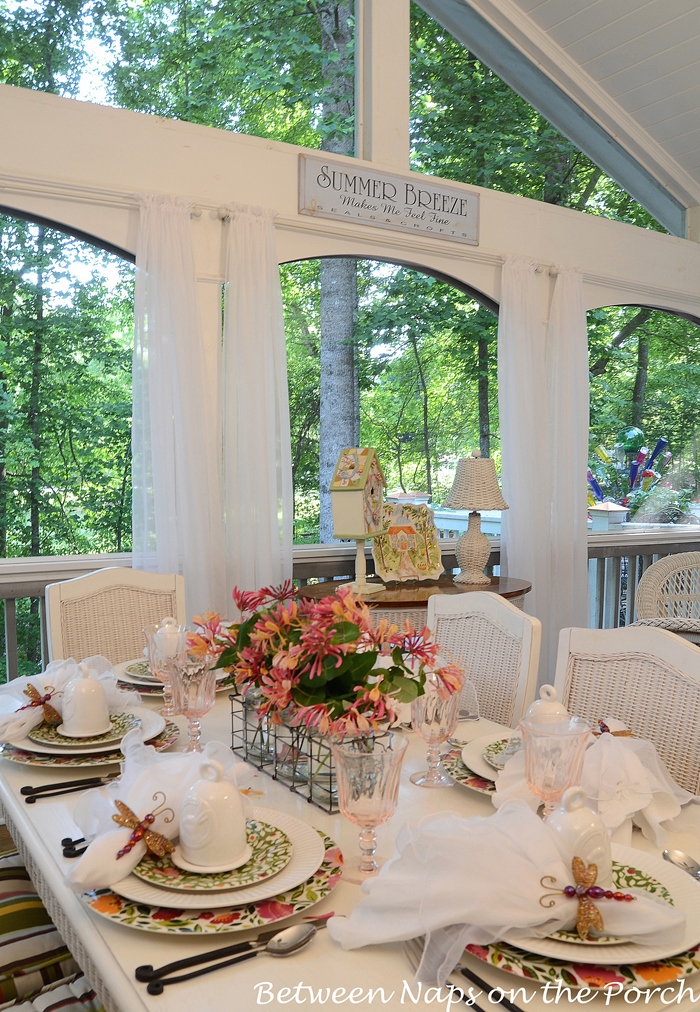 A New Bird Feeder for the Garden
How do you like my fancy Mealworm Feeding Station? lol Is this not a lovely accent to my front garden? HA!
Both Mom and Dad Phoebe are loving the mealworms.
In this photo from last year, you can see the large bird house that one of the Phoebes likes to sit on throughout the day. There's also a wren nesting inside that house, I see her and her mate coming and going as they feed the babies.
As mentioned in my previous post, both the Phoebes and the Wrens are feeding their babies the mealsworms I put out a couple of times a day.
I decided to order this charming feeder. It comes with a little saucer that I hope will work well for meal worms. I hope it's glazed inside because mealworms can climb up the side of a non-glazed, clay saucer. If it isn't, I'll just go buy one or keep using a bowl like I do now. I figure it will come in handy for offering mealworms to future birds that nest in the house.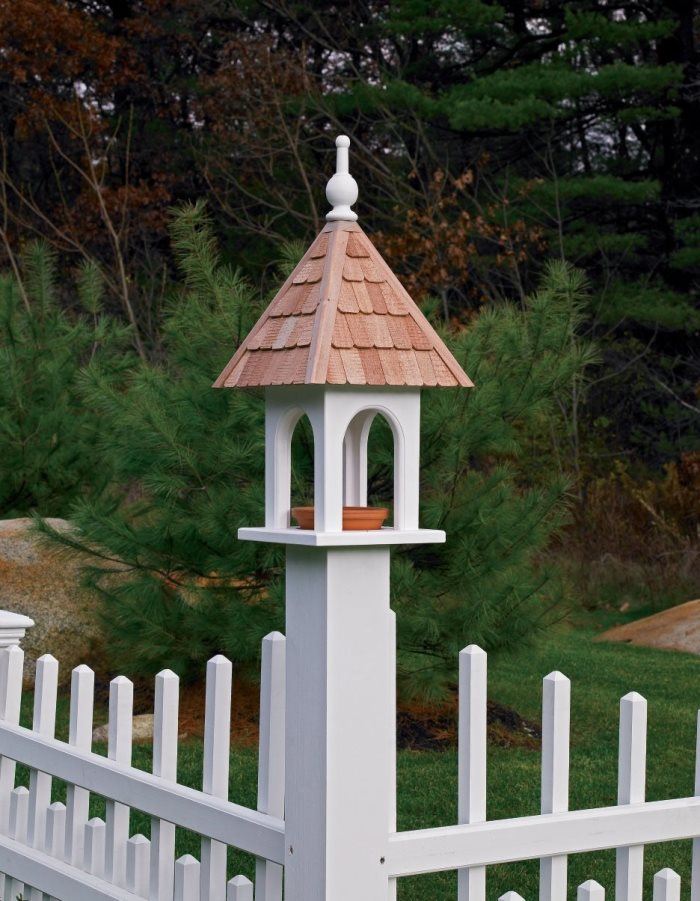 A few years back I was on a garden tour and they had birdhouses and feeders dotted all throughout the garden. They were wonderful! I loved that garden so much! Large birdhouses, though a bit pricey, make gorgeous focal points in a garden, even when they aren't in use by the birdies.
This one is quite large, measuring 11 inches wide and 23 inches tall. It will be my third addition to the front garden. The other two in my front yard are bird houses, so this will be the first feeder I've added to the front garden.
It wouldn't be very practical for bird seed since it won't hold much and isn't squirrel-proof, but it should work well for mealworms since the birds quickly learn to notice when you're putting them out. As soon as they see you at the spot where you've been placing the worms, they fly immediately to the bowl and start eating and taking worms back to the babies. So they get scarfed up way too fast for a squirrel to get to them.
If you're looking for a beautiful garden accent or a feeder for mealworms or little treats, this bird feeder is available here: Bird Feeder.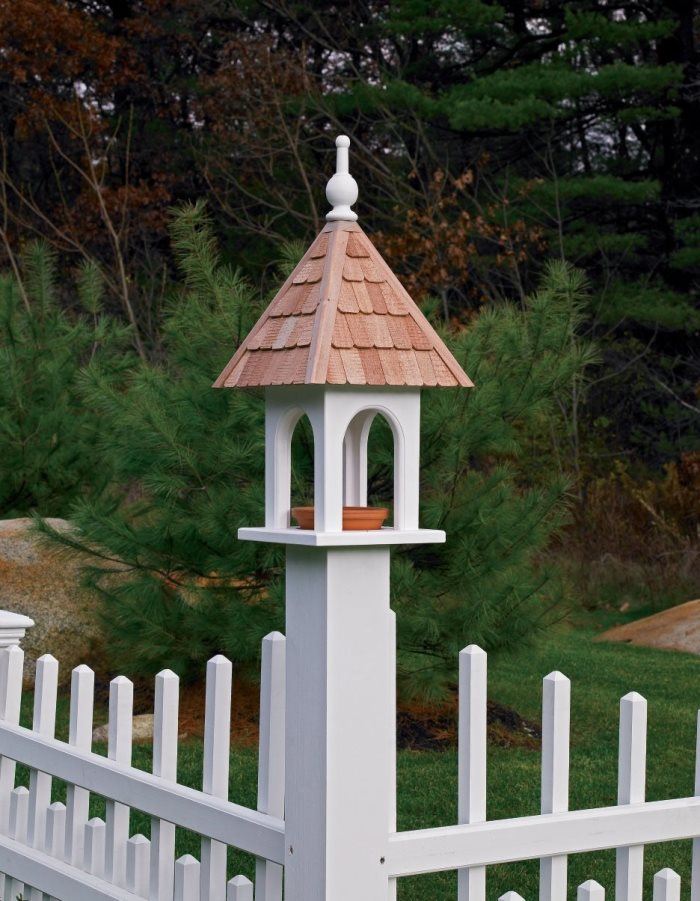 This morning I was up early on snake watch and got busy painting a pressure-treated post that I will use to mount the new feeder once it arrives. So, there's a lot going on around here between dish sorting, organizing, bird feeders and the recent bird-snake drama.
I hope to be sharing some pretty, organized dish photos with you very soon, as well as a garden update once the new bird feeder is up. It's arriving tomorrow. I brought up my post hole diggers from the basement, so I'm ready!
Pssst: I post almost daily to Instagram. Follow Between Naps on the Porch on Instagram here: Between Naps On The Porch.
*If a post is sponsored or a product was provided at no charge, it will be stated in post. Some links may be affiliate links and as an Amazon Associate, I may earn from qualifying purchases. *