Welcome to the 616th Metamorphosis Monday, a blog party sharing fabulous Before and Afters!
I'm running behind this morning. I have painters here to do some touch-up work on the front porch columns that were painted recently. They are also going to be painting the new screened doors that arrived a few weeks back. Then it will be time to get those installed.
Two New Purchases: Small but Making a Big Impact
A while back I purchased a clear, tissue holder box to hold tissues here in my home office. I love the clear design here in the office. Feels a bit more modern and sleek. (This clear tissue box available here: Clear Tissue Box.)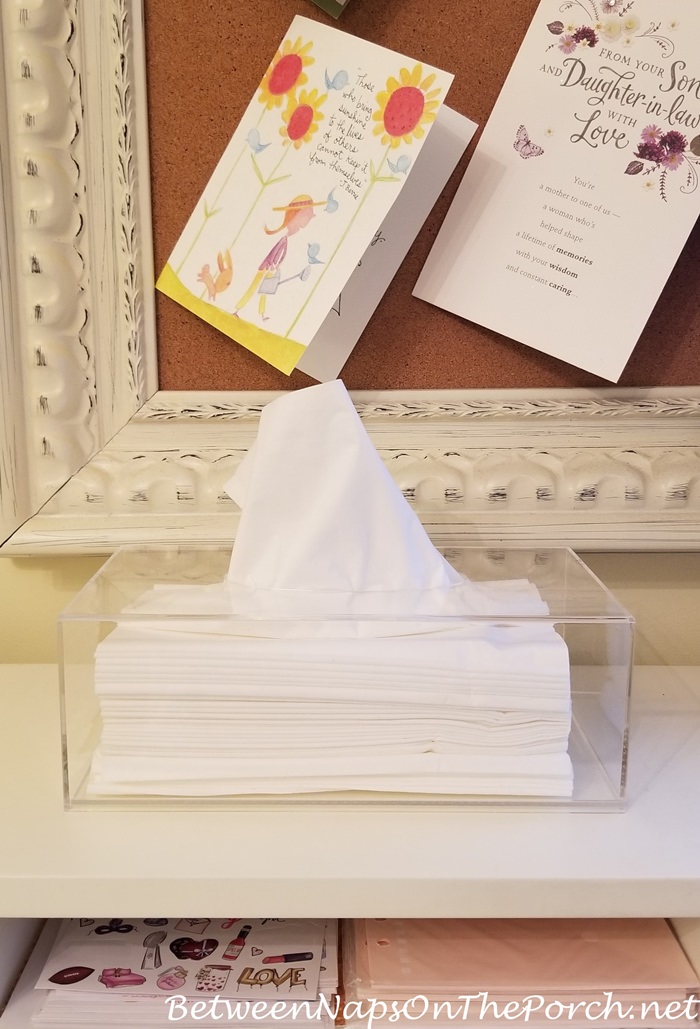 I also love that it doesn't fight with the colors or the decor in this room. Why do they always make tissue boxes so colorful/busy? lol
Here in my bedroom, I've always had regular, square cardboard tissue boxes on either side of my bed. You can see one of them in this photo below. These cardboard boxes drive me a little crazy because often when I attempt to pull a tissue from the box, I get the whole box coming with it, especially if the box is getting close to empty. Cardboard tissue boxes are so lightweight.
I decided to look online for a tissue box cover that would hold a square box of tissues (the small square boxes fit best on my bedside table) and would be heavy enough to actually hold the tissues in place. I wanted something a bit dressier for this room…something to work with the traditional decor in this room.
Note the color of the bedposts, they are very similar in color to the other wood furniture pieces in this room.
This was the tissue box I ended up purchasing and I like it so much, I've purchased a second one so I'll have one on either side of the bed.
Sorry about the less than great lighting, but it's beautiful in person! I really love how nice and heavy it is, no more ending up with the entire tissue box in my lap when I just need one tissue. This tissue box cover is available here: Tissue Box Cover.
I need to scoot my books and lamp forward a bit, just realized it's slightly hanging off the back of the bedside table. Funny how you noticed things in photos that you don't always notice in person.
Tealights on Timers
The other item I ordered recently that I'm super pleased with is something you guys have been recommending to me for years. I ordered these small, warm-white, tealights that come on in the evening and then go off automatically 6 hours later. They have built-in timers so I don't have to remember to turn them off before going to bed. Love that!
I purchased these to go inside a little ceramic, gingerbread house I've had for many years. The little house is supposed to hold a real candle but I'm always worried the heat from a candle with cause the house to craze.
The lights aren't on inside right now since they don't come until later this evening. I have them set to come on around 5:30 PM and go off around 11:30 PM, and I love that I don't have to remember to turn them off before I go to bed. They will last for many, many hours, around 120 hours, if I'm remembering correctly.
I tucked three tealights into my little gingerbread house, although one would probably have been enough. If you could also use tealights with built-in timers, you'll find these here: Tealights with Timer.
I finished cleaning the interior shutters and the windows yesterday and started hanging wreaths on the outside of the windows last night. Love this time of year! Happy Holidays to you!
Looking forward to all the wonderful Before and Afters linked for this week's Met Monday!
Pssst: Did you know Between Naps On The Porch is on Instagram? You'll find me on Instagram here: Between Naps On The Porch.
Like to know when a new blog post is up and available to read? Subscribe for email updates, it's free and your email will never be shared.
Subscribe for free post updates via email here: Subscribe.
Metamorphosis Monday
Metamorphosis Monday is a party that's all about Before and Afters. Please link up your Before and After projects like DIY projects, room makeovers, craft projects even recipes. Any Before and After is great! Please do not link up Table Settings, save those for our Tablescape Thursday party on Thursday.
If you are participating in Met Monday, please link up using the "permalink" to your MM post and not your general blog address. To get your permalink, click on your post name, then just copy and paste the address that shows up in the address bar at the top of your blog, into the "url" box for InLinkz when prompted.
In order to link up, you'll need to include a link in your MM post back to the party so the other participants will have an opportunity to receive visits from your wonderful blog readers.
Update: Please do not link up table settings/tablescapes for Metamorphosis Monday. Please save those for our Tablescape Thursday party on Thursdays. Recipes are fine because that's definitely a "Before and After" but please save your beautiful table settings for Tablescape Thursday. Pretty vignettes (transformations) you've created on atop a chest or somewhere in your home are great for our Before and After party, but let's save the actual table settings for Tablescape Thursday.
This party has ended, click button below for the links to all who participated.
*If a post is sponsored or a product was provided at no charge, it will be stated in post. Some links may be affiliate links and as an Amazon Associate, I may earn from qualifying purchases. *