Welcome to the 188th Metamorphosis Monday!
Happy Monday to you! For this Metamorphosis Monday I'm sharing a couple of fun updates here in the office. Okay, here's the "before" picture for this little office tweak.
Do you see the changes? Something has been added and something has been taken away.
The clock is gone for now. I loved it but the shape felt wrong for the wall and it always seemed too high or too low or too something. So for now I've removed it. Have you spotted the addition?
I've been craving a faux deer head for years but could never find one I liked until now.
I spotted this silly guy last week. (Photo from Horchow site)
I ordered him last Thursday and he arrived Saturday. I noticed this evening he's on back order, expected to be back in stock by September 21st. I don't think he'll last for long once they get him back in since he sold out so quickly the first time.
I wasn't sure if I'd like his faux rosemary wreath but it actually looks pretty cute. I may eventually replace it with a preserved boxwood wreath. Wouldn't he look great in a kitchen with a real rosemary wreath! Maybe hung atop one of those big hoods over the stove.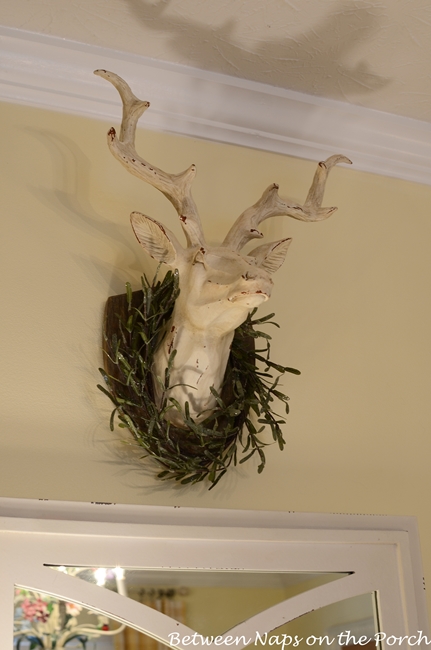 You know, kind of like the horse head we saw in this tour of the kitchen in the 2010 Southern Living Idea House in Senoia Georgia.
He was priced at $98 with free shipping. I found a 20% off coupon online so including tax he came to $83.10. If you are thinking of ordering anything from Horchow, Google the words, "coupon for Horchow" and a whole slew of sites will pop up. You may find a coupon that's even better. There were some with a larger percentage off, but they didn't apply to this guy.
I was playing around a little today, thinking about how he might look come Christmastime.
I think he would look great on my red front door for the Christmas holidays with a wreath around his neck. He's not quite right for hanging above my fireplace since the family room is covered in judges paneling, but he would look great over most fireplace mantels.
I think I need to remove the wreath from the dress form, now. It's competing with the one on Mr. Deer. I always notice this stuff AFTER I take the pictures for a post. You know, that's probably a good decorating tip. Take a photo(s) of a space after you make a change and you'll spot the thing that isn't working.
(If you're new to reading BNOTP, you can see the rest of the office in this post: Buffalo Check Curtains for the Office)
Looking forward to the Before and Afters posted for this Met Monday!
Metamorphosis Monday: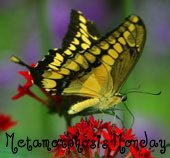 If you are participating in Metamorphosis Monday you will need to link up the "permalink" to your MM post and not your general blog address. To get your permalink, click on your post name, then just copy and paste the address that shows up in the address bar at the top of your blog, into the "url" box for InLinkz.
In order to link up, you'll need to include a link in your MM post back to the party.
If you'd like to include the MM button in your post, just copy and paste the Met Monday button to your computer and unload it as you do your other photos to your post. Or, click on the "Other" category at the top of the blog and on Metamorphosis Monday. You'll find the html code for the button there.
PLEASE DO NOT type in all caps…it spreads the links waaaay out.
PLEASE DO link up Before and After posts that are home, gardening, crafting, painting, sewing, cooking, DIY related. Do not link up if you're doing so to promote a website or product.
PLEASE DO be respectful of the BNOTP readers, visitors and those who participate in Met Monday by not linking posts inappropriate for the party.
Let's try something fun today! Please visit the person who linked before you and after you…that way everyone will get some visits. Hope you'll visit more, of course.


*If a post is sponsored or a product was provided at no charge, it will be stated in post. Some links may be affiliate links and as an Amazon Associate, I may earn from qualifying purchases. *