Welcome to the 470th Metamorphosis Monday!
Update: I found a much better product that has worked for removing denim transfer from my car's leather seats and from my office chair. I've linked to it at the very end of this post.
I fell in love with wearing denim jeggings this past fall, those and the "ankle-slim" pants have become my faves. Unfortunately, having never worn really dark denim jeans in the past, I had some hard lessons to learn.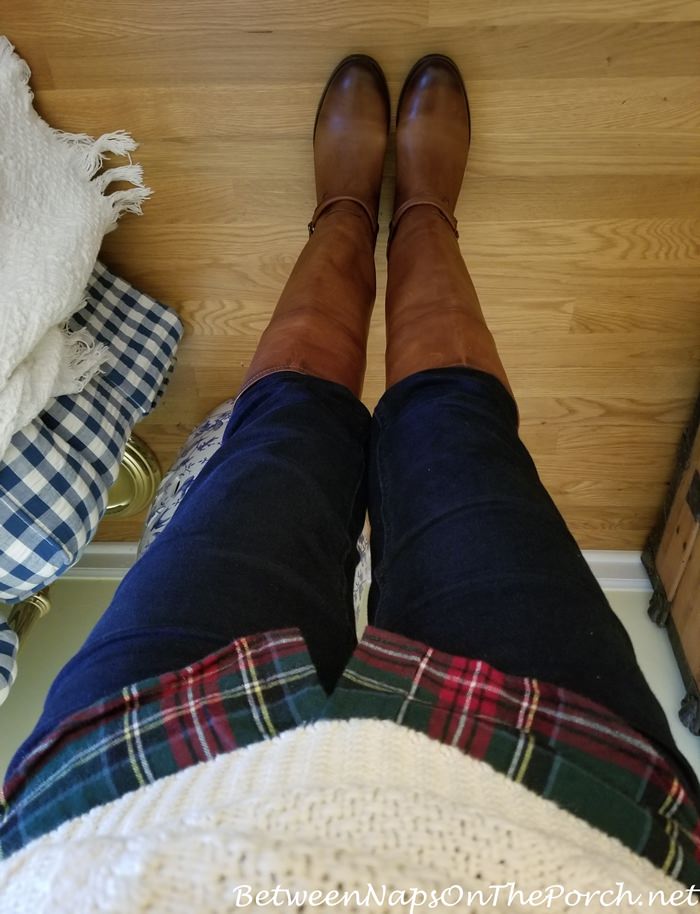 For starters, my dark denim jeans turned my white underwear, blue. They also left a bluish cast on the edge of my office desk chair. 🙁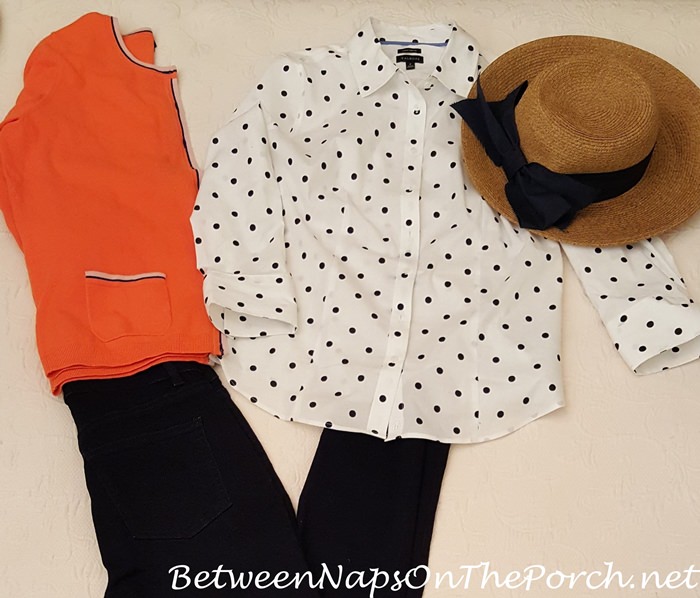 Fortunately, I noticed these things were happening before the jeans claimed my red, wallet-on-a-chain bag (seen below) as their next victim. It escaped with just the tiniest darkening along the very bottom piping, something no one would ever notice, and I only noticed because I went looking for it. Now when I carry that bag, I loop the long chain under the flap of the bag to shorten it so the bag no longer comes in contact with my jeans when I'm wearing it cross-body or on my shoulder.
I would insert a photo of how the back of the bag looks in this post, but right now it's on vacation in New York having its snap closure repaired. After using it for the past 1-1/2 years, the snap eventually wore down to the point it would no longer stay snapped.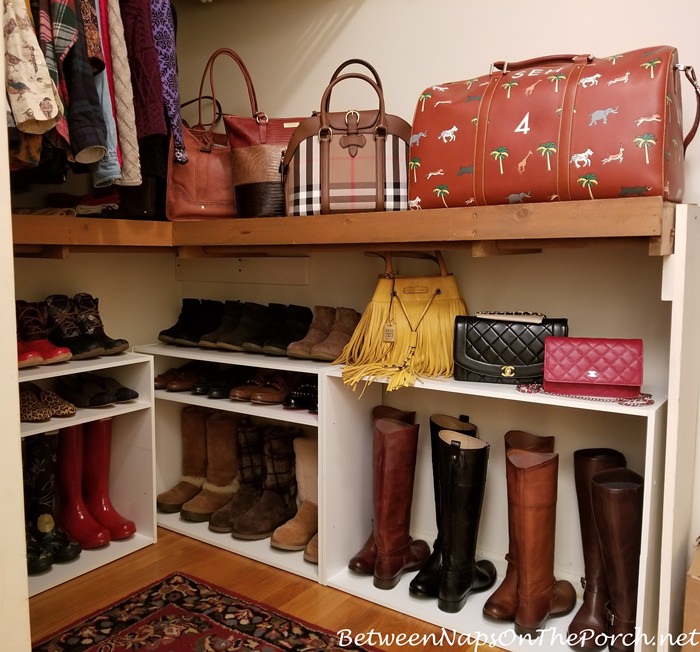 Denim Transfer Epidemic
This dark-denim-dilemma has me worried. I've been doing a bunch of reading online and denim transfer is a major problem for a lot of women, especially when it comes to their handbags. I found story after story online of women asking for any help they could find to remove denim dye stains from their bags. A lot of these bags were expensive designer bags, many ruined by a $60 pair of jeans.
After reading so many stories, it kinda makes you wonder why there hasn't been some major uprising against the denim jean manufactures to do something about this issue. Just Google any phrase regarding getting denim stains off a handbag, and you'll find there's a denim-transfer epidemic going on.
In the past, I would normally not wash new jeans until I had worn them a few times. I prefer that my dark jeans stay dark as long as possible. From what I've read, some jean manufactures recommend you don't wash jeans more than a couple of times a year! Crazy, huh?
When I wash my jeans/jeggings, I always wash them inside-out in cold water and on a very short cycle. Then I hang them up to dry since the heat from dryers is hard on clothes. This is great for maintaining the dark color of the jeans, but it doesn't in any way help reduce the likelihood the jeans will permanently ruin whatever they next rub up against.
After I started noticing the denim transfer occurring on my undergarments and my office chair, I washed all of my new, dark jeans, including the ones I hadn't even worn yet. It helped, but it didn't totally fix the problem. I know this because I "tested" my jeans using a method I had read about online.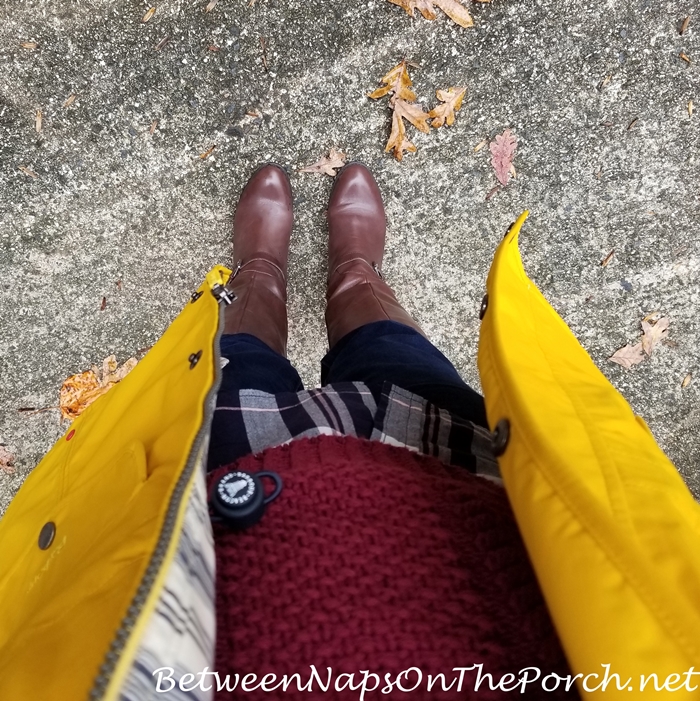 The article suggested rubbing a white cloth firmly on your jeans and if the color is still capable of transferring, you'll see it on the white cloth. I tested a pair of blue jeans and a pair of black jeans and here are the results below. The stain on the left is from a pair of dark, black jeans, while the stain on the right is from a pair of dark, blue jeans. The cloth I used was not damp or wet, it was totally dry. So discouraging!
Would you get a gallon of paint out, paint your pants, then put them on wet and go places in them? No, of course, you wouldn't! But that's just about what we are doing when we put on a new pair of dark jeans, or a pair that's only been washed once or twice, and then wear them out. It's a disaster waiting to happen!
So I wonder–what's the point of buying dark, denim jeans if you have to wash them several times (which is bound to lighten them up a lot) to keep them from ruining everything they touch? Grrrr! Why can't the denim manufactures come up with a system for "setting" the dyes so it doesn't ruin our nice handbags, chairs…and everything else it touches?!
A few weeks ago, the day before my birthday, I stopped by Hermes to pick up something that was being held for me. While I was in Hermes, I was talking with my sales associate about the denim-transfer problem, and she agreed that it's definitely a problem. She told me that one of her customers just brought back a new Birkin bag that she had only purchased two weeks ago because it was badly stained by her denim jeans while she was away on vacation. After enjoying it for just two weeks, the bag is now on its way back to France where Hermes artisans will attempt to restore it back to its original appearance. She probably won't see it again for six months.
Home Remedies
In reading online, I have found various home-remedies for "setting" the dye in denim. I haven't tried any of them yet, but I'm seriously thinking about it. I thought I'd share some of the ideas I read with you in today's post, but please understand that I haven't tried any of these methods, and have no idea if they will work.
So if you try any of these ideas and it ruins your favorite $100 pair of jeans, or it fails to protect your handbags/chairs/otherworldly goods from future denim-transfer, I can't be held responsible. I'm just sharing what others online have recommended, it's up to you to test/try these methods (if you so choose) to see if they work for you.
One method I read about that I've already mentioned was to wash new, dark jeans several times before ever wearing them. If you do that, I would suggest doing the "white cloth test" afterward before letting your jeans get anywhere near the things you care about…like your handbag. I can tell you now, washing my jeans twice in cold water didn't set the dye in my denim jeggings. They failed the white cloth test afterward.
Another suggestion I read online was to soak/wash dark jeans in vinegar or salt. The person who suggested this said it would set the dyes, but an article I found in Good Housekeeping says this used to work but no longer does because the dyes denim manufacturers are now using has changed over the years.
That same article says that treating jeans with a fabric protector like Scotchgard can help, but that the Scotchgard will eventually wash out. In the article, they recommend the old standard of just washing your new jeans multiple times before wearing them, preferably with a detergent that is designed to protect/preserve color fabrics. Can we have it both ways? Can we use a color-protective, fabric detergent to wash out and set excess dye? Sounds like the least complicated measure to try.
I think I'll purchase some color-guard type detergent and give all my jeans a few more washings. As much as I'd like for my jeans to stay really dark as long as they can, keeping them that way just isn't worth the risk of ruining all my cross-body handbags. Actually, it's not just the cross-body/shoulder bags that are being ruined, since denim transfer has also happened to folks while carrying hand-held bags. All it takes is the bag rubbing up against new jeans a few times to transfer the dye and potentially ruin the handbag.
Update: I've also had denim transfer appear on the driver's seat in my car. My seats are leather and I've tried cleaning them with various leather-cleaning products. It helped but left much of the stain still visible. In the comments on this post, someone suggested a product they had tried called Magic Eraser, and it totally worked on my leather seats.
Magic Eraser is a product that's designed to get marks off walls and I've used it for that in the past with excellent results. I don't know exactly how it works, but I think it's slightly abrasive and that's how it gets a stain/mark off a wall. In any case, I had nothing to lose by trying it on the leather driver's seat in my car since it was already pretty much ruined by the denim stain.
It worked and it worked well! I first sprayed a little 409 on a cloth and used it. Would normally never recommend using that on a leather car seat, but I had nothing to lose since the seat looked so bad anyway. The 409 removed a lot of the denim stain. Then I followed that up with a very light use of the Magic Eraser. My seat looks a billion times better now, so I'm super happy with the results.
Again, I'm not recommending you try this on your leather handbag or leather seats, just sharing that the Magic Eraser a BNOTP reader suggested, worked like magic on my car seat! So thankful that she suggested it! If I ever get denim transfer onto a leather handbag, I would be very tempted to try the magic eraser on it after seeing how well it worked on the leather seats in my car, although the leather on the seats in a car appears to be much thicker/strong than on a handbag. Still, if the handbag is ruined anyway, it might be worth a try.
Removing Denim Stains-Denim Transfer From a Leather Handbag
In reading online, I found a whole slew of suggestions for removing denim dye/transfer from leather bags. Some folks recommended baby wipes, the type that doesn't contain alcohol, while other folks said that it was bad to use baby wipes. Several folks recommended various leather cleaners, saying that they probably wouldn't get rid of all the denim stain, but should help.
Two cleaners I saw recommended were Apple Brand Leather Cleaner and Lexol Cleaner. I've never used either of those cleaners and know nothing about them, so proceed with caution! I did recognize the Apple Brand because a YouTuber I sometimes watch used it to treat/protect the Vachetta leather on her Louis Vuitton Pochette Metis, and was happy with the results. If you would like to watch that video, let me know and I'll be happy to share the link. I don't own an LV bag with Vachetta leather but apparently, that type of leather can be a bit tricky to maintain, especially if you get caught in the rain.
Have you run into this denim-transfer issue before with your jeans? Do you have a denim-transfer horror story or two to share? Ever had a handbag or anything else damaged by a pair of dark jeans?
What's your method for dealing with new, dark jeans? Do you have a great technique that you always use to set the dyes in denim jeans before wearing them? Please share your tips and stories in the comments because I always learn so much from you!
UPDATE:
This is the product that I've found does the best job at removing denim transfer. So far I've used it on my car's leather seats and on a faux-leather chair in my home office and it worked great on both! Be sure to test it in an inconspicuous spot before using it on whatever you are trying to clean, just to make sure you don't have a problem.
This amazing cleaner is available here: Super Cleaner. Be sure and check out the reviews, they really speak for how well it works!
You can see how well it worked on the chair in my office in this post: My Absolute Favorite Cleaner for Removing Denim Transfer Stains. For now it's my go-to product for removing denim stains from my leather car seats.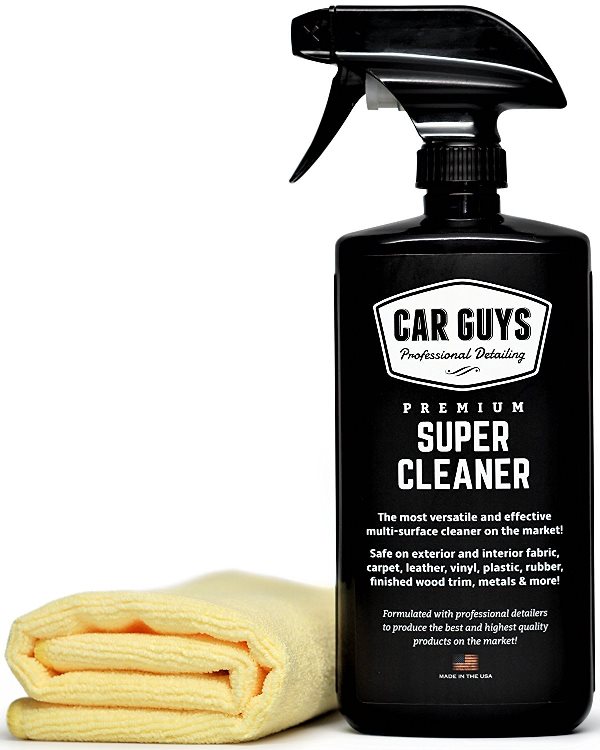 Pssst: I post almost daily to Instagram. Follow Between Naps on the Porch on Instagram here: Between Naps On The Porch. If you enjoyed this post, subscribe for free email updates when a new post is up here: Subscribe for post updates.
Metamorphosis Monday
Metamorphosis Monday is a party that's all about Before and Afters. If you are participating in Met Monday, please link up using the "permalink" to your MM post and not your general blog address.
To get your permalink, click on your post name, then just copy and paste the address that shows up in the address bar at the top of your blog, into the "url" box for InLinkz.
In order to link up, you'll need to include a link in your MM post back to the party so the other participants will have an opportunity to receive visits from your wonderful blog readers.
Please observe these few rules:
Please link up Before and After posts that are home, gardening, decorating, crafting, painting, sewing, cooking, fashion or DIY related.
Be sure to include a link back to the party in your post, so your readers will be able to find and visit the other bloggers who are participating.
Do not link up to the party if you're doing so to promote or sell a product.
*If a post is sponsored or a product was provided at no charge, it will be stated in post. Some links may be affiliate links and as an Amazon Associate, I may earn from qualifying purchases. *