Welcome to the 418th Tablescape Thursday!
I have a lovely friend coming to visit real soon who is super crafty. She creates beautiful cards and the most amazing scrapbooks/photo albums! You can see her beautiful work in these delightful, 3-D, handmade cards I've received this past year. Aren't they wonderful?! Each is such a treasure, I could never part with them!
This dear friend offered long ago to take the photos from my trip to Africa and the photos from my trip to Italy and use them to create a beautiful album/scrapbook. All I have to do is choose which ones she'll be using. Sounds easy, right? Not so easy when you've taking 40 eleven billion photos! Yikes!
I've been gradually getting through them all over the past few months and I'm looking forward to sharing the animal pics I took during our safaris in Kenya with you, including a bit of video of the famous migration across the Mara river. I've been a bit under the weather this week with a yucky sinus infection (happens every single fall) so I didn't get a table created. I did, however, make it in for doctor's appointment, so I expect my energy level to rebound soon.
These first two photos are really just for giggles. I thought you might like to see a couple of the meals I was served en route and/or coming back from Africa. I can't remember now if these were meals I was served going or coming back, but I think this one was while en route to Amsterdam since it looks kind of dark like it was at night. Have no idea what I was eating! What do you think that is? About the only thing I recognize are the potatoes and the fruit. I remember it tasted pretty good, whatever it was.
Have you ever flown overnight to another country? I snapped a quick photo that evening when all the lights had been turned down low. Look at all those screens aglow. lol
This may have been taken the following day en route from Amsterdam to Nairobi, or it could have been on a return flight. Again, no idea what I was eating. lol Looks pretty good, though.
During my stay at Mahali Mzuri, most of our meals were eaten in or just down in front of the dining tent with the other guests who were there on safari.
One dinner was held down in the bush. (See that dinner and a performance by the Maasai Warriors here: Dinner Under the Stars with a Spirited Performance by Maasai Warriors)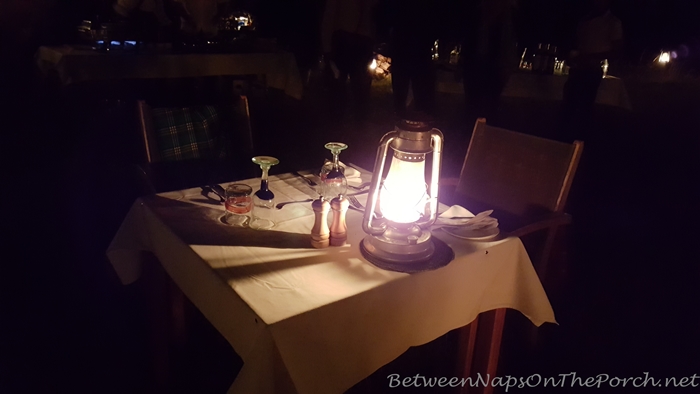 One morning I decided to skip breakfast after our morning safari so I could work on a blog post back in my tent. Next thing I knew, this showed up at my tent. They really do take such good care of you!
Another afternoon when I again chose to work in my tent, they brought down this lovely meal.
You may be out in the middle of nowhere in the Kenyan bush, but you eat like you're staying in a 5-star hotel in the city!
After my 4 days on safari at Mahali Mzuri , I took a short flight….
…to Giraffe manor.
Upon my arrival at Giraffe Manor, I was escorted into their beautiful entrance hall where they had me sit down for a refreshing, cool lemony drink. I was also given a wet hand cloth to refresh myself after my journey.
A visit to Mahali Mzuri and Giraffe Manor must be a wee taste of what it would be like to be royalty or live in Downton Abbey. I was so not used to all this special treatment. I'm sure I must have had a look of perpetual amazement on my face throughout the entire trip! lol
Next I was offered lunch in the garden. You got a glimpse of the garden in THIS photo and post I shared a while back. (See the video here: Breakfast with Daisy and Giraffe Kisses)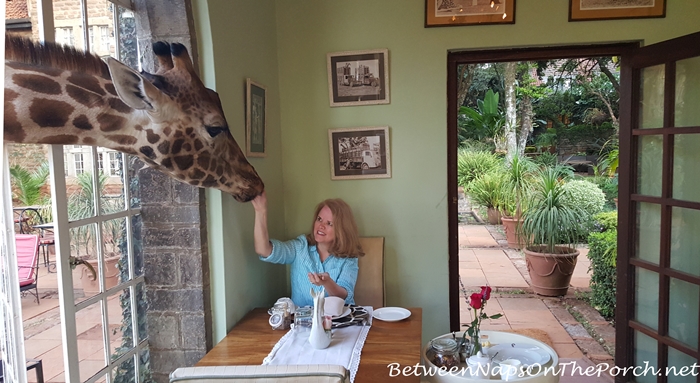 Here's a better view of the garden and the table where I dined in this photo taken from the balcony off my room.
This was the lunch menu that afternoon.
Chilled Asparagus Soup…
…and Glazed Ribs.
I still need to give you a tour of the beautiful garden at Giraffe Manor and a tour of the manor house, itself. I'll be going through all those photos over the next few days and promise to share those posts soon. Going through the photos makes me want to go back so badly!
If you missed it, you can see our "Murder by Death" dinner 😉 that evening in this previous post: Dining by Candlelight in Giraffe Manor
Looking forward to the beautiful table settings shared for this week's Tablescape Thursday!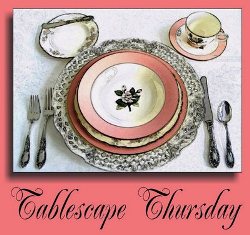 If you are participating in Tablescape Thursday, please be sure to add your permalink below, and not your general blog address.To get your permalink, click on your post name, then copy and paste the address showing in the address bar, into the "url" box when you link up. You'll need to include a link in your post back to the party to link up and participate.
That's so visitors to your blog will be able to find the party and the other Tablescape Thursday participants. Requiring a link back also prevents businesses and scammers from linking up to sell their products. (Yep, that really happens, unfortunately.)
Please, don't add your post name/blog name ALL IN CAPS…it tends to create big spaces between the rows of links.
*If a post is sponsored or a product was provided at no charge, it will be stated in post. Some links may be affiliate links and as an Amazon Associate, I may earn from qualifying purchases. *