Welcome to the 445th Tablescape Thursday!
I'm back home! Enjoyed my time in Morocco but there's definitely no place like home. When traveling, it seems like every time you turn around it's time to eat again, not that I'm complaining! Trying new foods is definitely one of the best parts of travel.
On Saturday, March 18th, we explored Fez, a place our guide-book states is often considered "the world's most well-preserved medieval city." It's also a UNESCO World Heritage Site. If you followed BNOTP on Instagram over the last few weeks, you may remember seeing a few photos I posted during our time in Fez.
Later in the day we stopped for lunch in one of the prettiest, most elegant places we ate during our entire trip. This was a view of one end of the room. The room was quite long and narrow and the other end was pretty much the mirror image of this end. Our group of fifteen settled in at the tables at both ends of the room.
I didn't have a chance to lighten these photos this morning since I got in so late last night. It was pretty dark and cozy in the room anyway, so you're experiencing it very much as we did.
One of the things I most missed while gone was just being able to turn on a faucet for a glass of water. All the reviews of this trip warn about drinking the water in Morocco. Our guide said that it's not always the water that creates a problem for those visiting, that sometimes it's the chemicals that are used to clean the water. In any case, we were always given bottled water when dining.
I tried to take a photo of the back of the plate, but it was too blurry to read when I looked at it later. The only thing I remember now about this pattern was that it wasn't by any brand/company I recognized and I don't remember seeing a "pattern name" for the dishware.
The red and white pattern is really pretty.
We were given embroidered napkins in several of the restaurants where we ate. I almost hated to use them, wondering how they would get the food stains out later without fading the pretty stitchery.
Many of our meals during this trip were cooked and served in a "tagine" an earthenware pot that is often used for preparing a meal in Morocco. Tagines, when purchased new, apparently take a bit of time to "season." Hearing that reminded me of the iron skillets that southern cooks often use for preparing cornbread. A new iron skillet just doesn't work like one that's been cooked in many times over the years.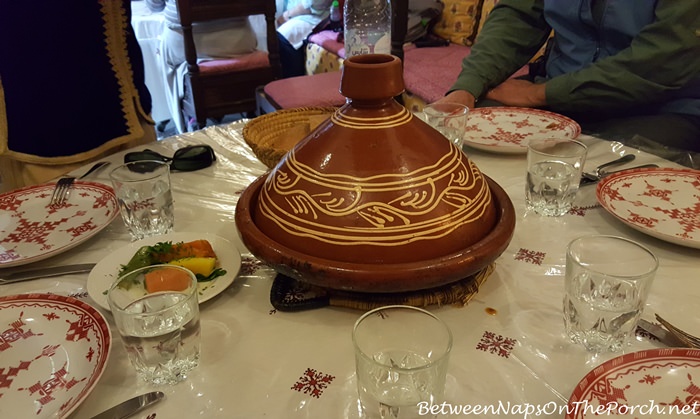 Many of the folks in our group who like to cook, wanted to buy a tagine to take home with them, but they weigh a ton. Someone mentioned they are available online. I looked this morning and found some here: Tagines and here: Tagines. There are also cookbooks online with recipes for cooking in tagines like this one: Delicious Recipes for Moroccan One-Pot Cooking.
Have you ever cooked using a tagine? The design of the tagine is supposed to help keep the food moist and flavorful. I'll see if I can find the photos I took of the meal we had and add them onto this post or share them in a future post.
Looking forward to all the tables linked for this week's Tablescape Thursday!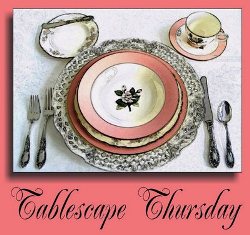 If you are participating in Tablescape Thursday, please be sure to add your permalink below, and not your general blog address.To get your permalink, click on your post name, then copy and paste the address showing in the address bar, into the "url" box when you link up.You'll need to include a link in your post back to the party to link up and participate.That's so visitors to your blog will be able to find the party and the other Tablescape Thursday participants. Requiring a link back also prevents businesses and scammers from linking up to sell their products. (Yes, that really happens, unfortunately.)
*If a post is sponsored or a product was provided at no charge, it will be stated in post. Some links may be affiliate links and as an Amazon Associate, I may earn from qualifying purchases. *