Welcome to the 259th Metamorphosis Monday!
I don't have a major Before/After to share this week for Met Monday, but I do have one I'm resurrecting because it has been on my mind recently. My son and his wife recently bought a new home so paint, hardwood flooring and other "home stuff" has been a hot topic in all our conversations. And can I just say, I'm loving it! It's so much fun to talk "house" stuff with your children and to hear the excitement in their voice. I just hate that I'm so far away. ~~~sigh~~~
One topic we talked a little about today was wainscoting, particularly picture molding on the lower part of a wall under a chair rail. I was reminded of when I added it to my dining room. I had only been blogging a short while so I didn't think to take a "before" picture, but if you look closely at this photo below, you can see originally I painted the dining room red above and below the chair rail. I was going for a seriously red room, no messing around.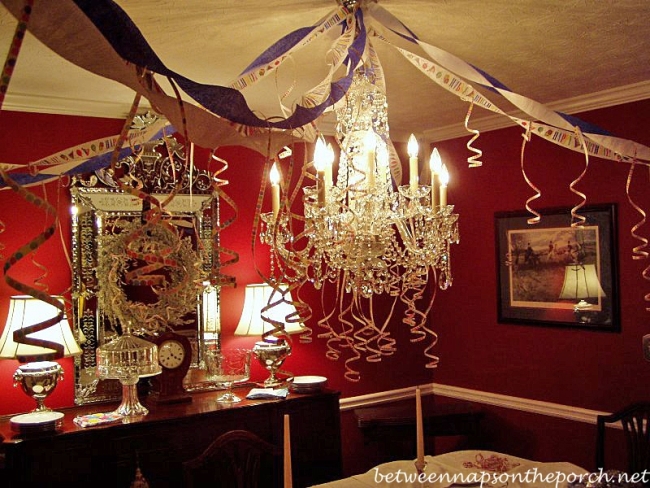 After about a year, I decided red above and below the chair rail was making the room feel closed in and small. I wanted to paint the area beneath the chair rail, white. I also wanted to add a bit of molding to give it some substance. I had picture molding installed and here's how it looked right after the installation.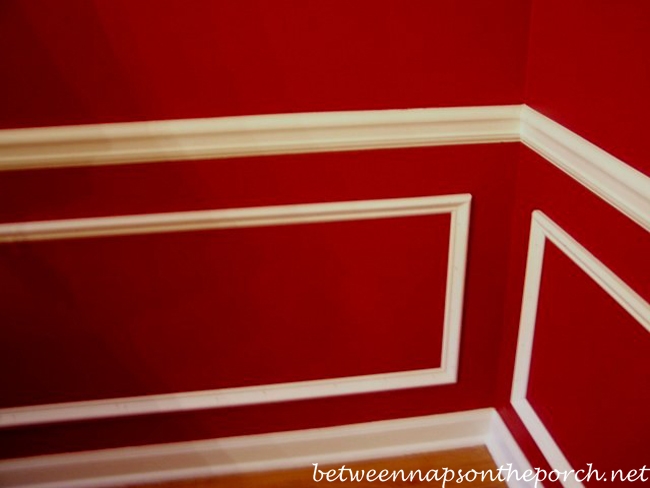 Here's how it looked after one coat of primer, definitely needed a second coat.
Have you ever thought about picture molding and why folks go to the trouble to add it beneath a chair rail? It's my understanding it's to give the illusion the wall has wood paneling beneath the chair rail. I was told by my local paint store to paint the lower half with the same semi-gloss paint I had used on the trim, again to give the illusion of wood paneling beneath the chair rail instead of just a sheetrock wall.
After adding another coat of primer and caulking all around the molding, I painted the area beneath the chair rail with my trim paint. I loved the results!
Another view…
Here's a more recent view of this room from this past Christmas. I only have one regret so if you're thinking of doing this to a room in your home, hopefully this next tidbit of information will prove helpful.
I wish I had done some research about layouts or how to design the "boxes" created by the picture molding. The contractor I used briefly discussed it with me just before he got started, suggesting three boxes for the long wall which is the wall with the mirror and sideboard. Three boxes sounded fine and it was an odd number which is normally good in decorating. But once the furniture was back in place, I was not thrilled with how that one wall came out.
I don't really care for how it looks because the box on each end of the long wall is partially hidden behind the sideboard, so it looks like there are just two big, long boxes on that wall. I know odd numbers are normally better in decorating, gardening and so many things, but in this case I think four boxes would have been a better look.
So the moral of my story is, if you add picture-molding beneath a chair rail, think about how it will look when the furniture is back in place. It may be better to go with more boxes across the wall to get the look you want in the end. I may get this one wall redone some time.
Do you love picture molding and the look of wainscoting?
Speaking of beautiful rooms, this is what I'd really love to do below the chair rail! This dining room belongs to Mary Carol Garrity and I have always admired the wainscoting in this room. I'm not sure if that's real paneling beneath the chair rail or just picture molding giving the illusion of paneling, but I do love it. Mary Carol lives in a beautiful historic home, so it may be actual paneling.
Wonder how much it would cost to do this in my dining room? Her walls are painted a deep blue, almost a navy blue and they are beautiful. It's a bold look but I love it. The navy adds so much drama to the room and combined with the molding, it's gorgeous! I still love my red walls but if I didn't have red in the dining room, this blue or a rich green would be my next choice.
What's your fave look for below a chair rail? Do you like a lot of molding or do you like it kept super simple?
Looking forward to the Before and Afters linked for this Met Monday!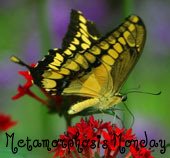 If you are participating in Metamorphosis Monday, you will need to link up the "permalink" to your MM post and not your general blog address. To get your permalink, click on your post name, then just copy and paste the address that shows up in the address bar at the top of your blog, into the "url" box for InLinkz.
In order to link up, you'll need to include a link in your MM post back to the party so the other participants will have an opportunity to receive visits from your wonderful blog readers.
Please observe these few rules:
Only link up Before and After posts that are home, gardening, crafting, painting, sewing, cooking, DIY related.
Do not link up if you're doing so to promote a website or product.
Do not link up a post that was just linked last week since a lot of readers will have already seen that post.
Do not type in ALL CAPS. It spreads the links waaaay out.


*If a post is sponsored or a product was provided at no charge, it will be stated in post. Some links may be affiliate links and as an Amazon Associate, I may earn from qualifying purchases. *