Welcome to the 367th Tablescape Thursday!
One afternoon while relaxing on the deck of my tent during my trip to Kenya…
…this invitation was hand-delivered to my door. Ummm, what have they planned for us now?
Promptly at 19:00 hours, I made my way to the main tent where the Mahaliz Mzuri bar is located. Since it was now dark, I had to be escorted by one of the Maasai Warriors who stand guard each night in the bush around our tents. We were never allowed to walk the boardwalks at night without an escort. I asked my guide if animals really do sometimes comes up near the boardwalk at night and if he had ever seen one. He said, yes, and he had once seen an elephant near the boardwalk. Yikes!
We all gathered in the main tent near the bar and were led down the boardwalk past the gift shop…
…past the pool and past the spa where guests can go for a relaxing massage.
The boardwalk led down into the bush and this was the scene we saw on that night.
What did they have in store for us this evening, down here in the bush?
Lanterns and luminaries were all around, adding to the magic of this beautiful setting.
A large bonfire had been created, lighting up the darkness and giving off intense heat.
Chairs with warm Shuka blankets awaited each guest.
We all helped ourselves to a drink from the Bush-Bar.
Then we gathered around the fire to enjoy each other's company.
Behind us we could smell the wonderful food that had been prepared for our dinner under the stars.
The tables were all lit by lanterns, such a romantic, beautiful night.
I have no memory of what we ate that night, I think I had beef kabobs. I'm terrible at remembering that kind of thing. Wish I had thought to take a photo of my dinner, but by that point I had put my camera away to enjoy.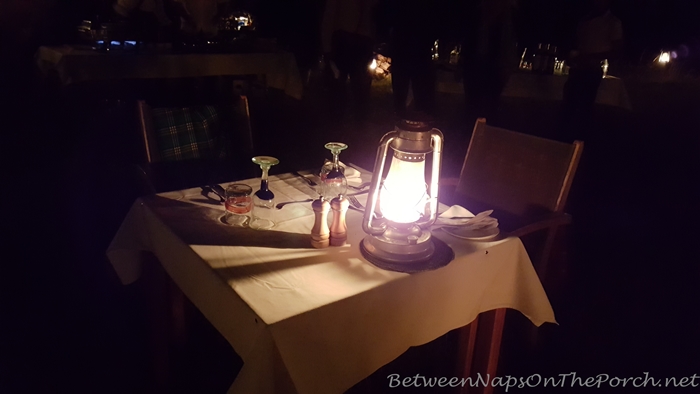 Whatever it was, it was good…that I do remember.
As we sat around the fire, enjoying our drinks before dinner, the Maasai performed for us, doing several dances including one that would have been customary for wartime, one for celebration and one for love.
I captured a bit of it here on video. The first video is just a brief snippet of the performance. The second video is longer and shows the adumu, also known as a "jumping dance." From what I read online, the adumu is part of a series of rituals junior Maasai warriors participate in on the way to manhood.
At one point they gathered us up from our chairs and we circled around and around the fire with them, joining in the fun of the celebration. I wish the videos were a bit clearer but there are no street lights in the bush, only moonlight and stars. 🙂
Looking forward to the wonderful tables posted for this Tablescape Thursday!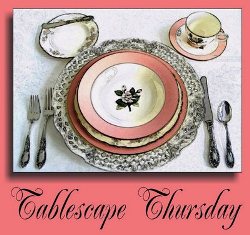 If you are participating in Tablescape Thursday, please be sure to add your permalink below, and not your general blog address.
To get your permalink, click on your post name, then copy and paste the address showing in the address bar, into the "url" box when you link up. You'll need to include a link in your post back to the party to link up and participate.
That's so visitors to your blog will be able to find the party and the other Tablescape Thursday participants. Requiring a link back also prevents businesses from linking up to sell their products. (Yep, that really happens, unfortunately.)
Please, don't add your post name/blog name ALL IN CAPS…it tends to create big spaces between the rows of links.
Please do not link up table settings that were just recently shared in the last few weeks for Tablescape Thursday.
*If a post is sponsored or a product was provided at no charge, it will be stated in post. Some links may be affiliate links and as an Amazon Associate, I may earn from qualifying purchases. *