If you've been reading Between Naps On The Porch for a while, you know I'm a handbag "hound" as one of the YouTubers I follow often refers to herself. lol. I've always loved handbags, but in the last few years that passion has definitely ramped up, probably from following so many handbag lovers on YouTube and Instagram.
I end up typically buying one or two handbags a year, occasionally selling (to Fashionphile HERE) or giving one away if I find I'm no longer using it. My handbag collection has stayed pretty reasonable in size, at least compared to the really serious handbag fashionistas I follow online. I'm hoping to keep it contained in one cabinet, although I do store a couple of wicker bags I still love and use in a nearby closet.
On Friday, I ordered a handbag I've been eyeing for about a year. It's a "unicorn" bag, one of those bags people tend to either love or hate: the Dior Saddle Bag. Apparently, the saddlebag was first made famous when it appeared on the arm of Carrie Bradshaw in the show, Sex and the City. I never saw it during the time the show aired since I watch so little TV.
When Dior brought the saddlebag back a couple of years ago, I wasn't interested. Its weird shape didn't appeal to me, but the more I've seen it worn/styled by those I follow on Instagram, the more intrigued I've become. I love how it looks on Iris in this picture below, it looks like a bag you would just toss over your shoulder as you head out the door on a beautiful summer day.
The Dior Saddlebag strikes me as a casual bag, but I've heard others describe it as elegant. I love how it looks on Iris in the photos above and below. I've envisioned pairing it with one of my Tommy Bahama or Lilly Pulitzer sundresses for summer outings…you know, those events where we actually leave our home to meet or gather with friends. 😉
(Pssst: Follow Iris on Instagram here: by.iris.sophia. She's a lovely person and her postings are down to earth and relatable.)
I'm also drawn to the bag's equestrian ties, that saddle shape has grown on me over the past year. I love that the Saddlebag is an iconic piece in the history of Dior, a brand that produces some of the most beautiful clothes and bags in the world.
I checked the Saddlebag out in person in the Atlanta Dior boutique several months ago, trying it on in several colors. I resisted buying it that day, couldn't make up my mind which color I liked and felt I needed more time to think about how it would fit into my life. I finally decided to order it on Friday via phone with Stephon at the Atlanta boutique. Once it arrives I'll try my things inside to see if they will fit comfortably. If you're interested in seeing what will fit inside, let me know and I'll create a post (with photos) sharing that.
The bag should arrive sometime this week. I'm not sure if I'll be keeping it, just depends on whether the things I need to carry on a daily basis will fit inside and how easy/challenging it will be to retrieve them back out. If I do love it as I think I will, I've been thinking about what I'll carry inside. I know the full-size wallet that I've carried all winter would be a challenge to get in and out, so I'm planning on using a cardholder or small wallet, instead.
I may end up using one of the beautiful, leather cardholders/wallets I shared a while back here on the blog. They were so reasonably priced, I purchased them in several colors. (They are still available here if you need a small wallet or cardholder: Card Holder-Wallet.)
I also have a small Dior wallet that may work inside, just not sure until the bag arrives.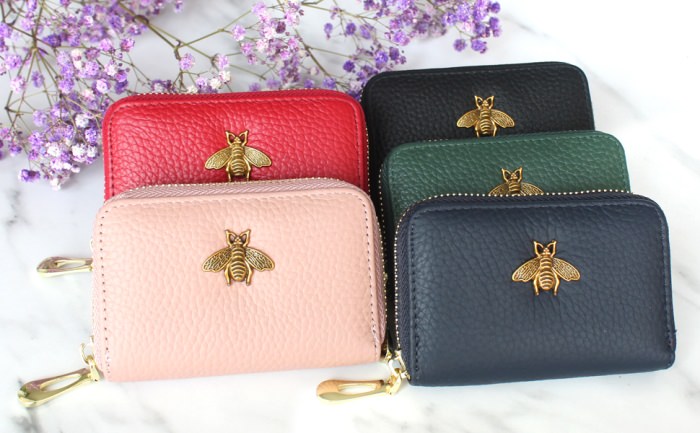 If I find my existing small wallets are taking up too much space, I've thought about changing out to a slim cardholder. That way I'll have even more space for other items like a small cosmetic bag for holding lipstick and such.
Last night I shopped online, Googling for pretty spring cardholders. I wanted something special, something that would make my heart sing every time I pulled it out. I found several that are beautiful for spring!
I love this one by Prada that's covered in beautiful birds and flowers I love birds and flowers so this cardholder makes me so happy just looking at it!
It also comes in this pretty shade of pink. I love them both…hard to choose the color I like best. Which color do you like? (Cardholder is available here: Bird Floral Card Holder.)
Do you use a cardholder or a full-size wallet? Since so many of us now use debit and credit cards and rarely carry cash or checks, cardholders do make a lot of sense. I like how they free up space in our handbags for other items.
Another really cute one, love the sunflower design! You'll find it available here where they are having an awesome sale. Card Holder.
I also love this one…arggg, so many beautiful choices! This one would be lovely for summer…so pretty and feminine! I had no idea such pretty cardholders even existed. (This one is available here: Floral Rose CardHolder.)
I love, love, love blue and white together so this one caught my eye. It makes me think of Greece, particularly the beautiful photos you see online of Mykonos and Santorini. (Cardholder is available here in two colors: Card Holder.)
Greece is one place that's still on my bucket list when the world re-opens again.
As we're stuck at home, I hope you found this post entertaining and I hope it lifts your spirits for all the good times awaiting us in the summer months ahead. They are coming, I feel it in my bones! Happy spring to you!
*If a post is sponsored or a product was provided at no charge, it will be stated in post. Some links may be affiliate links. *