Hooky Day! This post is going up a bit late because I took a little time off today to play. I'm blaming it all on my friend, Marie. 😉 Today we had a "girls day out." It started with a yummy lunch at a local cafe, then we headed out to shop some of our fave haunts. I didn't buy anything (yet) but I found a table umbrella for my seating area out on the deck that I'm pretty sure I'm going to buy.
I don't think I ever got around to posting about it, but when my last heavy-duty, awesome market umbrella shown below finally wore out after four years out on the deck, I purchased another one that was also "market" size. It promptly broke the first time we had just a little wind. What??? I had been spoiled by how well-built the other had been. The one that broke had much thinner supports/spokes. I was so annoyed that it broke, I didn't even bother with looking for another last summer.
Today, Marie and I spotted these adorable Pagoda Umbrellas in Pier 1. I'm seriously thinking about getting the one pictured below. The colors should work pretty well with the porch furniture cushions and hopefully it won't look too yucky from being underneath the trees. I may only put it out when I'm having friends over or will actually be out there for the evening. I'd love to keep it looking fresh.
So here's the neat thing about these umbrellas, besides how cute they are: The Pagoda style umbrellas have nice big cut out areas which really helps keep the wind from grabbing it, bending it over and breaking, or worse, ripping it out of the stand and pitching it into the yard. Do you have one like this? Does it hold up to wind?
The other style I really liked was this floral pagoda umbrella. The umbrella comes in several solid colors, too. Marie bought 4 of the floral style (shown below) to go with the tables around the pool in her backyard. Afterwards she asked why it was she always spends so much money when we are out shopping together. 😉 (Snicker, snicker)
I can't wait to see her umbrellas here in her backyard. She also bought the matching pillows for the loungers/chairs. (Pic below taken back around Christmas) They are going to be wonderful for spring/summer!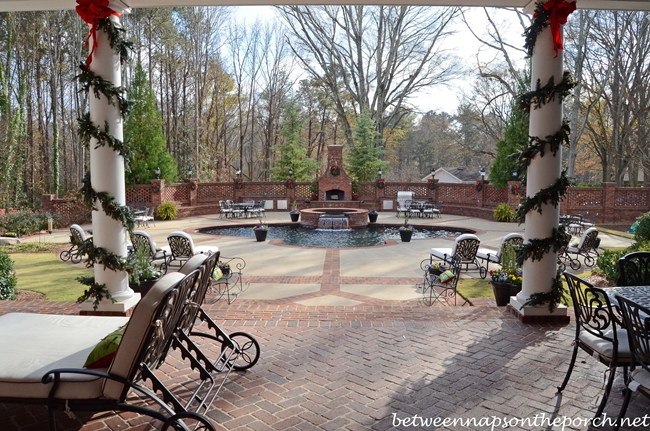 While I was out playing hooky today, I was thinking about you. I knew you would want to come along, too so I snapped some pics of Marie's fabulous spring decorations. I'll be sharing those very soon.
Dish and China Storage
I've received a lot of questions asking where Marie stores her dishware/tablescaping goodies. Today I thought I'd take you behind the scenes into the inner sanctum 😉 and let you see where Marie stores some of her tablescaping accoutrements. But you have to pinky swear you won't tell a soul. Pinky swear? Okay. Let's go!
Notice the double doors (see arrow) in this picture of Marie's beautiful kitchen. It looks like doors to a regular ole pantry, right? A surprise awaits!
Marie has a fabulous Butler's pantry hidden behind those doors, complete with a sink for last minute wash-ups.
Storage! Beautiful storage! I love seeing the little scooters for her grandchildren stored here, too. How cute is that!
Shelves run from floor to ceiling on all four walls of this large room. When you open the doors, it's such a surprise to see there's a whole room behind there!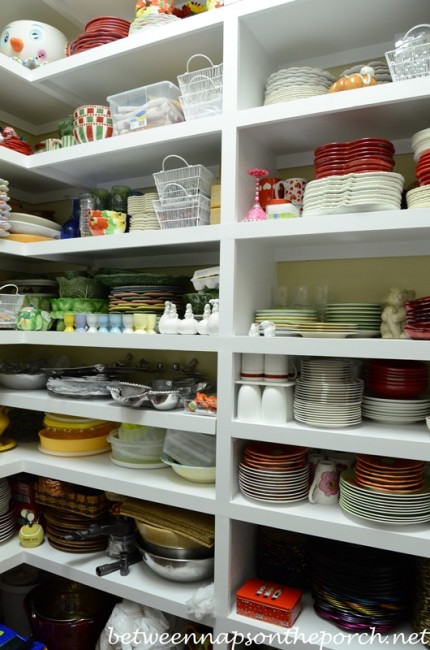 I think I see heart-shaped dishes, perhaps for Valentine's Day?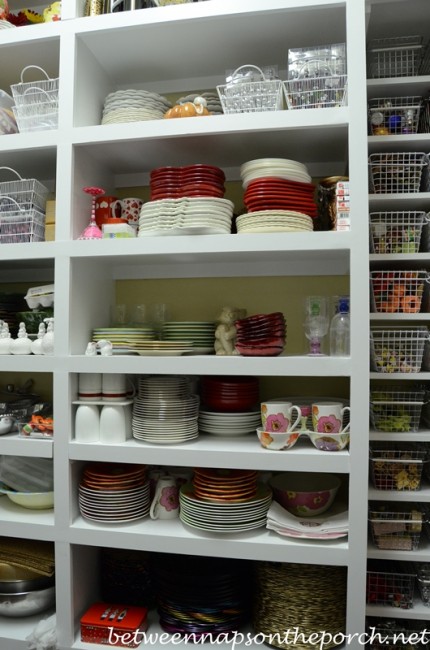 I couldn't wait to share this section with you! This is where Marie stores her flatware and napkin rings.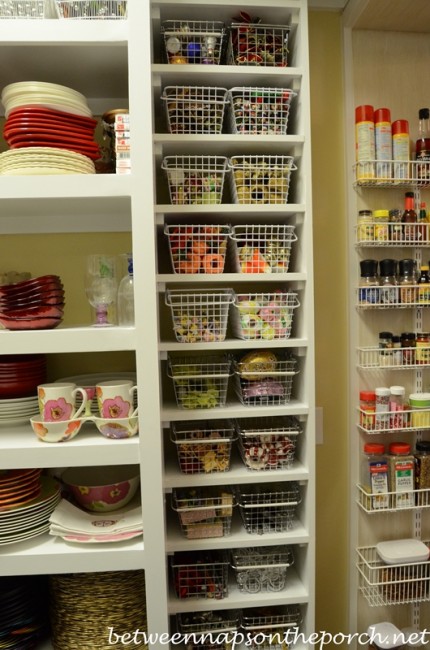 I love the wire baskets because you can easily see through to what is stored inside.
You could even make little hanging labels/tags if several different sets of napkin rings were stored in each basket. Marie found the baskets in Target and HomeGoods.
I don't know about you, but I have some serious pantry envy going on! 🙂
Love a great dish pantry? Check out Bonnie's amazing dish closet here: Dish Heaven
Postcards from the Porch
Tomorrow is Saturday so the BNOTP's 4th newsletter, Postcards from the Porch, will go out bright and early in the morn. Several folks have reported they aren't receiving the newsletter, but once they added the BNOTP email address into their email address book, it came through without a hitch.
If you are signed up to receive the newsletter but it hasn't been arriving, please take a moment to add the email address, [email protected] , to your address book and hopefully that will stop it from being caught in your e-mail host's filters.
If you haven't subscribed and wish to receive the BNOTP newsletter, you'll find the quick sign-up here: Postcards from the Porch
Happy Weekend, dear Friends! I have some fun, fun posts planned for next week! 🙂
XO
*If a post is sponsored or a product was provided at no charge, it will be stated in post. Some links may be affiliate links and as an Amazon Associate, I may earn from qualifying purchases. *