Welcome to the 395th Metamorphosis Monday!
Greetings this beautiful summer day!
Before we get into this week's Met Monday, thanks to Buzzfeed for featuring a previous DIY project of mine in this fun roundup at their website: 5 Insanely Clever DIYs That You'll Actually Want To Try. Check out the post if you have a moment, lots of fun ideas for the DIY enthusiast!
For this week's Met Monday, my before and after is the continuation of the second set of shell and sea glass chargers I began a while back. I'm finally making myself sit down and finish them. They've been patiently waiting here on the end of my desk in the office for the last few months. It's time to get them finished so I can actually use them before summer is over.
Briefly, for those who may be new to reading BNOTP, I came across these Pottery Barn Shell Chargers several years ago on eBay and had planned to bid on them but the bidding quickly escalated beyond what I was willing to pay. Ultimately the six PB shell chargers sold for $233.49 including shipping. Yikes! That was definitely more than I wanted to spend.
I loved them, though…so what to do?!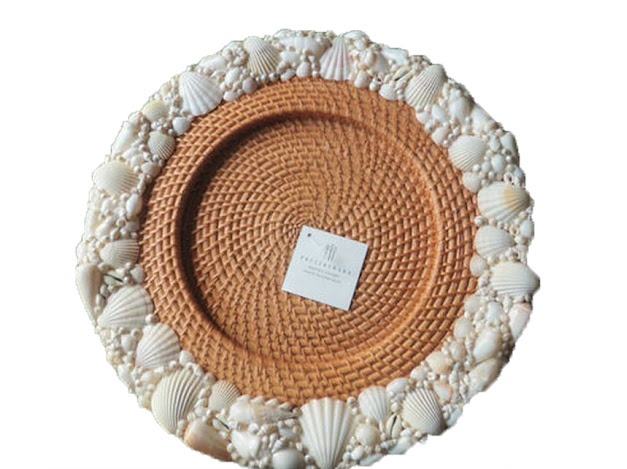 I ended up making my own using the Pottery Barn chargers as my inspiration. You'll find that previous tutorial here: Shell Chargers
I've used them many times over the last few years for dinners here on the porch. When I initially made these chargers, I chose shells that were soft, neutral colors so they would work with almost any dish pattern. But during the time I was making them, I kept wondering how they would look with a bit of colored sea glass mixed in.
Making these chargers is a huge time commitment. Last time I made them, I counted all the shells in one charger and it was well over 230+ shells. It's also a bit hard on the fingers between the hot glue (I'm a klutz!) and the sharp, pointy shells. lol (Tablescape below can be viewed in full here: Nautical Tablescape with Shell Chargers and Fish Flatware)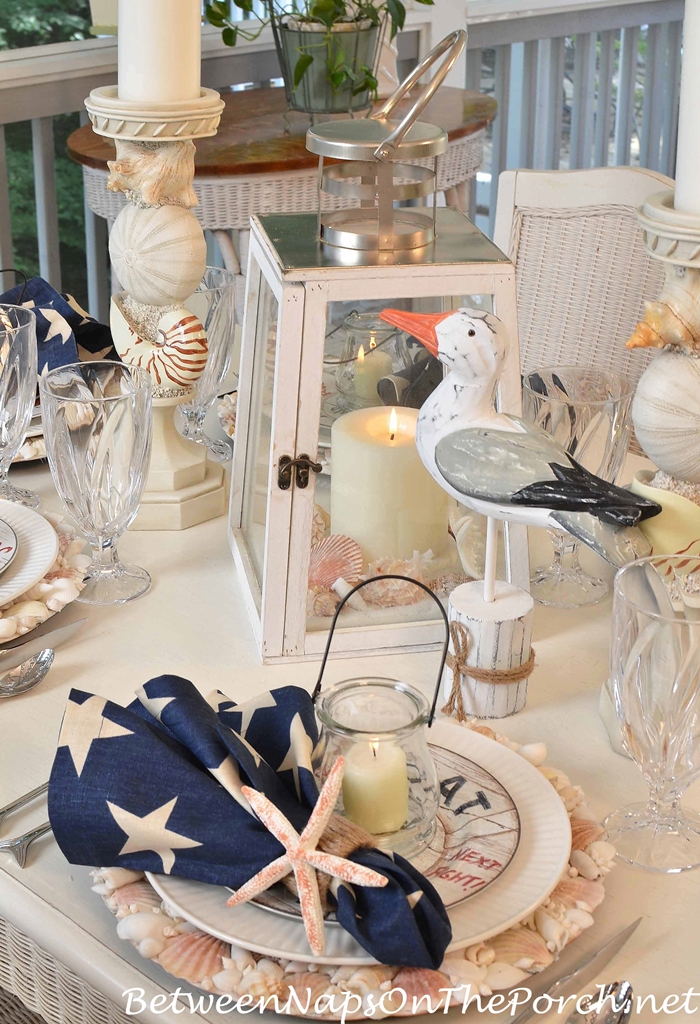 But the results are so rewarding, I decided to make them again, this time including a bit of blue "sea glass" I found in Marshall's seen on the left in the photo below.
I doubt the glass I purchased in Marshall's is real sea glass since it would probably be hard to find it in bulk, but it's close enough. Here's how the first sea glass/shell charger turned out. I shared this one in a previous post earlier in the spring. (See that post here: Shell & Sea Glass Chargers for Beach Inspired Dining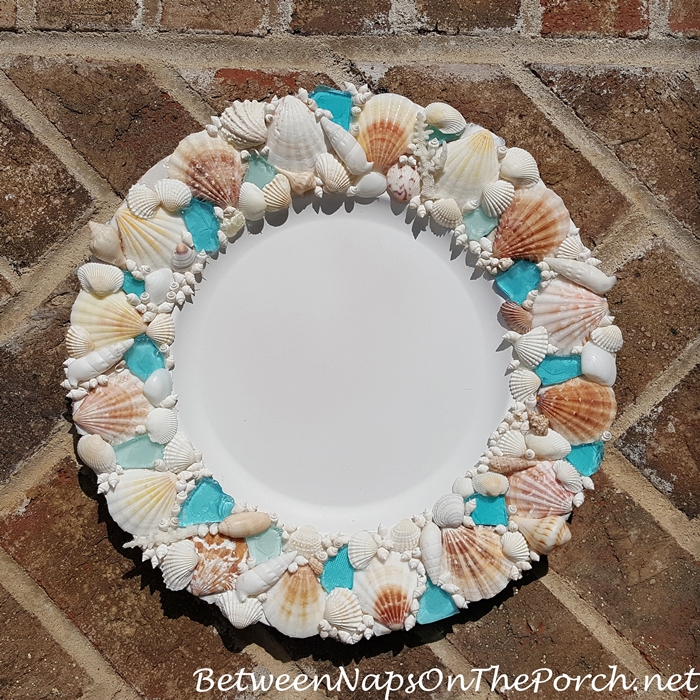 I started a bit late in the day yesterday but I managed to get one more made. I brought them out onto the porch this morning where the lighting is better for pictures.
The new one is the one on the right. With the second charger, I tried to incorporate more of the sea glass around the outer edge of the charger since I realized after the first one was finished that once a plate is in place, the outer edge is mostly all you see.
I seemed to have covered up a bit more of the sea glass in the second charger, may have to go back and pop a shell or two off and move them over. I don't want to cover up too much of the blue glass.
Wonder if I can get them all made in time to use them in a table setting this week for Tablescape Thursday. Umm, I think I'll try, but that may be pushing it a bit. I may have to shoot for the following Tablescape Thursday.
Update: I did a little burning of the midnight oil and got them finished in time to use them for this week's Tablescape Thursday. You'll find that table here: Sailing with Mermaids
So that's my progress, two chargers down, four to go!
Looking forward to seeing what you've been working on for this Metamorphosis Monday!
Metamorphosis Monday
Metamorphosis Monday is a party that's all about Before and Afters. If you are participating in Met Monday, please link up using the "permalink" to your MM post and not your general blog address.
To get your permalink, click on your post name, then just copy and paste the address that shows up in the address bar at the top of your blog, into the "url" box for InLinkz.
In order to link up, you'll need to include a link in your MM post back to the party so the other participants will have an opportunity to receive visits from your wonderful blog readers.
Please observe these few rules:
Only link up Before and After posts that are home, gardening, crafting, painting, sewing, cooking or DIY related.
Do not link up to the party if you're doing so to promote a website or sell a product.
Do not link up a post that was just linked up last week since readers would have already seen that post.
*If a post is sponsored or a product was provided at no charge, it will be stated in post. Some links may be affiliate links and as an Amazon Associate, I may earn from qualifying purchases. *