Welcome to the 345th Metamorphosis Monday!
A few years back I made these shell chargers to use in beach-themed tablescapes.
I made them after coming across six Pottery Barn chargers on eBay and seeing them sell for over $200!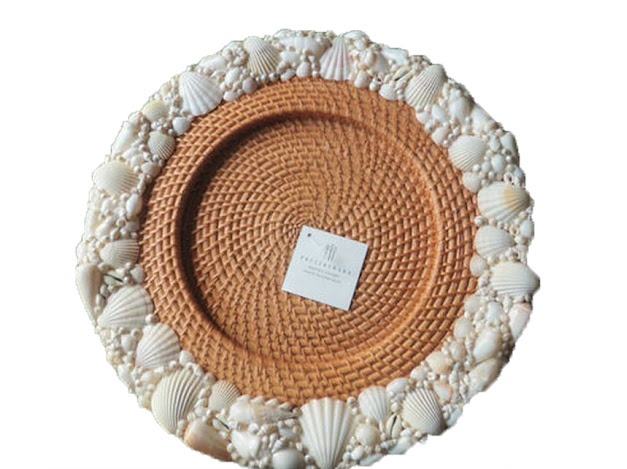 I've always wondered how they would look with pretty sea glass mixed in, so recently I primed and painted a bunch of old, plastic chargers I already had to try another shell charger makeover.
I found sea glass very inexpensively in Marshalls along with a few bags of shells. I ended up taking back two of the bags because I only needed one bag to supplement the shells I collected on Captiva and Sanibel Island many, many years ago.
A couple of months ago I shared this photo as I experimented around, incorporating some blue shells I already had into the mix. These chargers have been sitting on the floor of my office for weeks because I just couldn't make up my mind if I liked the how the blue shells looked.
During that time I tried various arrangements, sometimes mixing in three blue shells, other times mixing in five. I could never get the ratio of blue to non-blue shells to look the way I wanted. I finally realized I wanted the blue sea glass to be the main blue-color focus and that the blue shells were only a distraction.
So, here's how it turned out. What do you think?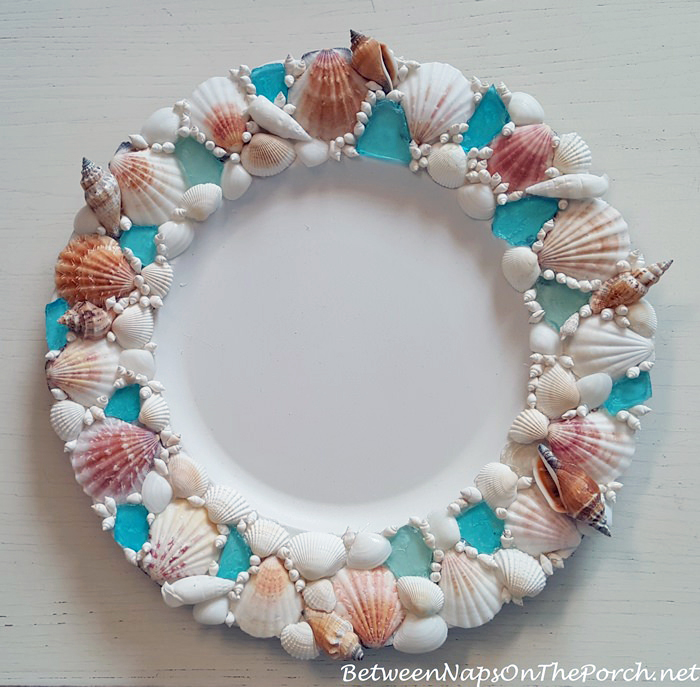 Here's a photo taken outdoors that shows the true colors of the shells and sea glass. Shells are just so naturally beautiful, aren't they?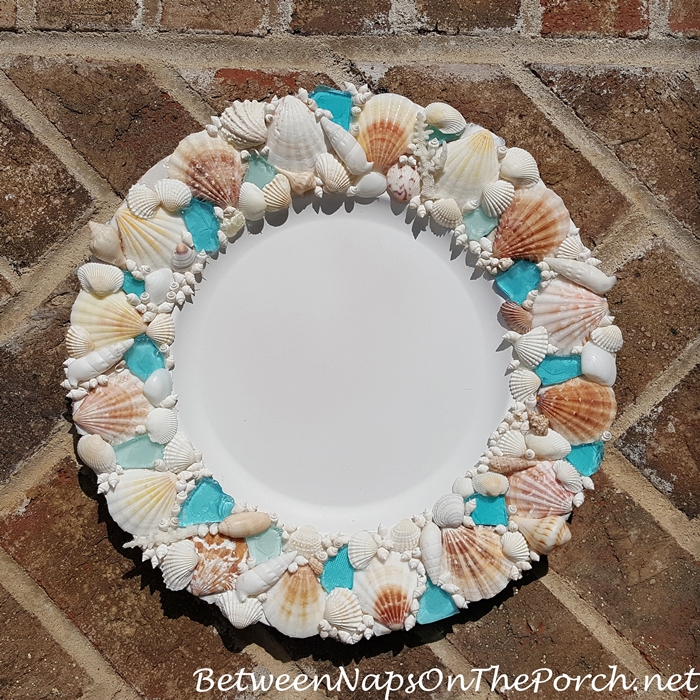 Here's how the chargers looked in an impromptu place setting. I think when I make the next five chargers, I'll put more of the sea glass around the outer edge because once the plate is in place, that's the only part you really see.
If you would like to make your own shell chargers, you'll find a tutorial showing how I made the original shell chargers here: DIY Shell Chargers
To make these, follow my previous tutorial and just mix in some blue sea glass or sea glass in whatever color you prefer. Let me know if you have any questions. This charger was a lot of fun to make while watching TV last night. Now I just need to make five more! 🙂
Looking forward to all the fabulous Before and Afters for this Met Monday!
Metamorphosis Monday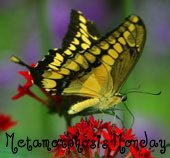 If you are participating in Metamorphosis Monday, please link up using the "permalink" to your MM post and not your general blog address. To get your permalink, click on your post name, then just copy and paste the address that shows up in the address bar at the top of your blog, into the "url" box for InLinkz.
In order to link up, you'll need to include a link in your MM post back to the party so the other participants will have an opportunity to receive visits from your wonderful blog readers.
Please observe these few rules:
Only link up Before and After posts that are home, gardening, crafting, painting, sewing, cooking, DIY related.
Do not link up if you're doing so to promote a website or product.
Do not link up a post that was just linked last week since a lot of readers will have already seen that post.
*If a post is sponsored or a product was provided at no charge, it will be stated in post. Some links may be affiliate links and as an Amazon Associate, I may earn from qualifying purchases. *