Welcome to the 202nd Metamorphosis Monday!
Georgia is a crazy place to live, weather-wise. If you have a convertible you're pretty much guaranteed a few days every single month, even during the wintertime, when you'll be able to throw down the top and enjoy the warm breezes. We're in one of those periods right now. This was the scene in my kitchen yesterday. The door to the porch was wide open and it felt like spring had arrived.
Doesn't look like springtime outside, though. The beautiful fall foliage is almost all gone now. The porch is so sunny this time of year with most of leaves gone from the trees. This warm spell won't last long and winter will return but we'll enjoy it while it's here.
This is what my handy, dandy temperature thingy read on Sunday and today is suppose to be 74º. Time to get busy with all the outdoor decorating before the cold returns.
I was out of town last weekend and on a Christmas home tour with friends yesterday, so I'm running a bit behind on my holiday decorating. Before I left to go out of town, I hung one of my fave wreaths on the door to the porch.
I'm going to take advantage of our 70 degree weather today and hang my Pottery Barn (knock-off) garland.) I've used it two years now and love how it looks, so I'll be using it again this year. (You'll find the full tutorial to make your own here: Pottery Barn Knock-off Garland: Make Your Own)
For this Met Monday, I thought I'd share a practical "before and after" in case you run into this issue while you are decorating.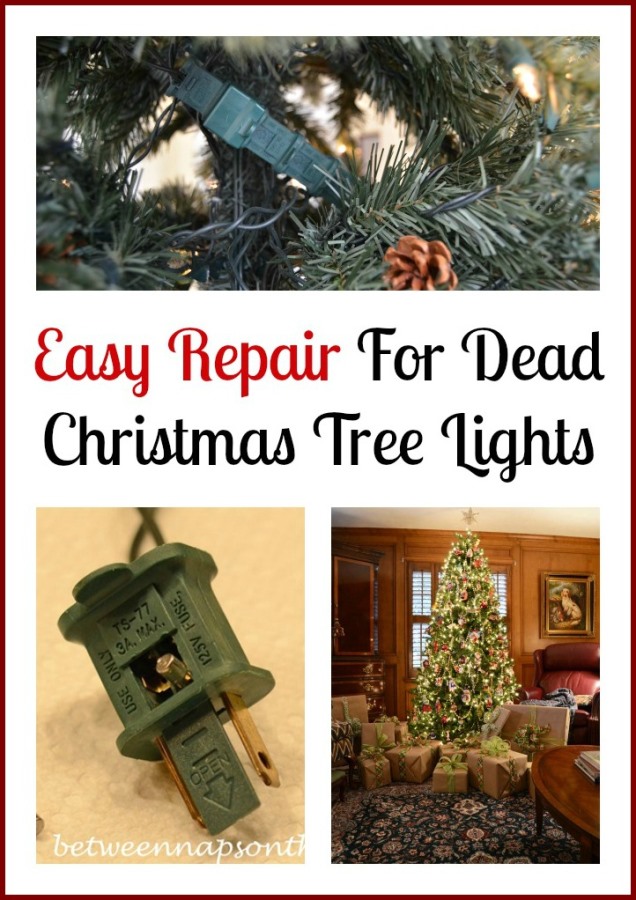 Notice anything wrong in this picture below? See the big dark spot there in the middle? Waaaaaa! The tree comes apart in three sections and fortunately the "outage" was in the small top section.
So I took the top part off, brought it over to the kitchen counter, plugged it in and examined each bulb to make sure it was still tight and in place.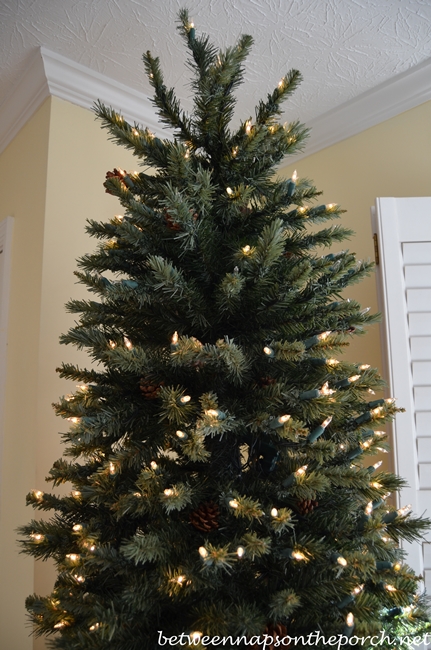 The bulbs appeared to be in place so the next suspect item on my list was a possible bad fuse.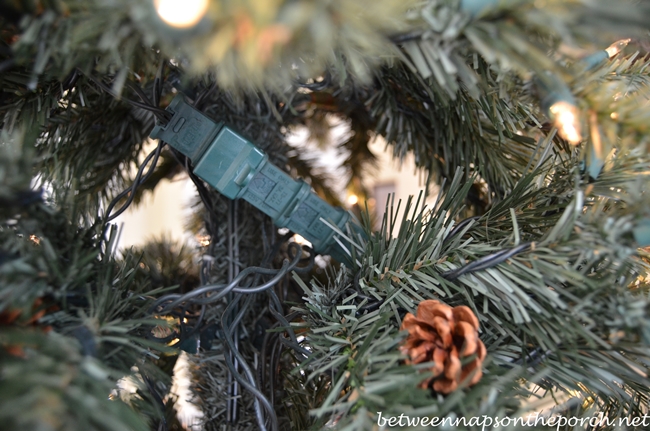 Fuses are hidden behind a tiny, secret door located on the male part of the plug. See where it says, "open." The little door can be tricky to open so I usually use a place knife or a flat-head screw driver.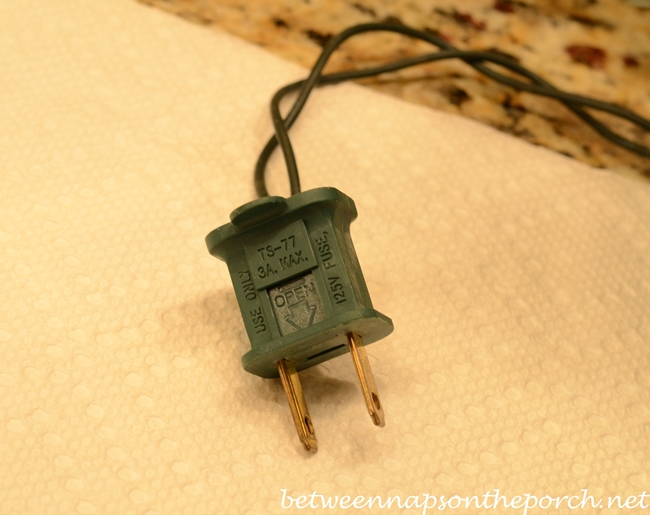 Once you slide it open, sometimes it's obvious which fuse is blown. It will often appear dark. If not, you'll need to remove them one at the time, replacing each with a good fuse to see which one is the blown one.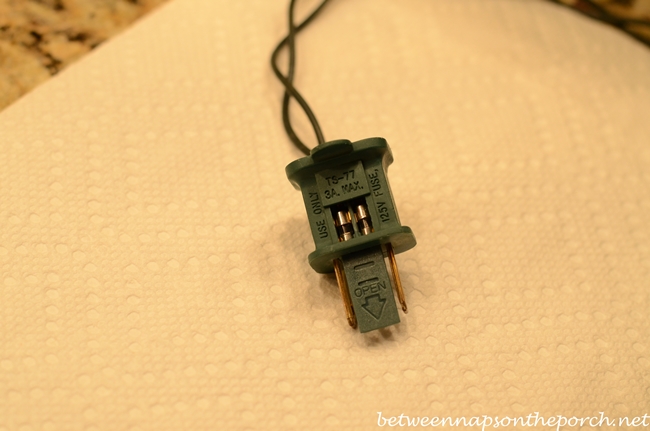 I've found the best way to get a fuse out, at least on the trees I have, is to pry it out with a small, pointed object. I usually use an ice pick but you may want to use something less pointed to avoid accidently stabbing yourself. If you have a tiny screwdriver, like the kind you use for eyeglass repairs, that would probably work well. Tweezers would probably work, too. Not sure a toothpick would work because if your fuses are like mine, the toothpick would break. Mine are in there REALLY snug.
When you're prying away on the fuse to get it out, do that on the metal part at the end of the fuse, not the glass part. Probably be a good idea to wear safety goggles, just in case it breaks. I've never had that happen, but just mentioning it for extra caution.
Once I pry the end of the fuse upward like you see below, it still will not budge. Those babies are really wedged in there. So I use my needle nose pliers to grab the metal end and pull it on out. Then just pop a spare fuse back in, say a little prayer and plug it back in to see if it worked.
If your light section is still out, repeat this process for the other fuse. Oh, the spare fuses and bulbs on my tree came in tiny plastic bags, taped to the light strings deep inside the tree near the trunk. So if you aren't sure where yours are, check deep inside the tree. My trees are about 6 years old, so not sure where they hide the spare parts these days.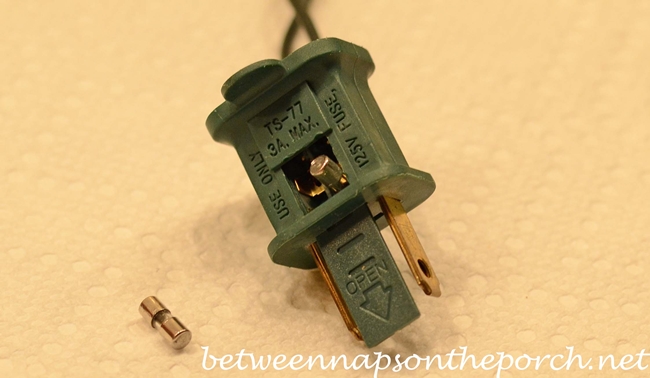 Houston, we have lift off! Yay! Light, beautiful light! Now on to the serious decorating. There are trees to decorate, wreaths to hang, beads to string, garland to swag, presents to wrap…………………….
Looking forward to all the fabulous Before and Afters for this Met Monday!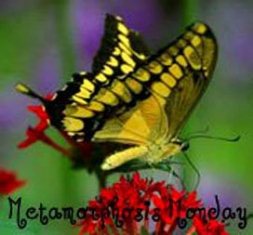 If you are participating in Metamorphosis Monday you will need to link up the "permalink" to your MM post and not your general blog address. To get your permalink, click on your post name, then just copy and paste the address that shows up in the address bar at the top of your blog, into the "url" box for InLinkz.
In order to link up, you'll need to include a link in your MM post back to the party so the other party participants will have an opportunity to receive visits from YOUR readers.
Please only link up Before and After posts that are home, gardening, crafting, painting, sewing, cooking, DIY related.
Do not link up if you're doing so to promote a website or product.
Do not link up a post that was just linked last week since a lot of readers will have already seen that post.
Do not type in ALL CAPS. It spreads the links waaaay out.
Let's try something fun today! Please visit the person who linked before you and after you…that way everyone will get some visits. Hope you'll visit more, of course.




Welcome! Thanks for coming to the party!
*If a post is sponsored or a product was provided at no charge, it will be stated in post. Some links may be affiliate links and as an Amazon Associate, I may earn from qualifying purchases. *