Welcome to the 455th Metamorphosis Monday.
My porch is still a storage area for much of the deck furniture.
I think they will be doing a final coat of stain in some areas either today or tomorrow. After that dries, life can return to normal. I'll be really happy to get all this furniture out of the porch and back onto the decks. lol
Before I share how the deck handrail is looking, here's the progress so far on the basement door. Some areas of the door have been really resistant to the stain, while others areas are looking much better. Keep your fingers cross they can get it looking more like the walls very soon.
I have two decks, one on either side of the screened porch.
Here's how the one under the pergola is looking right now. Ignore the splotches you see on the railing and the deck floor, it was still wet from some light rain we'd had earlier in the day. But at least you can kinda see how the color is turning out.
I went with a solid color called, "Lodge Brown." It's darker than the "Pine Cone Brown" I shared in THIS post. They used Sherwin Williams's Super Deck 9600 stain, which is part oil-based. It is supposed to be their best Super Deck product. The owner of the paint company said this is what he has on his deck…the 9600 product. So hopefully it will hold up to cleaning a lot better than the semi-transparent stain I was using before.
This photo was sorta my inspiration photo, although I didn't want the railing quite that dark.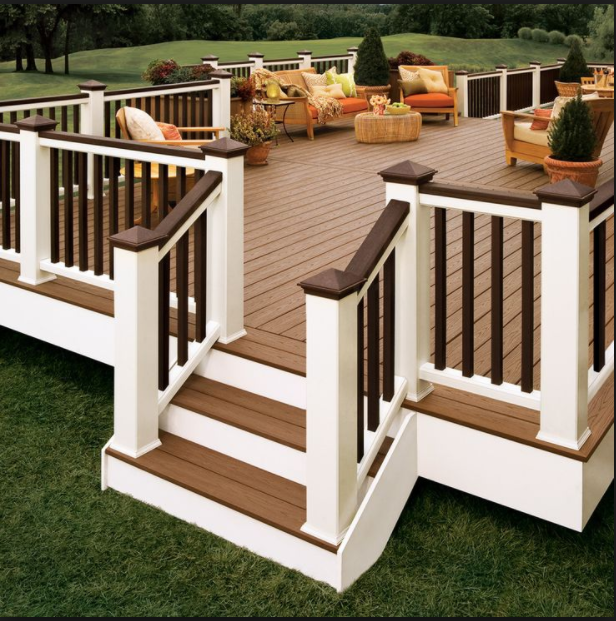 Here's how the other deck is looking, again try to ignore the splotchy wetness from the rain. The railing will still get dirty from having so many trees in the backyard, but at least it won't be the constant eyesore that it was before when it was white. Looking forward to sharing the final look when the furniture, grill, plants, etc… are back in place. Maybe I'll even have a chance to do a tablescape out here before the cold weather arrives.
Metamorphosis Monday
Metamorphosis Monday is a party that's all about Before and Afters. If you are participating in Met Monday, please link up using the "permalink" to your MM post and not your general blog address.
To get your permalink, click on your post name, then just copy and paste the address that shows up in the address bar at the top of your blog, into the "url" box for InLinkz.
In order to link up, you'll need to include a link in your MM post back to the party so the other participants will have an opportunity to receive visits from your wonderful blog readers.
Please observe these few rules:
Please link up Before and After posts that are home, gardening, decorating, crafting, painting, sewing, cooking, fashion or DIY related.
Be sure to include a link back to the party in your post, so your readers will be able to find and visit the other bloggers who are participating.
Do not link up to the party if you're doing so to promote or sell a product.
To those who are linking up: If you notice a shop or store linking up to sell products (yes, unfortunately that does happen) please let me know so I can remove their link from the party. No one wants to click a link expecting a Before and After, only to find a spam link to an online business/store.
*If a post is sponsored or a product was provided at no charge, it will be stated in post. Some links may be affiliate links and as an Amazon Associate, I may earn from qualifying purchases. *