Welcome to the 299th Metamorphosis Monday!
I have something kinda wacky to share this week. You'll either think it's the most brilliant thing you've ever heard or you'll think it's completely NUTS…pun intended! But before I share my wacky plan, here's what I've been up to…planting Double Mint Gardenias. So far I've had two planting sessions and I still don't have all five of them in, but I'm making progress.
Each time I head out to plant them, I'm good for about two shrubs and then I'm done. Sounds ridiculous, right? Why in the world am I just getting two shrubs into the ground each time?
Here's why, ALL of this "stuff" came out of just one hole, the hole you see in the picture above. I have to fight for every inch of dirt I remove…so many rocks and so many BIG roots! So, after fighting my way through the roots and the rocks, I'm just too tired to tackle planting more than two gardenias at the time. It's taking a while to get them all in but I'm slowly getting there. Just one left to go! Update for afternoon of 10-21-14: Last gardenia is in! Yipee! Happy Dance!!!
I'm planting the gardenias way out from the Savannah Holly since the holly should reach about four feet out in every direction in a few years. I've spaced the gardenias approximately 3-1/2 to 4 feet apart since the information that came with them said they usually grow to around 3 to 3-1/2 feet wide. It's so hard spreading them out this far because it looks weird now but I'm forcing myself to do it…trying to do it the right way.
The Wacky Idea
Another interesting and somewhat funny challenge I had during my first gardenia-planting session involved that big tree you see there across the yard. That's an oak tree and the entire time I was planting gardenias, it was bombarding me with its acorns. I think it's paying me back for cutting down another oak tree two summers ago…taking out its revenge!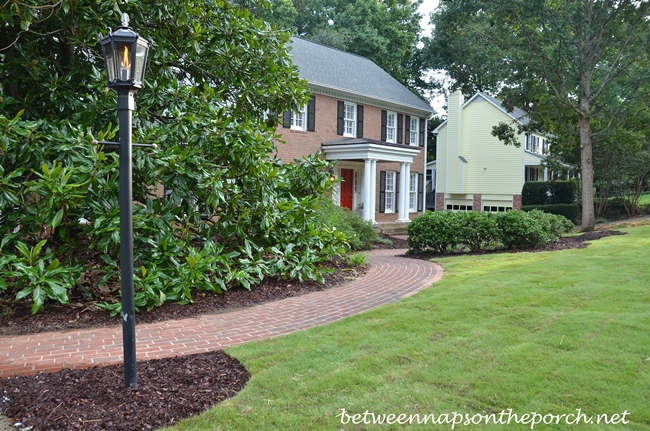 You can see in this picture where the oak tree is in relation to where I was planting. It literally felt like someone was throwing rocks at me the entire time. lol I have to tell you, acorns hurt like the devil when they hit you in the head. They don't feel so great on the back either.
Off and on throughout my planting session, the wind was blowing like crazy. Each time it did, I had to stop, back away from my planting and wait until it died down. It was blowing so much, sometimes I just toughed it out and lets the rocks acorns hit me in the head and back. It seemed like hundreds were falling each time.
At one point I seriously thought of going to the garage to get my biking helmet. It was sheer pride that kept me from doing it. I just couldn't bring myself to wear a helmet to plant gardenias. What would the neighbors think?! lol So I just kept digging and planting, trying to keep my head low until the rocks stopped raining from the sky.
That whole area of my yard is thick with acorns now…we're talking a gazillion acorns! They make walking in the yard impossible…like walking on thousands of marbles. You can see how really thick they get in this photo below taken a few years back before I sodded the yard.
So I started wondering, what is going to be the best and easiest way to get up all those annoying acorns so I can walk in the yard AND so I don't have forty eleven billion oak trees sprouting up everywhere in a few months. My grass was just cut a few days ago and that didn't get them up. So I did what I always do when I have a problem…went to Google for advice.
It turns out, they make a nut-removing machine. Did you know there was such a thing? Folks use it for every thing from removing nuisance nuts like forty eleven billion acorns to sucking up wanted nuts, like pecans underneath pecan trees. Only problem is, it costs $500! Spending $500 to remove all the acorns out of my grass would be like adding insult to injury…not gonna happen.
So, I Googled a little more and guess what I discovered?! There are folks out there making YouTube videos showing how great Wet Vacs are at sucking up acorns. No kidding! I found one HERE where a woman shows how she vacuums up her acorns and I found another one HERE where a guy used his wet vac to get them off his driveway.
Remember when I built my cubby organizer? See that orange thing in the background. You know what that is! I'm seriously thinking about giving the acorn-vacuuming thing a try.
Maybe I should wear my biking helmet while I'm at it, you know…just so the neighbors have full confirmation that I'm completely nuts. Acorn nuts, that is! HA!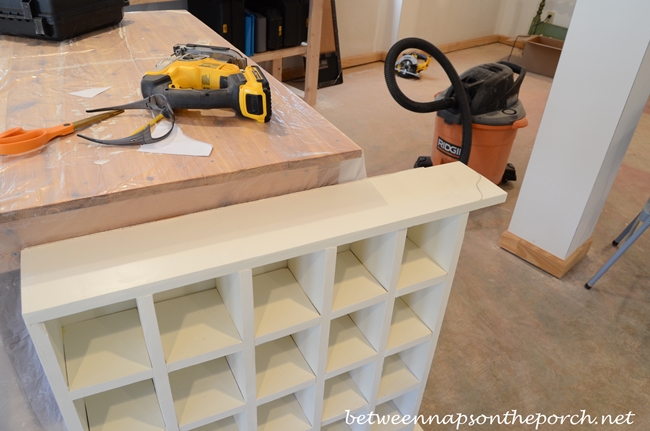 Ever vacuumed up acorns with a wet vac? Got any last words of advice or caution before I give it a try? 🙂
Looking forward to the other Before and Afters for this Met Monday!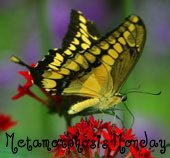 If you are participating in Metamorphosis Monday, you will need to link up the "permalink" to your MM post and not your general blog address. To get your permalink, click on your post name, then just copy and paste the address that shows up in the address bar at the top of your blog, into the "url" box for InLinkz.
In order to link up, you'll need to include a link in your MM post back to the party so the other participants will have an opportunity to receive visits from your wonderful blog readers.
Please observe these few rules:
Only link up Before and After posts that are home, gardening, crafting, painting, sewing, cooking, DIY related.
Do not link up if you're doing so to promote a website or product.
Do not link up a post that was just linked last week since a lot of readers will have already seen that post.


*If a post is sponsored or a product was provided at no charge, it will be stated in post. Some links may be affiliate links and as an Amazon Associate, I may earn from qualifying purchases. *