Before I share my recent dressing room update, I thought I'd share a small garden update. Back in the summer of 2014, I planted a Dharuma Hydrangea behind my mailbox. I was told that they do well in full sun and are fairly low-growing. I didn't want a big shrub in this spot since space was limited. Do you see the little Dharuma there just behind the mailbox?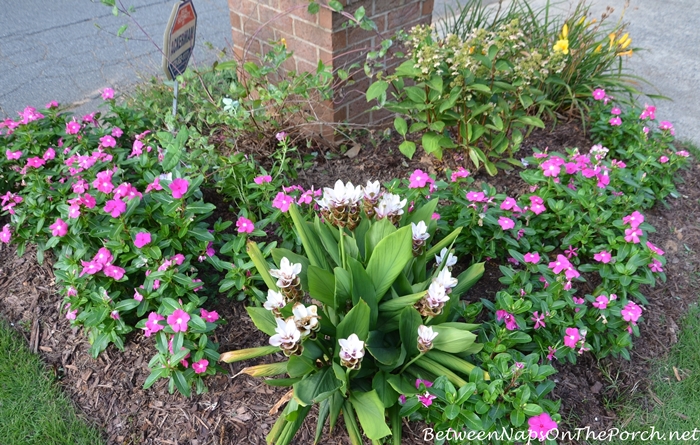 Here's a photo of it a few weeks after it was first planted.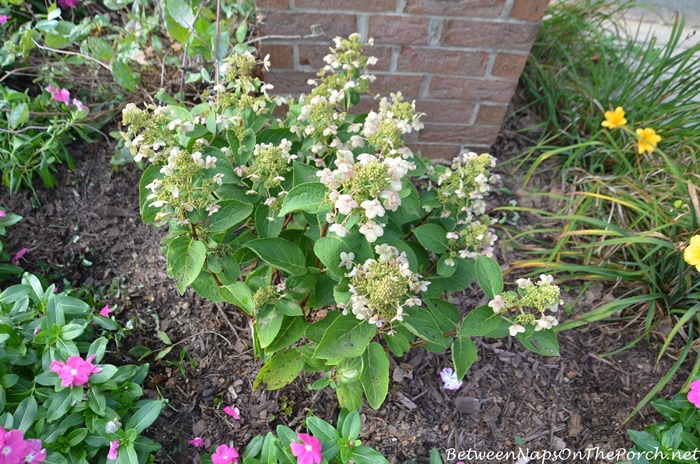 Last year I shared this photo of it getting ready to bloom. Amazing the difference a few years can make! It was getting dark but you can still see how lovely it looked. It was just getting ready to burst out in bloom. Definitely a nice hydrangea for a moonlit garden.
Here's a photo of it right now–it's almost ready to bloom again. Look how much taller it has gotten! Before you could clearly see the top of the mailbox but now it's almost hidden. I hope it doesn't get much taller. I may have to get more aggressive when I remove the spent blooms if it gets much taller.
It's such a nice size for this little mailbox garden! I love it! If you're looking for a hydrangea that can take full sun, consider a Dharuma. It's completely carefree; I haven't done a thing to it over the years. I'll do my best to remember to take a photo of it when it's in full bloom this time. Definitely recommend it for a garden where you want a relatively small hydrangea that can take full sun.
Mirror Update:
A couple of weeks ago I shared a small update I planned to make in this dressing room attached to the master bedroom. I used to have a mirror on the closet door in this room but had foolishly decided to remove it a few years ago. I had found the mirror distracting as I sat working on my laptop at the little built-in vanity/desk on the left. I've really missed that mirror because it was perfect for checking out an outfit before heading out the door.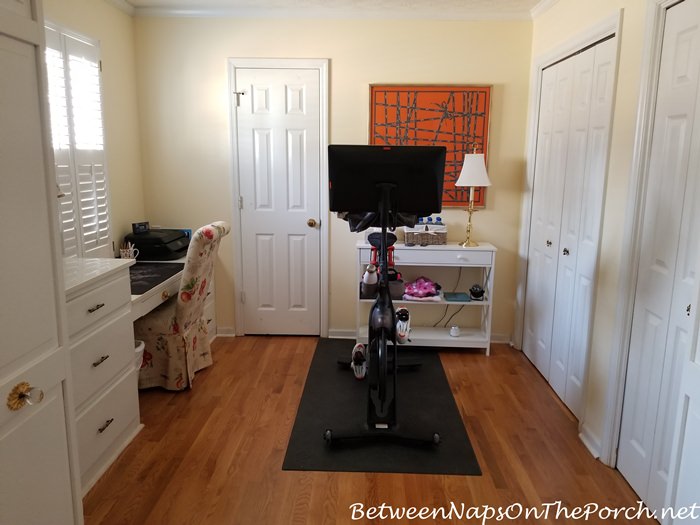 You may recall from my previous post (A Brilliant Invention & Correcting a Regrettable Decision) I had also hoped to fix another issue, a hole that had apparently happened when the door was pushed too far back against the door stop. I really dislike these kinds of doorstops because they dent and damage the molding even when they aren't punching holes in your door.
While I was waiting for the mirror to be delivered and installed, I went in search of a better doorstop. This one is amazing and works beautifully!
It's easy to adjust and I have it locked in the position that allows my closet door to open this far back. LOVE this door stop! If you need a good doorstop that won't damage your door or molding, you'll find this one here: Door Stop.
The mirror was installed last week and here's how it looks on the door. Sooo happy to have it back! The mirror company didn't use the little tabs (or whatever they are called) to hold the mirror onto the door because those are prone to break. Instead, this one is glued to the door with some type of industrial strength glue which makes for a much cleaner look. Also, there's a little tray thing that it kinda sits inside along the very bottom.
And look! No more doorstop hole! Yay! 🙂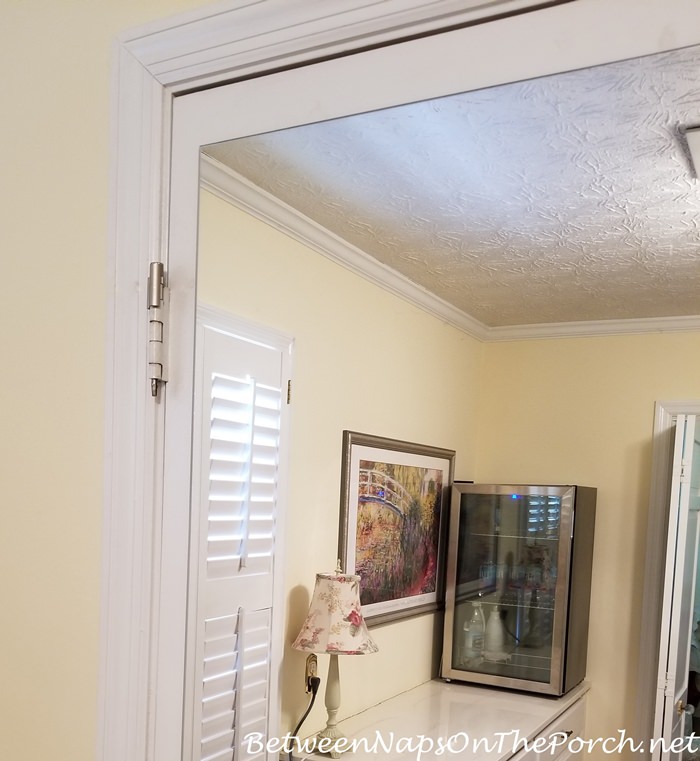 Very pleased with how this little project worked out…one more item off my endless "to-do" list. Do you have one of those lists, too?
*If a post is sponsored or a product was provided at no charge, it will be stated in post. Some links may be affiliate links and as an Amazon Associate, I may earn from qualifying purchases. *