Welcome to the 191st Tablescape Thursday!
Thanks so much for all the wonderful comments left on yesterday's post. I so appreciate each and every one. Your encouragement is giving me the perseverance I need to finish the project.
I know Easter has long since past but I'm still not quite done with bunnies.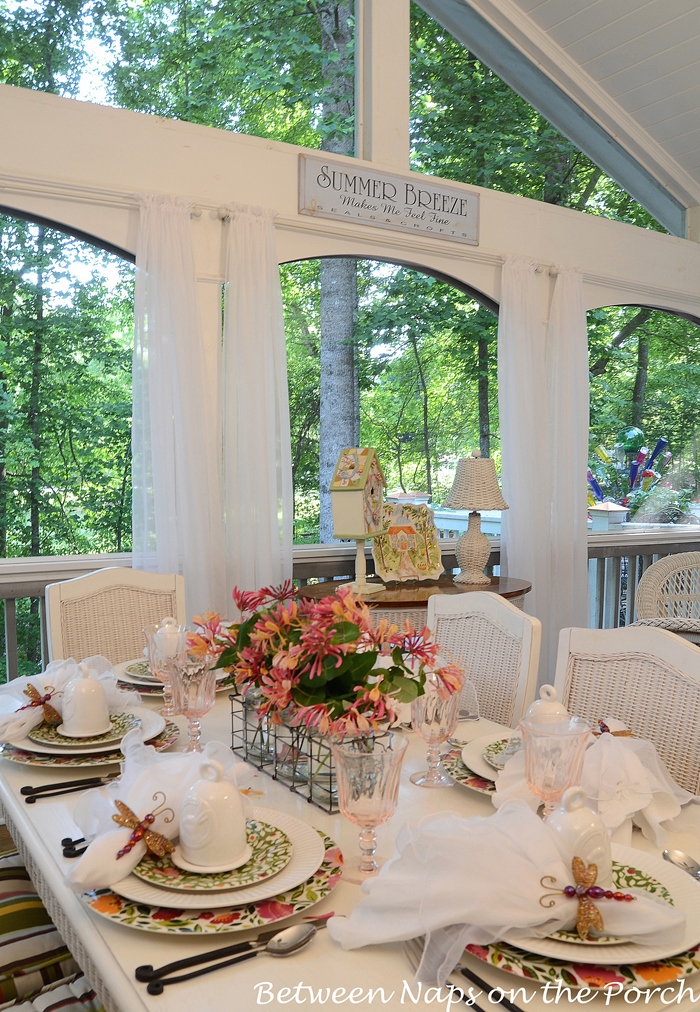 This time the bunnies are in a springtime breakfast table setting. Lately, I've been drawn to floral centerpieces and great ways for displaying flowers like this vase within a vase arrangement.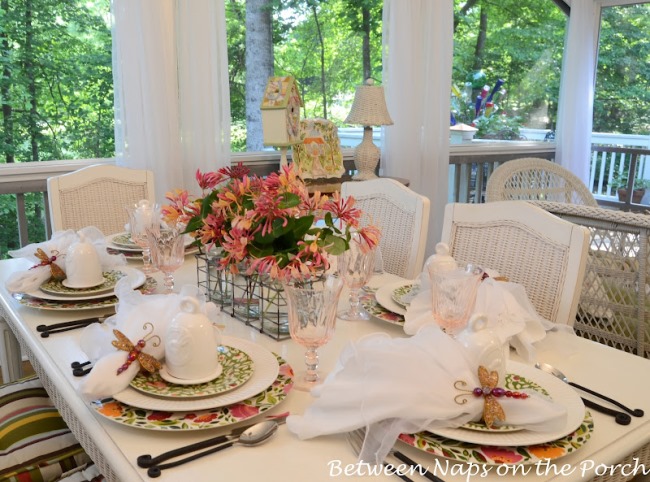 I hopped in the car today to head over to the market for flowers for my tablescape. As I reached the end of the driveway, the honeysuckle growing around the mailbox caught my eye.
The color of the honeysuckle was just right for the tablescape waiting on the porch. So I put the car back in the garage, grabbed the gardening shears and got busy snipping lots of the fragrant blossoms.
I found these cute cloche egg cups in Pottery Barn several months ago.
They are perfect for breakfast any time of the year, especially on a spring morning.
For this breakfast table setting, we'll imagine our salad plate is there to hold a salad of fresh fruit. Flatware is by Gourmet Settings and is available here: Gourmet Settings Treble Clef, available HERE.
Just for fun, I placed a painted, pastel egg that's fallen from my Easter wreath inside one of the egg cloches. I noticed this year the eggs on that old wreath have really faded. I'm thinking about taking them all off to paint them, then reassembling the wreath. Ummm, I'll have to get right on that just as soon as I finish gluing forty-eleven, billion shells on 5 more chargers. 😉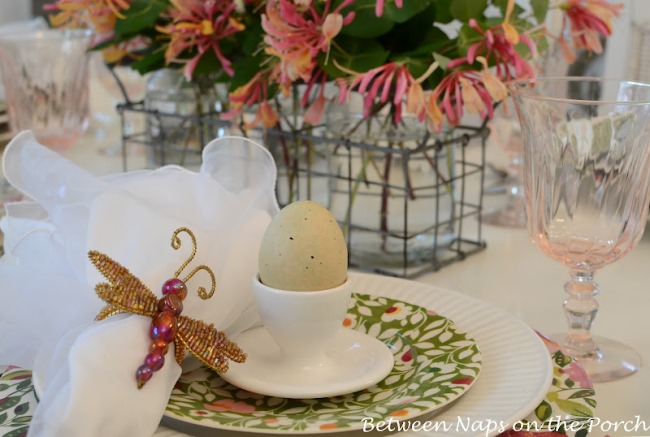 I love the scent of honeysuckle. I first ran across this variety of honeysuckle on a garden tour of Ryan Gainey's garden 12+ years ago. I asked Mr. Gainey what type it was, he told me and I bought some to plant alongside my mailbox. I can't remember the name now. Anyone recognize it?
This is the second time I've used it in a table setting. The first time was for this romantic, "Faerie Ball" dinner for two on the deck. It may not be a "fancy" flower but I it offers its humble fragrance, color and beauty to the table.
Mr. Gainey graciously opens his garden each year on Mother's Day weekend for the Atlanta Botanical "Gardens for Connoisseurs" tour. It's a great tour with usually 9-11 beautiful gardens.
Remember when I took that little shopping trip to Home Decorators Collection in Alpharetta, Georgia? While there I spotted this wire basket that's perfect for a pretty floral arrangement. I pulled the flowers out of one of the three containers so you can see how it's designed.
The metal cap just sits on top of the glass jar and makes creating a floral arrangement so easy. I have a feeling I'll be looking for excuses to use this again and again. Just checked and they are available online, too.
Dragonflies have landed on the napkins.
They must have been lured here by the sweet smell of honeysuckle.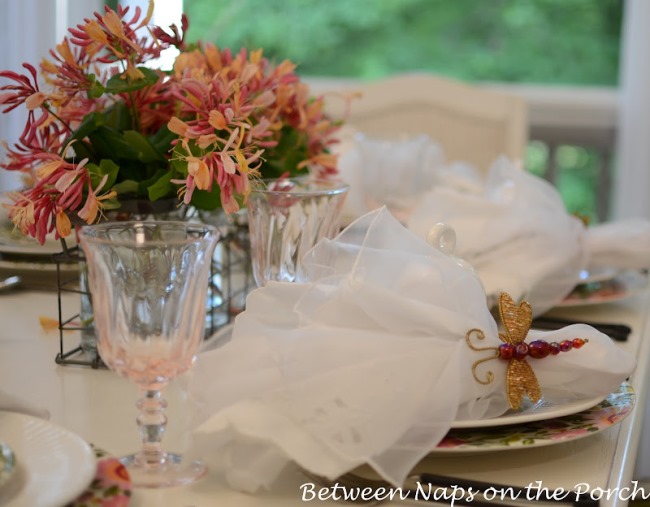 You'll find other table settings with the Pottery Barn bunny dishware in these posts below:
Spring/Easter table setting with a tulip centerpiece and PB bunny cupcake stands
Spring/Easter table setting with a wisteria centerpiece and PB bunny plates.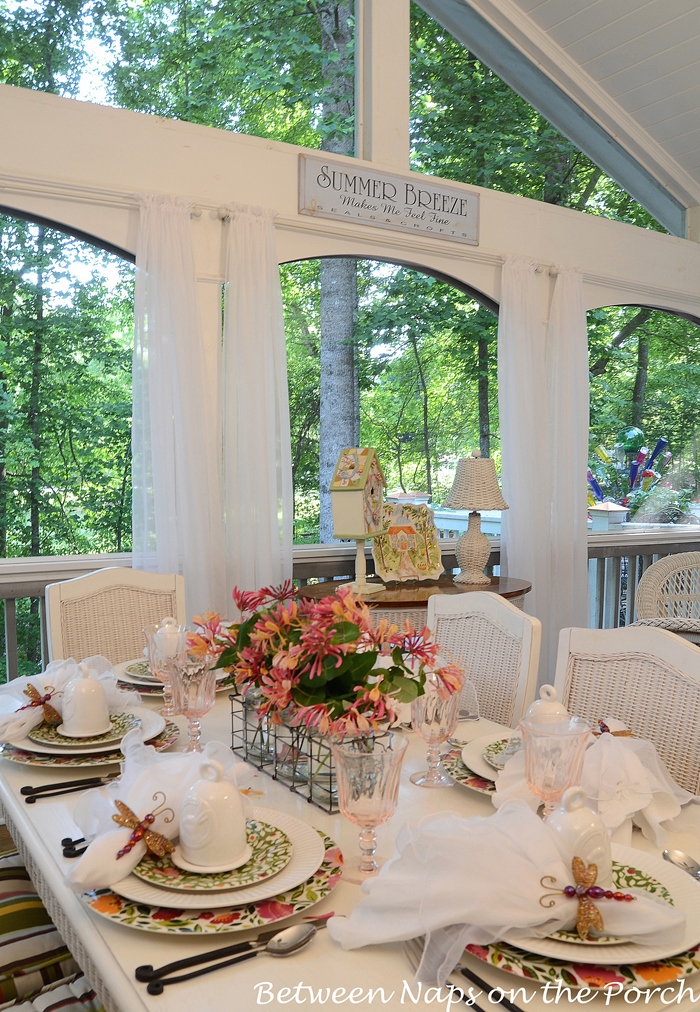 Resources:
Chargers and Salad Plates: Marshalls, Kim Parker Home Collection, Pattern is Emma, 2-3 years ago
Dinner Plate: Clarendon, Big Lots, 3 years ago
Egg Cup: Pottery Barn, this spring
Stemware: Gorham, received as a gift 2 years ago
Flatware: HomeGoods, Gourmet Setting, Treble Clef, 3 years ago
Napkins: Found antiquing, 2 years ago
Napkin Sheaths: Local gift/antique store, 1-2 years ago
Dragonflies: Pier 1, 1-2 years ago
Centerpiece Wire Basket: Home Decorators Collection, this season
Receive BNOTP updates right in your Inbox:
To receive the latest posts, as well as updates about upcoming blog parties, subscribe To BNOTP posts via an RSS Reader. Or, have BNOTP delivered right to your Inbox. You'll find links to subscribe via RSS and e-mail on the top ride sidebar of the BNOTP home page.
Reading this post via e-mail or RSS feed?
*If you are reading this via email or RSS feed, to view all the tablescapes linked for Tablescape Thursday, click HERE.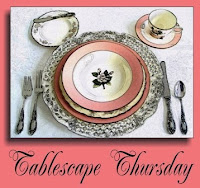 Please Read:
If you are participating in Tablescape Thursday, please be sure to add your permalink below, and not your general blog address. To get your permalink, click on your post name, then just copy and paste the address that shows up in the address bar, into the "url" box when you link up.
You'll need to include a link in your post back to the party in order to link up and participate. That's so visitors to your blog will be able to find the party and the other Tablescape Thursday participants.
If you would like to use the Tablescape Thursday logo button in your post, just copy and paste it to your computer and upload it to your post as you would any photo. Or, grab the html code you'll find under the "Parties" heading at the top of this blog.
Please, don't add your post name/blog name ALL IN CAPS…it tends to create big spaces between the rows of links. Thanks!




Welcome! Thanks for coming to the party!
*If a post is sponsored or a product was provided at no charge, it will be stated in post. Some links may be affiliate links and as an Amazon Associate, I may earn from qualifying purchases. *