Here's a little tutorial I almost didn't write. For last Tablescape Thursday I shared a fun centerpiece that would be great to take to a bridal shower as a gift or to use as a centerpiece if you are the host for the shower. (View that tablescape here: Bridal Shower with Easy-to-Make Centerpiece)
It was so easy to make, I wasn't sure it really warranted a tutorial. Since I did learn a couple of things that proved to be helpful, I'm sharing those details in case you do wish to make this centerpiece or something similar.
I purchased a bunch of the Betty Crocker kitchen utensils/gadgets at Dollar Tree. I actually added a couple more that aren't pictured below. Since everything came from Dollar Tree, this is a very affordable centerpiece to make.
I purchased red and white paper confetti from Dollar Tree as a filler for the colander I already had and planned to use.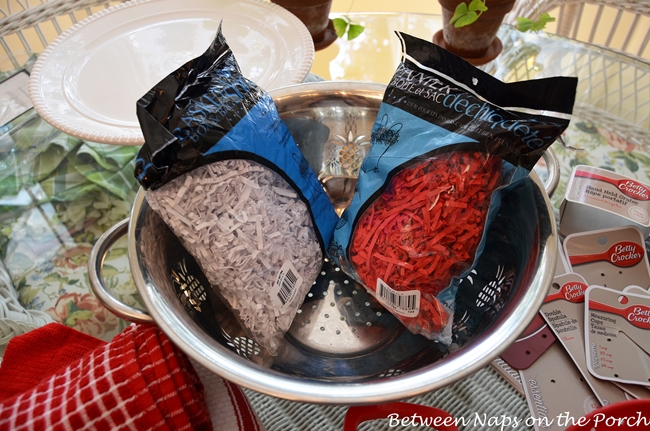 If you are giving this as a gift, you could purchase one of the large mixing bowls or one of the colanders at Dollar Tree or any discount store. The ones below are what I found in Dollar Tree.
I started by filling the bottom of the colander with some confetti.
As I began poking the utensils into the bowl, I started with the larger pieces first, like the tall hand strainer you see toward the back, the potholder/glove and the taller spatulas/scrapers. I took all the cardboard labels off since they took away from the appearance of the centerpiece. They sell lots of red checked, red striped and red dish towels at Dollar Tree. I already had some red/white towels, so I used those for this centerpiece. I placed a little confetti down inside the measuring cup you see toward the front. The confetti really gives this centerpiece a festive feel.
Here's a tip that made a big difference. Before you add in your towels, take a moment to roll them up and tie them with ribbon. (see arrow pointing to ribbon) As I kept moving things around, the rolled up towels kept trying to come unrolled until I got smart and tied a ribbon around them. That worked way better. The towels are an important ingredient to this centerpiece because they add bulk which is needed to help the utensils stay standing up, so they really need to stay tightly rolled up.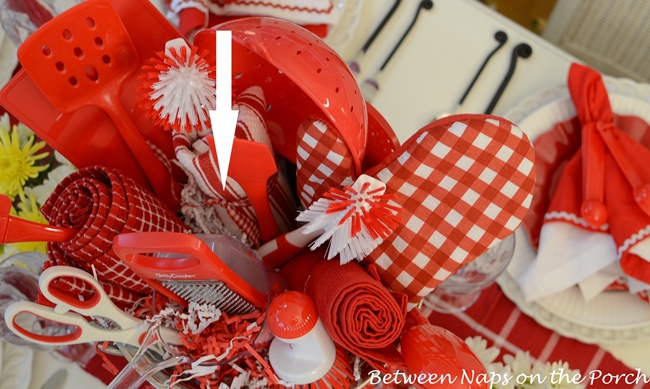 I tucked one of the spatulas down inside the rolled up towel for extra stability. Once I was satisfied with the placement of the pieces, I added in more confetti to help hold things in place and for decoration.
It's nice to give a centerpiece a little height. I placed mine atop this Dept. 56 cake stand I found in HomeGoods several years ago. I added more confetti around the bottom since the colander looked a bit bare just sitting on the stand.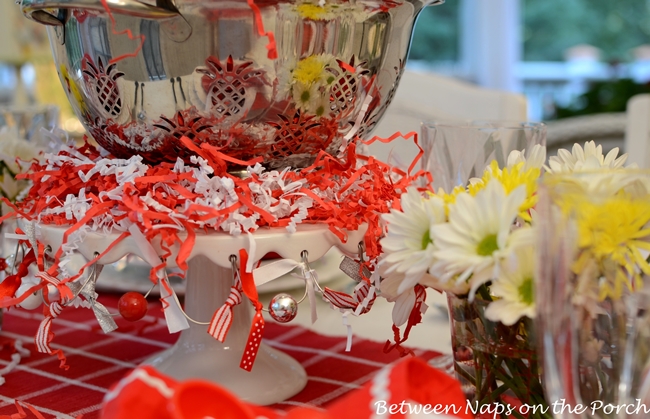 Here's how the cake stand looks minus the confetti. The colors were just right for this centerpiece. (Alice in Wonderland Un-birthday party tablescape can be seen in this post: You're Invited to an Un-birthday Party, Alice in Wonderland Style)
If you are giving this as a gift at a bridal shower, you could save all the cardboard inserts for the bride-to-be, just in case you think she would like to see them for reference. They could be tucked down into the bottom of the centerpiece under the confetti where they won't be seen.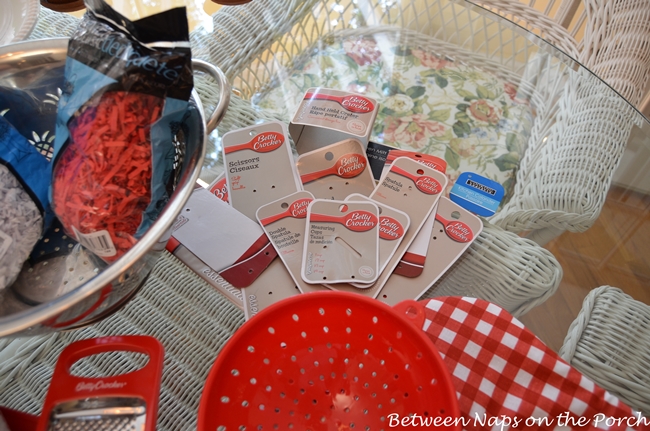 To complete this centerpiece, I added two measuring cups filled with yellow mums and white daisies on either side of the raised centerpiece.
So there ya have it…a fun, easy-to-make, whimsical centerpiece or gift for a bridal shower.
Pssst: I post almost daily to Instagram. Follow Between Naps on the Porch on Instagram here: Between Naps On The Porch.
*If a post is sponsored or a product was provided at no charge, it will be stated in post. Some links may be affiliate links and as an Amazon Associate, I may earn from qualifying purchases. *