Welcome to the 290th Metamorphosis Monday!
How was your weekend? Hope it was relaxing and fun! I had some friends over for a little cookout on the porch and we had great time together.
Speaking of the porch, recently I had it freshened up with a new coat of paint. It had been over 6 years since it was last painted. After the porch was painted, I noticed the covers on the swing were looking pretty dirty.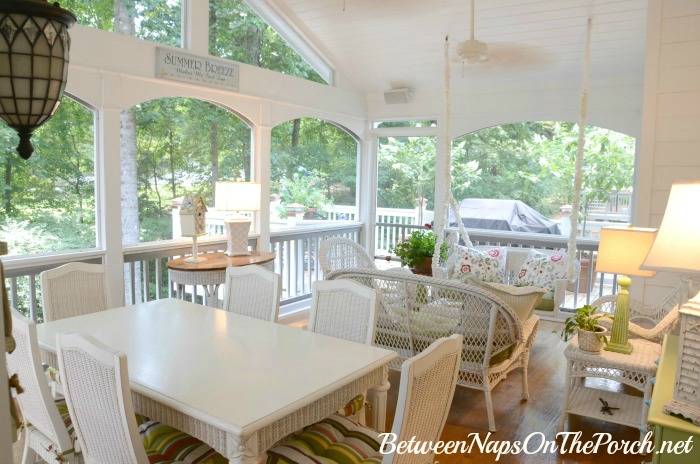 Removing them for washing was a snap! Actually, it's more like a gazillion snaps! Har, har. This process went quickly as I listened to a book on Audible. I'm so hooked on Audible, y'all! Anytime I have to do something that doesn't require rubbing two brain cells together, i.e. folding laundry or unsnapping a million and one snaps, I listen to Audible and it goes by so quickly. I'm almost sad when whatever I'm doing is done.
Here's how the swing looks with the chains exposed…very utilitarian-looking, isn't it?
It's been over a year since they were last washed so they were looking pretty grungy/
Much better after a good scrubbing in my washing machine's hand-wash basket. I added a teensy bit of bleach when I washed them. They are made of nylon or some type of synthetic material so they have held up really well here on the porch.
Here they are, back in place. I get a lot of questions about the chain covers. They are just electrical cord covers purchased from Hobby Lobby many years ago. The HLs in this area used to carry them in a lot of different colors. I went with the whitest ones, hoping the chains would just blend into the porch and kind of disappear.
Cord covers can be expensive and I needed four, so I waited until they were on sale at 50% off to buy them. I used one each on the long chains coming down from the ceiling and cut the remaining two covers in half to cover the smaller sections of chain that connect to the swing itself.
They stay in place pretty well since they are stacked up on the metal chains.
Hard to believe they've been out here for 6 years. Other than a few broken snaps, they still look pretty much as they did when I first put them out here 6+ years ago.
Looking forward to seeing what you've been working on!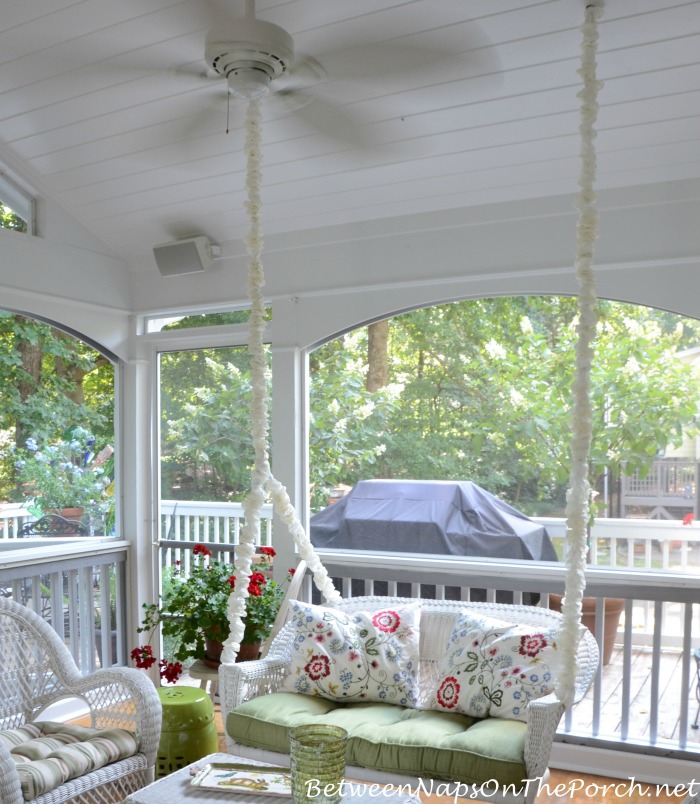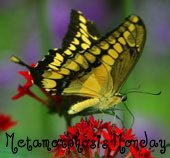 If you are participating in Metamorphosis Monday, you will need to link up the "permalink" to your MM post and not your general blog address. To get your permalink, click on your post name, then just copy and paste the address that shows up in the address bar at the top of your blog, into the "url" box for InLinkz.
In order to link up, you'll need to include a link in your MM post back to the party so the other participants will have an opportunity to receive visits from your wonderful blog readers.
Please observe these few rules:
Only link up Before and After posts that are home, gardening, crafting, painting, sewing, cooking, DIY related.
Do not link up if you're doing so to promote a website or product.
Do not link up a post that was just linked last week since a lot of readers will have already seen that post.


*If a post is sponsored or a product was provided at no charge, it will be stated in post. Some links may be affiliate links and as an Amazon Associate, I may earn from qualifying purchases. *