Welcome to the 235th Metamorphosis Monday!
For this MM, I have a small "Before and After," something that made me a happy girl this weekend. I'm probably the last one on earth to discover this, but I thought I'd share it today in case it's helpful for you.
Do you ever get these annoying little scuff marks on your walls? They just appear, don't they? There must be little gremlins running through the house while we sleep at night, having a party and marking up the walls. I'm sure that's how it happens.
I had several on the walls in this upstairs hallway. I promise I'm not decorating for Christmas just yet. This was taken last year when I was preparing to hang the wreaths on the windows. Just think, that time is only 3 1/2 months away! Wow! (Tips for hanging wreaths on exterior windows can be viewed here: Hang Wreaths on Windows for Christmas)
I also have quite a few marks along the walls of the front staircase. It will be time to decorate again like this in only 2 months! HA! (Halloween staircase can be viewed here: Decorate Stairs for Halloween.)
There were even a few down the back staircase that leads to the laundry room. I've been thinking about touching up those areas with left over paint, but they were painted so long ago I doubt the paint I have would still match. So what to do?
I normally skip pass commercials on TV (can't stand them unless they're funny) but recently I saw one that sparked an idea. Have you ever bought any of these? I purchased this box of Magic Eraser about a year or so ago to try in the bathroom. I can't remember now if I ever tried them in there. The box was open but it didn't look like they had been used. It said on the back (and in the commercial) that Magic Eraser works to remove streaks on the walls, so time to put it to the test.
I decided to tackle the streaks on the back staircase first. The directions said to wet the sponge, then squeeze it out. It's kind of weird because when you wet it and squeeze it, nothing comes out, at least that I could see. It looks like a plain white sponge.
Wow, it really does work! I was dumbfounded because it worked so quickly and with very little scrubbing. I had to put a little sticky tab thing on the wall to give my camera something to focus on so it would take the picture. I placed it near where the mark had been. Pretty cool, huh?
I found a reddish streak on another staircase wall, actually two…one is half hidden by my watermark. Would it work on red?
Yup! I was having so much fun, I went on a search for streaks in all the halls just so I could use it some more.
I tried to look up some info about how these sponges work, I was so fascinated by them. Per Wikipedia, they have something in them called melamine foam. Apparently, this type of foam has been used for over 20 years to make insulation for pipes and ductwork and for soundproofing studios, sound stages, etc… It also mentioned that it's used in many cleaning products. It sure worked great on my wall streaks.
NOTE: If you buy some of these, be sure to keep them away from children, just like you would any cleaning products. Apparently, there have been a few cases where a child tried to use them like a regular sponge for bathing and got a chemical burn on their skin from scrubbing with them.
In case you're wondering, I haven't been compensated in any way for sharing this product and this isn't a sponsored post. If it was, there would be a big ole notice in the post somewhere stating that. Just sharing a product that worked to solve a problem in case it's helpful for you, too.
Have you used these sponges before? Am I the last person on earth to try them? I have to admit, I rarely try new products…tend to just use the same things over and over.
Do you like to try new products or do you just use the ones you know? Got any favorites I should know about? I would love to hear what products you use around the house for cleaning.
Looking forward to the Before and Afters posted for this Metamorphosis Monday!
Metamorphosis Monday: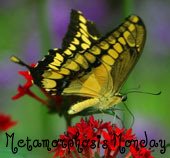 If you are participating in Metamorphosis Monday you will need to link up the "permalink" to your MM post and not your general blog address. To get your permalink, click on your post name, then just copy and paste the address that shows up in the address bar at the top of your blog, into the "url" box for InLinkz.
In order to link up, you'll need to include a link in your MM post back to the party so the other participants will have an opportunity to receive visits from your wonderful blog readers.
Please observe these few rules:
Only link up Before and After posts that are home, gardening, crafting, painting, sewing, cooking, DIY related.
Do not link up if you're doing so to promote a website or product.
Do not link up a post that was just linked last week since a lot of readers will have already seen that post.
Do not type in ALL CAPS. It spreads the links waaaay out.
Let's try something fun today! Please visit the person who linked before you and after you…that way everyone will get some visits.




Welcome! Thanks for coming to the party!
*If a post is sponsored or a product was provided at no charge, it will be stated in post. Some links may be affiliate links and as an Amazon Associate, I may earn from qualifying purchases. *