I follow a few kitty Instagram accounts and they keep me in stitches daily. One account that I follow (bonnieclydekitties) shared the coolest tool for helping keep hardwood or tile flooring clean. I don't have pets now, so I don't have to worry about fur as she does, but I do have a lot of hardwood flooring to keep clean. My whole house is hardwood flooring now, except for one room, my upstairs family room.
This was the new cleaning toy she was using, an Eye-Vac. The Eye-Vac basically takes the place of a dustpan for sweeping. I ordered one to place in my kitchen and absolutely love it! Whenever I sweep, I just sweep the trash up to the little opening in the front, and it sucks it all up. No more dirty dustpan needed! I've enjoyed using it so much, I'm seriously thinking of ordering a second one for the upstairs part of my home, too. It's just so convenient and I'm finding I'm sweeping more now because it's also fun to use.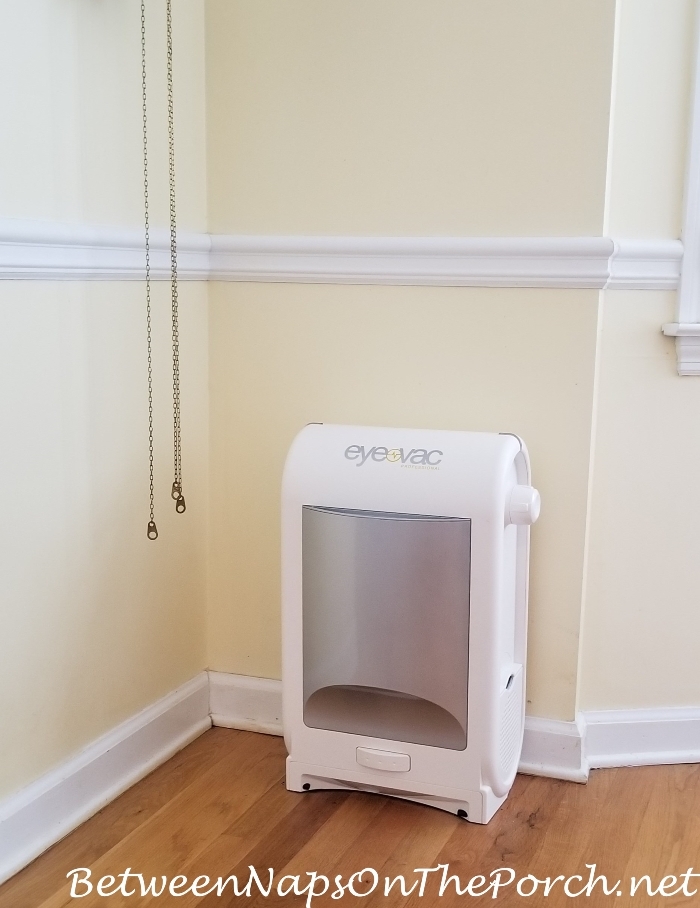 The kitchen is the room in my home that seems to always need vacuuming, partially because I have a tendency to run out to fill up the birdfeeders without changing into my Sloggers. first. Then there's the mess that gets tracked in from the garage, and the little food bits and pieces that magically reproduce on my kitchen floor. Amazing how that happens!
Though it's the room that normally needs vacuuming the most, the kitchen is my least favorite room to vacuum because there are chair legs and bar-stool legs everywhere. So, normally I end up just sweeping in here since it's faster and easier than pulling out the vacuum and trying to vacuum around all the legs.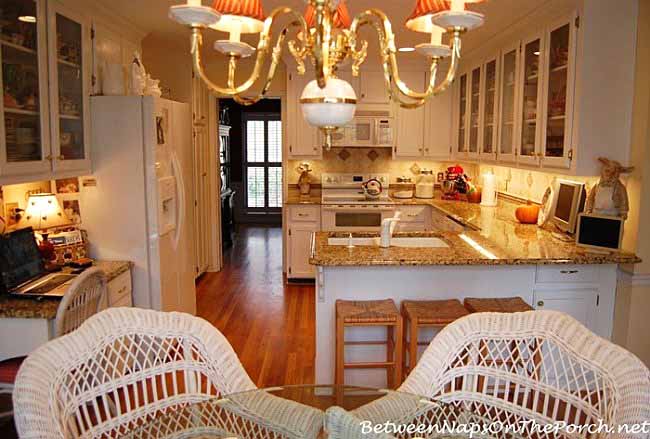 Ditto for the screened porch. Occasionally I vacuum it, but most of the time I just sweep because I can get in and around all the chairs legs a bit easier. I think I'm going to love having the eye-vac downstairs this summer. Whenever I want to sweep the porch, I can just unplug it and take it out onto the porch and sweep away.
I even thought about ordering one for the porch since I have the perfect spot for one over behind the chair in the corner near the fern, but the kitchen is literally right off the porch, so I can just bring the Eye-Vac out onto the porch whenever I need to vacuum.
It sucks up leaves like nobody's business, too. I picked one up that I had tracked from the deck onto the porch to test it, and it gobbled it right up. So it would work great out here on the porch!
I realized today that I've been sweeping more often this week since I purchased the Eye-vac. It's very satisfying to watch it suck everything up. I hated dealing with a dustpan, they are yucky and so awkward to use. Plus, I can never seem to get everything onto the dustpan.
No problem with the Eye-Vac, it just sucks it all up. If you have hardwood or tile floors and find yourself sweeping a lot, check out the reviews for the Eye-Vac here: Eye-Vac Vacuum. It also comes in black here: Eye-Vac. So far, I'm loving mine!
Update: The bunny dishware is on sale at Pottery Barn! I'm going to order some, trying to decide on a pattern, they are all so cute!
These are the two designs I'm thinking about ordering:
These are on sale for only $24.99 for 4 plates, can't believe that price! You'll find them here: Bunny Plates.
This is the other set I'm eyeing, they are only $27.99 and so stinkin' cute! That's an awesome price for four plates, especially before Easter. These are the kind of prices you usually see after the holiday! You'll find them available here: Bunny Plates.
Okay, I order a set of each, couldn't make up my mind and love them both. I got free shipping with the promo code: SAVEMORE, so if you order, be sure to use that promo code to save on your shipping. Love free shipping!
Oh, found one more set of adorable bunny plates…love these sweet faces! These are on sale here: Bunny Plates. Sooo cute! Arggg, I'm a sucker for adorable bunny plates…can not resist!
*If a post is sponsored or a product was provided at no charge, it will be stated in post. Some links may be affiliate links and as an Amazon Associate, I may earn from qualifying purchases. *