Welcome to the 207th Metamorphosis Monday! The last few weeks I've been sharing the amazing metamorphosis that happens each Christmas in the home of Governor and Marie Barnes. It's been a joy to share their home decorated for this special holiday.
This will be our last post, although I may put one together showing all the trees. Marie decorates 16 trees and I don't think that's counting the fairyland you see below. The Barnes decorated this large area of their basement/terrace level for the Marietta Pilgrimage Preview Gala in 2011 and since it's on the terrace level, they left it in place. So there's always a touch of Christmas in the Barnes' home year-round. Wouldn't it be fun to have an area like this that could stay a winter-wonderland full-time?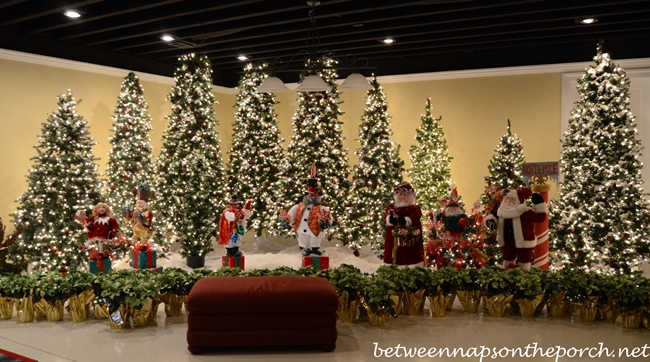 This tree is just to the left of the beautiful display above. I know Marie's grandchildren must love this space!
The terrace level also has a seating area for chatting and TV watching. Love the round mirrors…they feel like shiny bubbles floating by.
The terrace level could easily function as an apartment since it has a nice large bedroom in addition to the full kitchen I shared in this post: 3 Party Table Settings with Coca-Cola Dishware and Coke Memorabilia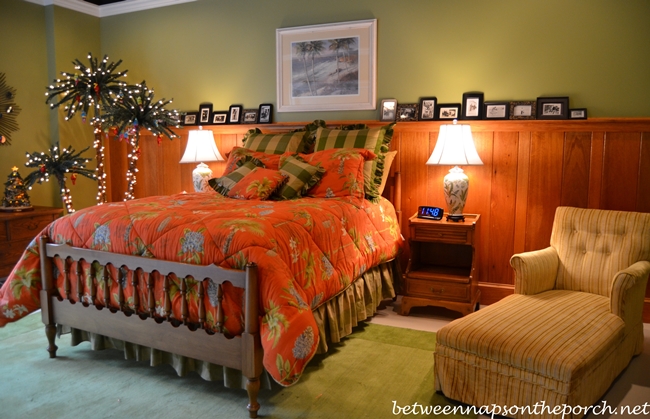 The palm tree Christmas trees compliment the palm tree comforter in this room. The mirror ties in beautifully with the mirrored wall display in the living room.
The terrace level also has a great bath. The Venetian glass mirrors are so elegant and beautiful. It really make the bath feel nice and big, having them atop a larger mirror. This bath has access on both sides making it convenient to the bedroom and the rest of this downstairs area. Love the antique sideboard being used as a sink for this bath.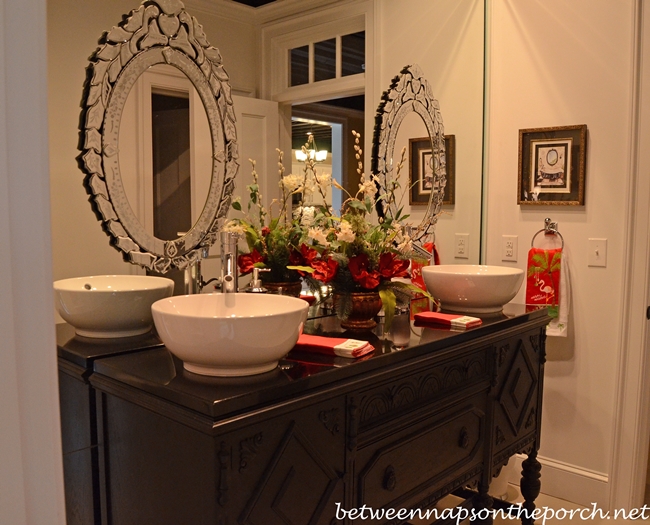 I've always wondered how to protect the top of a dresser or sideboard when it's being used as a sink. This piece appears to have the same "Black Absolute" granite we saw in the kitchen a few feet away. It looks great here in the bath with the vessel sinks.
I had to save the Gift-Wrapping Room for last because it was one of my very favorite spaces on the terrace level.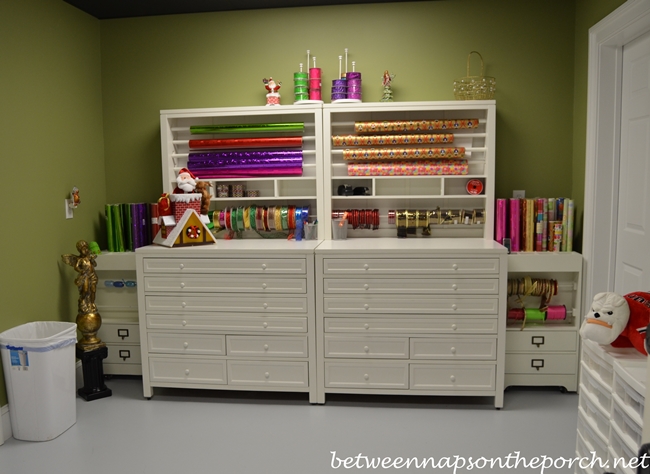 When I was creating my home office, I drooled over these Martha Stewart Craft & Gift-Wrapping furniture pieces. Unfortunately, my office just wasn't large enough to fit one in with the other pieces I was using. This was the exact combination I had loved with the hutch above and the eight-drawer flat-file cabinet below, so I was beyond excited to see them here in action. Marie used two of them side-by-side, along with two smaller, portable units on the ends. You can see this whole line of furniture at Home Decorators Collection online.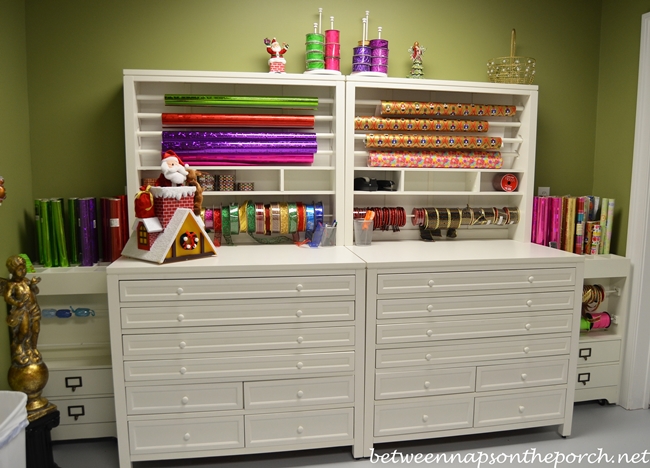 Marie didn't have this room designed to hold these four pieces. They just amazingly fit perfectly along this wall. It was meant to be! If you live in Metro Atlanta, you can see these pieces in person at the Home Decorators Collection store in Alpharetta. And just so you know, I'm not being sponsored or compensated in any way to mention them. Just sharing this info in case you love this furniture line as much as I do!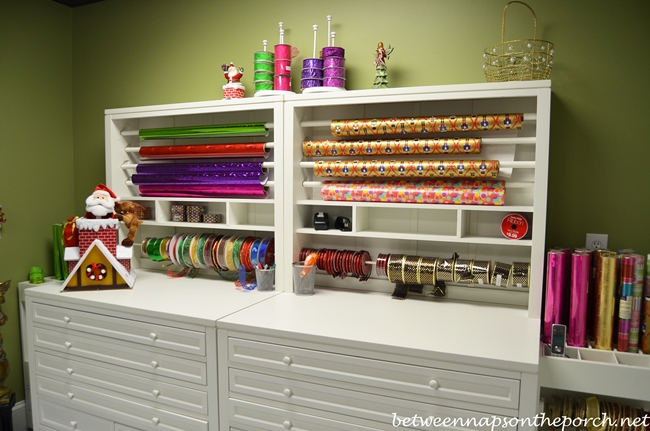 I saw these smaller units when I was last in the store back before Christmas. I think they are on rollers, which means they can be easily moved around to wherever they are needed.
What a great space for wrapping gifts! Absolutely love it!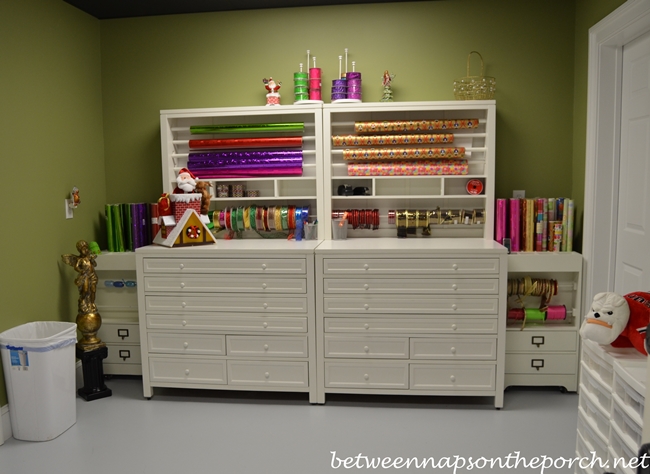 Thanks so much to the Govenor and Marie Barnes for sharing their beautiful home all decorated for the Christmas holiday! This has been one of the most amazing tours I've ever featured here at BNOTP and I loved being able to share it with you.
If you're looking for additional Gift-Wrapping Craft Room ideas, check out the pics I took when I toured this craft room and gift-wrapping closet in the 2010 Southern Living Idea Home in Senoia Georgia. You find it in this post: Southern Living Idea House in Senoia Georgia
You'll find additional posts/tours of the Barnes beautiful Victorian Home here:
Tour a Beautiful Victorian Home Decorated for Christmas, Part I (Exterior, Entry, Powder Room)
Tour a Beautiful Victorian Home Decorated for Christmas, Part II (Library, Study and Beautiful Dining Room)
Tour a Beautiful Victorian Home Decorated for Christmas, Part III (Gourmet Kitchen, Breakfast Room with Peppermint and Gingerbread Theme)
Tour a Beautiful Victorian Home Decorated for Christmas, Part IV (Great Room and Outdoor Entertaining Spaces)
Tour a Beautiful Victorian Home Decorated for Christmas, Part V (Elegant Master Bedroom, University of Georgia (Bulldog) Themed Bedroom)
Four Beautiful Christmas Table Settings, One Gorgeous Victorian Home
Looking forward to all the fabulous Before and Afters for this Met Monday!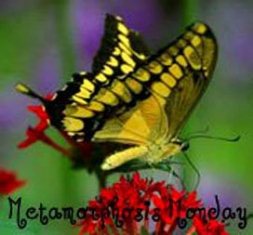 If you are participating in Metamorphosis Monday you will need to link up the "permalink" to your MM post and not your general blog address. To get your permalink, click on your post name, then just copy and paste the address that shows up in the address bar at the top of your blog, into the "url" box for InLinkz.
In order to link up, you'll need to include a link in your MM post back to the party so the other participants will have an opportunity to receive visits from YOUR wonderful blog readers.
Please observe these few rules:
Only link up Before and After posts that are home, gardening, crafting, painting, sewing, cooking, DIY related.
Do not link up if you're doing so to promote a website or product.
Do not link up a post that was just linked last week since a lot of readers will have already seen that post.
Do not type in ALL CAPS. It spreads the links waaaay out.
Let's try something fun today! Please visit the person who linked before you and after you…that way everyone will get some visits.


*If a post is sponsored or a product was provided at no charge, it will be stated in post. Some links may be affiliate links and as an Amazon Associate, I may earn from qualifying purchases. *