Welcome to the 373rd Tablescape Thursday!
When I first started putting this table together, it was in the 50's outside, a little too chilly for playing out on the porch. By the time I was done, I was wishing I had set the table there because it was already up to 63 degrees outside.
I'm using a few of the souvenirs I brought back from Italy in today's table.
I clipped the last of my Limelight Hydrangea blooms and placed them inside a pitcher found while shopping in a cute shop in Cortona previously shared in this post: Bringing a Bit of Tuscany to my Kitchen.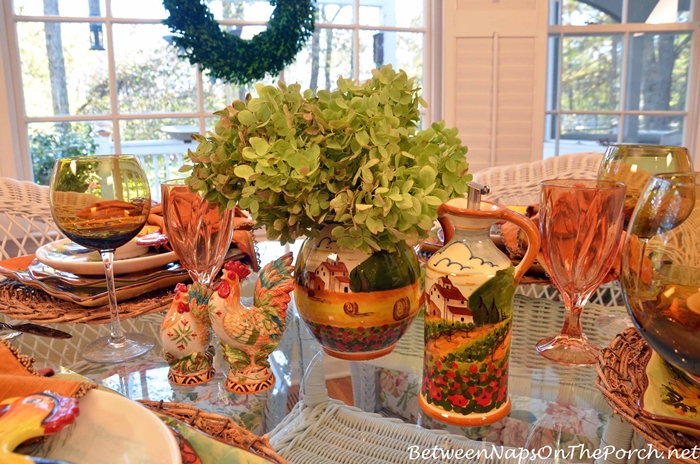 We interrupt this post for a bird sighting picture. lol Look who's eating from the suet feeder hanging from the pergola outside…a pretty little bluebird. It amazes me how they will cling to the feeder to eat the suet because they aren't really clinging birds. I usually put suet out for them in the winter in a little bowl but I think they prefer eating it this way for some reason. Okay, back to our table.
A few of the Limelight blossoms were starting to go brown but that just added to the pretty fall colors in this tablescape.
The olive oil dispenser is another piece I brought home from Cortona, found in the same little shop where I found the pitcher. Today's table turned out to be all about Italy, roosters and lots and lot of layers. I went a little layer crazy 🙂 but loved how it looked in the end. You'll see what I mean in a sec. (Boxwood wreath in background is available for here: Preserved Boxwood Wreath)
I began with grapevine chargers. Well actually I began with this big square dinner plate, but decided to use it as a charger instead of a dinner plate. At the very end I placed the grapevine charger underneath it because I just loved how it looked.
These grapevine chargers are really BIG, so in this tablespcape they almost act as a place mat for the larger sunflower dinner plates that I'm using as chargers. The grapevine chargers also do a good job of grounding this colorful table setting.
Sunflower plates (using as chargers) are by Maxcera and the pattern is: Terra Cotta Sunflower. The whimsical curly flatware is available here for the best price I've ever seen it online: Iron Flatware It's almost the same price I paid when I purchased it in HomeGoods!
Continuing with our layers, next came the dinner plate, a pattern by Maxcera called "Fall Rooster."
Our salad plate is by Ceramesia and was made in Italy, another HomeGoods find years ago.
I've used the salad plates once before in a vegetable garden themed table. The dinner plates that go with these salad plates, depict a vegetable garden. Dinner plates can be seen in this previous table setting: Peter Rabbit: Raiding the Garden
I topped everything off with a pretty little hand-painted appetizer bowl hallmarked: "Yellow Talavera." I think I found those in either Marshalls or TJ Max many years ago. The tea/water glass is Breeze Amber by Noritake and the wine glass was a find at A Classy Flea years ago.
For my napkins I layered beaded-edged napkins from Pier 1 over plaid napkins. I'm not sure if Pier 1 still has beaded napkins, I purchased them years ago. Leaf napkin rings completed this fall setting.
Do you still have any blooms on your Limelight hydrangeas. I'm so glad I have a least one Limelight because it's been blooming for weeks and weeks! I'm amazed how long the blooms last!
Happy Fall! Looking forward to seeing all the beautiful tables posted for this Tablescape Thursday!
If you are participating in Tablescape Thursday, please be sure to add your permalink below, and not your general blog address.
To get your permalink, click on your post name, then copy and paste the address showing in the address bar, into the "url" box when you link up. You'll need to include a link in your post back to the party to link up and participate.
That's so visitors to your blog will be able to find the party and the other Tablescape Thursday participants. Requiring a link back also prevents businesses from linking up to sell their products. (Yep, that really happens, unfortunately.)
Please, don't add your post name/blog name ALL IN CAPS…it tends to create big spaces between the rows of links.
*If a post is sponsored or a product was provided at no charge, it will be stated in post. Some links may be affiliate links and as an Amazon Associate, I may earn from qualifying purchases. *