Welcome to the 326th Metamorphosis Monday!
Hope you had a wonderful weekend! I'm sharing an edible "Before and After" for this Met Monday. I love to eat but don't necessarily enjoy cooking unless it's for a party or a gathering of friends or family, then I do look forward to cooking. But if it's just me, I'm more prone to grab a handful of nuts or eat a piece of salmon and call it a meal.
Recently I've started buying those funny looking green juices you find in the refrigerator section at Whole Foods, since I know I don't eat enough vegetables. I like the way they taste but they are super expensive. Plus, they always look so watery.
This sent me down the path one evening of looking at juicers online at Amazon. In the process I learned there are different kinds of juicers and the most popular seem to be the centrifugal and masticating styles.
Masticating seems to be the most efficient at getting all the good stuff out of vegetables, but I was surprised after watching a YouTube video by how much of the vegetable and fruit was left over after the juicing. Also, it took several minutes to make a glass of juice from a huge pile of vegetables. I know myself well and if it's not fast, I'm not going to do it.
I finally decided to buy a centrifugal style juicer since those seem to work the fastest, although they aren't quite as efficient at removing all the juice from the vegetable. I ordered a centrifugal juicer but after 5 days, it still hadn't even shipped. Irritated by how long it was taking to ship, I canceled the order and decided to see what I could find locally.
One day I was in Target and ran across this, a NutriBullet
. It was about 1/3 the cost of the masticating and centrifugal juicers I had seen on Amazon and I really liked how you got the benefit of eating the whole plant and not just the juice from the plant. That had really bothered me when shopping for juicers, how much of the vegetables and fruits was left over and thrown out after juicing with the masticating and centrifugal juicers. So I purchased a Nutribullet and decided to give it a try.
When I drink juices, I always go for the ones that are almost all vegetable based. Diabetes runs in my family, both my father and brother had it. Plus, I've noticed in the past if I drink a fruit smoothie, it wipes me out. I guess my blood sugar plummets or something because I feel absolutely horrible and always have to lay down and sleep for a couple of hours after drinking one. I feel my best when I stay away from a lot of sugar, natural or processed.
I purchased a juicing book online, but unfortunately when it arrived, it was all fruit drinks. So, I decided to make up my own. These are the vegetables that went into my drink, all organic except for the cucumber which I ended up peeling. I also added in a big handful of kale but forgot to get it out before taking the photo below. It's visible in the next picture.
The photo below shows everything ready to go into the juicer, including the kale. The only thing I did to prepare the food for the Nutribullet was rinse off the celery and romaine, core the apple and peel the cucumber. That took about 1-2 minutes…my kind of prep time!
Since this was the first time I've ever juiced vegetables and the first time using a Nutribullet, I wasn't sure how much I'd need to make a full glass of juice. I ended up using around 1/2 to 2/3rds of what you see below. There's a printable recipe at the end of this post sharing what I ended up using in the end. I was surprised to find it made two good-sized glasses of juice, so if you're making this juice drink for just yourself, you could probably cut this recipe in half.
The ingredients for this juice are:
Handful of kale
2 Romaine leaves
1/2 cucumber
1/2 bunch of parsley
2 stalks of celery
1/2 to 3/4 cup of seedless green grapes (not cut up)
1/2 Granny Smith Apple
I didn't take any pictures of the juicer loaded up but basically I tossed everything inside in no particular order and turned it on. Here's how my drink looked in the end.
I had started by adding in just 1/2 cup of grapes (not cut up) but after tasting it once everything was mixed, I added in a few more grapes. I loved the texture/thickness of the drink. It wasn't too thick to drink but definitely thicker than those watery looking vegetable drinks I've been buying at Whole Foods. It also tasted a lot better! If you like your vegetable juice less thick, you can add a small amount of water or apple juice.
Update on 4-28: I mixed up a new recipe today adding in ginger, fennel and lemon juice. Love trying new ingredients. One thing I noticed is things like apples and celery take up a lot of space when you first add them unless you cut them up into smaller pieces. It's really important (per the reviews I read on Amazon) to not overfill the Nutribullet container. You only want to fill it to the "Max" fill line on the side of the container. So, if you're adding in your fruits and veggies in big pieces, once things blend down, you can open it back up and add in more. Or, just chop up apples, celery and bulky foods into small pieces first, then you can fit more in at the start.
Clean up was so easy, I literally just rinsed out the Nutribullet container with hot water. That was it!
The recipe made two full glasses, the size shown below. As mentioned, the recipe can be cut in half if you're just wishing to make one glass of juice. I loved knowing there was no waste and I'm getting everything from the vegetables. The only thing that didn't go into the drink was the skin of the cucumber.
I noticed today that NutriBullet is available on Amazon for a lot less than what I paid at Target. I paid $129 at Target and it's only $94.99 with free shipping on Amazon here: Magic Bullet NutriBullet 12-Piece High-Speed Blender/Mixer System
.
Update: This morning I took my left over glass of juice that I had refrigerated and squished into it about 1/3 of a ripe banana. It was sooo good! I love the flavor of the banana with these ingredients. So, if this juice isn't quite sweet enough, add in about 1/3 to 1/2 of a ripe banana.
Do you do any juicing? If so, share your favorite ingredients in the comments. I think I may try adding some nuts next time for the protein, maybe even some flax-seed which is supposed to be really good for you, too. This will make a great breakfast when I'm in a rush, especially with a few nuts thrown in for protein. It will definitely improve the lack of vegetables in my diet because if I've got to cook, I'm probably not going to get them into my diet. This was so easy, great for lazy cooks like me!
Would love to hear what you enjoy adding to your juice drinks!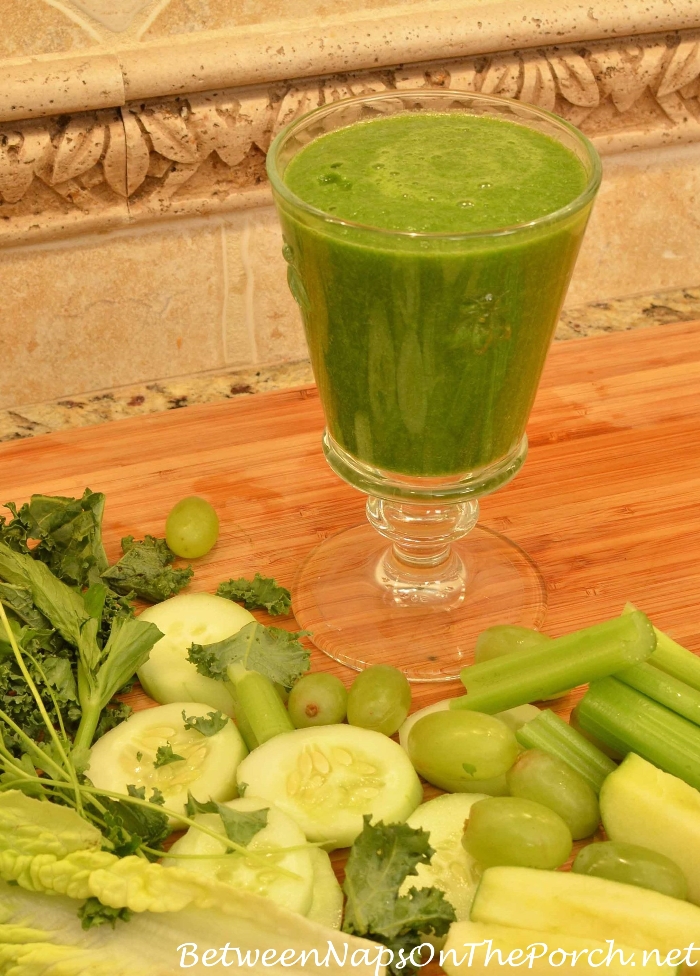 Print Recipe
Healthy Green Juice
Great way to get those fresh vegetables into your diet without having to do a lot of cooking.
Ingredients
Large handful of kale

1/2

bunch of parsley

1/2

cucumber

2

celery stalks

1/2

Granny Smith apple

1/2 to 3/4

cup

of seedless green grapes

not cut up
Instructions
Toss all ingredients into a food blender/extractor. (I used a Nutri-Bullet.)

Run until completely blended, in a Nutri-bullet it took around 20-30 seconds.

Taste your juice and if it's not quite sweet enough, add more grapes or 1/2 a banana.

Serve over ice.

Makes 2 drinks the size shown in the photo.
Notes
Note: I've discovered the Nutribullet works much better if you add in a little water or some kind of liquid. Otherwise the blade just wants to spin around and around and not pull in the rest of the veggies.
The morning after I made this, I squished about 1/3rd of a ripe banana into the glass of juice I had left over from the night before. (I had refrigerated the other glass of juice overnight.) It was really good with the banana! Loved the flavor of the banana with the other vegetables and it added just a bit more sweetness to the mix.
Looking forward to all the fabulous Before and Afters for this Met Monday!
Metamorphosis Monday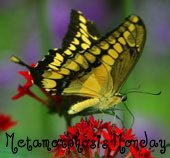 If you are participating in Metamorphosis Monday, you will need to link up the "permalink" to your MM post and not your general blog address. To get your permalink, click on your post name, then just copy and paste the address that shows up in the address bar at the top of your blog, into the "url" box for InLinkz.
In order to link up, you'll need to include a link in your MM post back to the party so the other participants will have an opportunity to receive visits from your wonderful blog readers.
Please observe these few rules:
Only link up Before and After posts that are home, gardening, crafting, painting, sewing, cooking, DIY related.
Do not link up if you're doing so to promote a website or product.
Do not link up a post that was just linked last week since a lot of readers will have already seen that post.
*If a post is sponsored or a product was provided at no charge, it will be stated in post. Some links may be affiliate links and as an Amazon Associate, I may earn from qualifying purchases. *