Welcome to the 378th Metamorphosis Monday!
Early Saturday morning, as I was flying into Amsterdam, I looked out the window of the plane and did a double take. Do you see them down there?
Lots and lots of windmills, smack dab in the middle of the ocean. How is that even possible, windmills in the middle of the ocean? I thought I'd see windmills on this trip, just had no idea I'd see before I got anywhere near land!
After landing, I was picked up and taken to the river ship we would be traveling on over the next 10 days. Enroute, the sidewalks and streets were covered with bicycles either being ridden or parked awaiting their owners. Bicycles are literally everywhere, it appears to be the number one mode of transportation in this wonderful old city.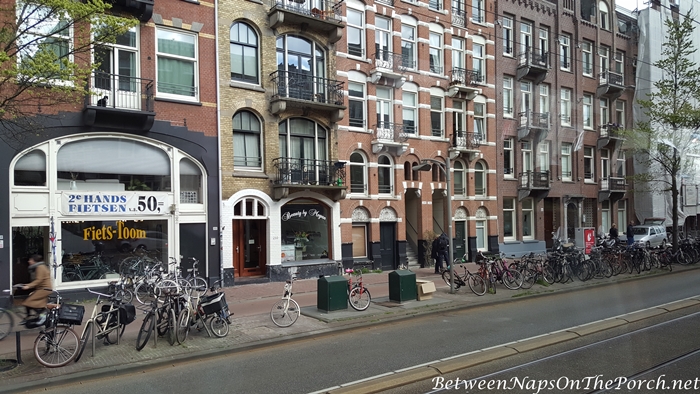 We didn't have a lot of time to see the sights in Amsterdam that night, but we'll be seeing more of it when we return at the end of the tour. Not wanting to waste a precious moment of travel time, Teresa (who reads BNOTP and booked this tour when I blogged about it) and I headed out into the older section of Amsterdam to see as much as we could before the ship left dock that night.
We were headed to The Royal Palace and were in for a big surprise. Right smack in front of the Royal Palace was a big, noisy, carnival. If you follow BNOTP on Instagram, you saw this photo a couple of days ago when I shared it there. See the building off to the left of that gigantic ferris wheel?
I was so surprised to see it is home to a Madame Tussaud Wax Museum. After I took this photo, I noticed later the lights from the carnival were reflecting in the glass windows of Madame Tussaud. Love that!
This whole scene was like we had stepped into a crazy Hollywood movie. When would you ever find a Royal Palace, a carnival and a Madame Toussards all within a few feet of each other. Maybe this was all a dream or a wacky hallucination caused by lack of sleep from flying all night across the pond! 😉 (Read more about the Royal Palace at their website here: Royal Palace.)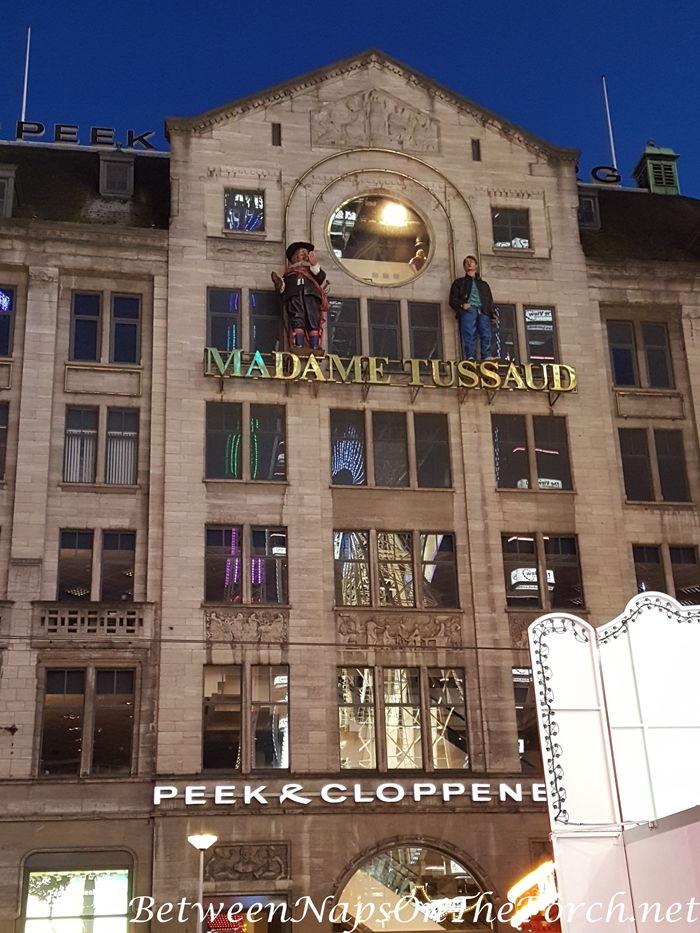 As I was standing there taking photos of it all in pure amazement, sneaky Teresa was off buying us tickets to ride that beast of a ferris wheel, better known as "The View." I later found out that The View is the largest traveling ferris wheel in all of Europe!
Once you are up and riding this monster, you quickly discover why it's called, The View. The views from the top are truly amazing! It was wonderful getting such a great look at the top of the Royal Palace and Amsterdam.
It was sensory overload looking out across the city at all the gorgeous views, then down at the flashing, twirling carnival rides, and the busy streets below. So glad we are visiting during the short few weeks the carnival is here, too.
Earlier in the day before our ferris wheel adventure, Teresa and I enjoyed some much tamer pursuits, walking around Amsterdam and taking in the beautiful flowers and architecture. The tulips in the planters were all in bloom and I couldn't get over how BIG the flowers were. The tulips I've bought and planted in my yard over the years never grew flowers this large.
So beautiful!
Today, (Sunday) we visited Kinderdijk where we saw so many wonderful, old windmills. We went inside one, climbing stairs to the top where we could see the inner-workings of the windmill.
I'll have to share more about those later. It's almost 1 AM here and I have to be on the bus by 8:30 tomorrow. We're sailing tonight to Terneuzen where we'll disembark and travel to the medieval city of Bruges. Can't wait to share Bruges with you!
I'll leave you with photos of some of the wonderful windmills we saw in Kinderdijk today.
Be sure to follow Between Naps On The Porch on Instagram HERE to see the photos I'm posting in real time as I travel across Holland and Belgium. Looking forward to sharing the adventures with you each day!
Looking forward to all the wonderful Before and Afters for this Metamorphosis Monday!
If you are participating in Metamorphosis Monday, please link up using the "permalink" to your MM post and not your general blog address. To get your permalink, click on your post name, then just copy and paste the address that shows up in the address bar at the top of your blog, into the "url" box for InLinkz.
In order to link up, you'll need to include a link in your MM post back to the party so the other participants will have an opportunity to receive visits from your wonderful blog readers.
Please observe these few rules:
Only link up Before and After posts that are home, gardening, crafting, painting, sewing, cooking or DIY related.
Do not link up to the party if you're doing so to promote a website or sell a product.
Do not link up a post that was just linked up last week since readers would have already seen that post.
Please do not link up more than 3 posts per week.
*If a post is sponsored or a product was provided at no charge, it will be stated in post. Some links may be affiliate links and as an Amazon Associate, I may earn from qualifying purchases. *