Welcome to the 226th Metamorphosis Monday!
Rain, rain go away! Have you been coping with what seems like endless days of rain? If so, you're probably about as sick of rain as I am. Thankfully, the rest of the week is supposed to be a lot nicer here.
The weather kept me from working on an outdoor project I had planned on tackling and posting about for Met Monday. Since I was stuck inside I decided to work on another project, one you may find helpful when you're looking for a particular blog post from the past.
Several times a month I get an email from a reader asking how to find a specific post regarding a room or project I've worked on here in my house. Before today, room updates or makeovers were all grouped together under the category at the top of the blog called, "My Nest." That was better than nothing, but it wasn't a very efficient way to find a previous post since all the posts were thrown into that one big category. If you wanted to find a previous post about an update in the kitchen, you had to scan through 5 pages of thumbnail pictures, with 30 picture links per page, to find that one post.
This weekend, I spent the better part of a day separating those 140+ posts into different subcategories based on the room or area where the project or makeover took place. You can get a preview of the drop down menu in the picture below. Or, better yet, take it for a spin by clicking on "My Nest" at the top of the blog.
If you wish to refer back to a post that was about a specific room, you'll be able to find it a lot faster now. I really hope this helps to locate an older posts when you need it. I absolutely LOVE being able to find something right when I need it! Totally floats my boat!
Speaking of house projects, several folks have left comments or e-mailed to ask when I'll start back to work on the room I've been affectionately calling "the library." I'd really love to finish that room, too but unfortunately there are always expenses that seem to come along and soak up my renovation funds. This year it's been Max's medical bills….he is so worth it, though!
Probably more critical than finishing the library are my three, thirty-year-old bathrooms. They are begging for makeovers and are really more important for resale value down the road. I have a feeling my practical side will win out and my next project will most likely be a bath. Do you have a long list of projects all vying for the number one spot on your priority list?
As I take on these projects and post about them sometime in the future, those posts will be categorized under the appropriate "My Nest" subcategory so it will be super easy to find them again when needed.
You know, it's a little scary how much I love and get excited about organizing "stuff." Are you an organization nut, too? If so, check out some of the ways I got the office a bit more organized in this post: Organization Freak!
Looking forward to the Before and Afters posted for this Met Monday!
Metamorphosis Monday: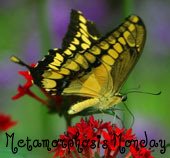 If you are participating in Metamorphosis Monday you will need to link up the "permalink" to your MM post and not your general blog address. To get your permalink, click on your post name, then just copy and paste the address that shows up in the address bar at the top of your blog, into the "url" box for InLinkz.
In order to link up, you'll need to include a link in your MM post back to the party so the other participants will have an opportunity to receive visits from your wonderful blog readers.
Please observe these few rules:
Only link up Before and After posts that are home, gardening, crafting, painting, sewing, cooking, DIY related.
Do not link up if you're doing so to promote a website or product.
Do not link up a post that was just linked last week since a lot of readers will have already seen that post.
Do not type in ALL CAPS. It spreads the links waaaay out.
Let's try something fun today! Please visit the person who linked before you and after you…that way everyone will get some visits.


*If a post is sponsored or a product was provided at no charge, it will be stated in post. Some links may be affiliate links and as an Amazon Associate, I may earn from qualifying purchases. *