Last November, now a full year ago, I was hot on the pursuit of a frame for this beautiful Chuck Pinson painting named, The Governor's Party. The painting depicts the Governor's Palace just as guests are arriving for a Christmas party. I remember touring the Governor's Palace in Colonial Williamsburg many years ago. It was a wonderful experience and I would love to visit again and see it dressed this way for Christmas!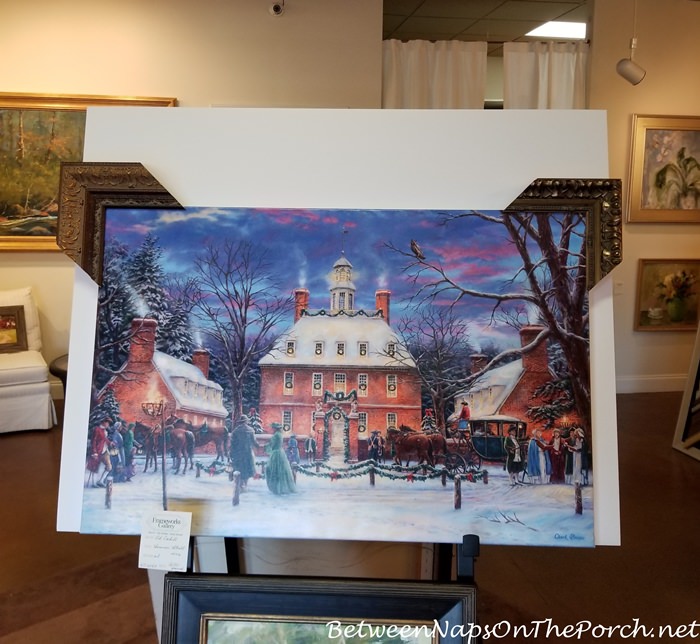 I tried a bunch of different frames at home last November and ultimately chose this one below.
Here's a better photo of it against the painting inside the frame shop. Unfortunately, when they checked in the back for stock, we discovered that the manufacturer had changed the frame and it didn't look the same anymore. It was a drastic enough change that I decided to not go through with the framing. It was close to the holidays and I knew I would have to start the whole "shopping for a frame" process over again, so I just tabled the project at that point. I needed a moment to reboot. Do you ever do that, put a lot of energy into something that's important to you, then when something goes awry, you stop and recharge your batteries before tackling it again?
I don't know why, maybe because Christmas is just around the corner, but my energy and desire to get it framed returned with a vengeance this week. I revisited the framery to see what they had available and in stock. While looking at frames, they had one frame available that they had already made for the paintings they sell in their shop. We tried it with my painting and I was surprised how much I liked it. I really like how it brings out the dark aspects and features in the painting.
It's sometimes a challenge viewing a frame in a photo because the eye will play tricks on you. If the frame looks concave, like it's curving inward, it's not. It's actually convex in shape, meaning the frame bows outward. Can you see that? One minute my eyes see it bowing inward, then it switches and I see it bowing outward. Update: Just picked up the painting and the frame is concave. Ha! See what I mean about viewing it in photos, I thought it was convex, but it's actually concave in design.
Also, it's not black, it's a dark brown that has hints of gold here and there underneath. The gold is very subtle, but it gives it an old-world sheen, if that makes any sense. I love frames that feel old and ancient–they are my favorite. I must be an old soul at heart.
Here's one more close-up.
In the photo, it's just sitting in the frame, that's why you can see daylight between the top of the painting and the frame at the top. It should be ready by Saturday so I'll be sure to share how it looks hanging for Metamorphosis Monday.
If you would love a copy of this painting, you'll find it available at Chuck Pinson's website, where I purchased mine: Chuck Pinson, The Governor's Party. Just scroll down at that link and you'll see The Governor's Party. The website is beautiful, so a delight to visit. I love his paintings!
Update: I've had some questions about the size of the painting/giclee that I purchased. Here's a direct link to the painting: The Governor's Party. I purchased it in the 24 x 36 size on stretched wood bars, but it's available in several sizes.
Okay, I'm off to finish my table for Tablescape Thursday. My green chargers arrived and I think I'm going to use them in tomorrow's table. Looking forward to tomorrow!
*If a post is sponsored or a product was provided at no charge, it will be stated in post. Some links may be affiliate links and as an Amazon Associate, I may earn from qualifying purchases. *