Welcome to the 323rd Metamorphosis Monday!
Happy Spring! Hope you had a wonderful weekend! I spent part of the weekend bringing the plants I had wintered over in the garage, out onto the deck. I'm pushing it a bit since the rule of thumb here is to always wait until after April 15th to plant annuals since there's always a possibility of a freeze before that date. What is the first date recommended for planting annuals where you live?
I have a fun makeover to share for this Met Monday, one that's really long overdue. A cutie I like to bring out to use on the deck each spring and summer is a froggy fountain I found many years ago at a large plant sale. I don't leave Mr. Frog outside full-time. He usually comes out to play when I'm having friends over for a porch party or some time on the deck. After a party, I usually leave him out for a few days to enjoy before tucking him back away.
Despite not using him out on the porch for more than a few days at the time each summer, over the years he has rusted pretty badly. That's kind of odd for a fountain, isn't it? He wasn't very expensive so I'm thinking he was never painted with the right kind of paint from the start.
Having never been crazy about the color he was originally painted, I've long thought of giving him a little makeover even before he rusted.
When I pulled him out of the garage to work on him, I was afraid he was beyond help. The rust had already eaten completely through the metal across the front of the bowl. Nothing like a challenge, right?
After a bit of research online, I decided to try to salvage Mr. Frog. In the process, I gave him that colorful makeover I've been thinking of for so long. You'll find the complete makeover, including how I dealt with all the holes at True Value here: Froggy Fountain Makeover
If you have something you love and use outdoors, I hope this little makeover gives you some hope. If I can bring Mr. Froggy Fountain back from the brink of the recycle heap, there's hope for just about anything!
After checking out Mr. Froggy, be sure and stop back by to see all the wonderful "Before and Afters" for this Met Monday! Happy Spring!
Metamorphosis Monday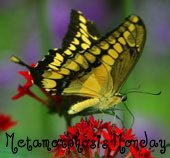 If you are participating in Metamorphosis Monday, you will need to link up the "permalink" to your MM post and not your general blog address. To get your permalink, click on your post name, then just copy and paste the address that shows up in the address bar at the top of your blog, into the "url" box for InLinkz.
In order to link up, you'll need to include a link in your MM post back to the party so the other participants will have an opportunity to receive visits from your wonderful blog readers.
Please observe these few rules:
Only link up Before and After posts that are home, gardening, crafting, painting, sewing, cooking, DIY related.
Do not link up if you're doing so to promote a website or product.
Do not link up a post that was just linked last week since a lot of readers will have already seen that post.
Please do not link up more than 3 Before and Afters each week. Thanks!
*If a post is sponsored or a product was provided at no charge, it will be stated in post. Some links may be affiliate links and as an Amazon Associate, I may earn from qualifying purchases. *