Atlanta has a lot of nicknames, Hotlanta and The Big Peach to name a few. My favorite has always been, the City in the Forest. Apparently, it got that name because when flying into Hartsfield Jackson, Atlanta appears to be nestled down into a forest. The drought has taken its toll on a lot of trees over the last few years though, so not sure if Atlanta is still living up to its City in the Forest name.
Over the last couple of years my home has started to feel like a house being buried in a forest. Many of the original trees, and some of the ones I planted shortly after moving in twenty-two years ago, have begun to completely overwhelm the house.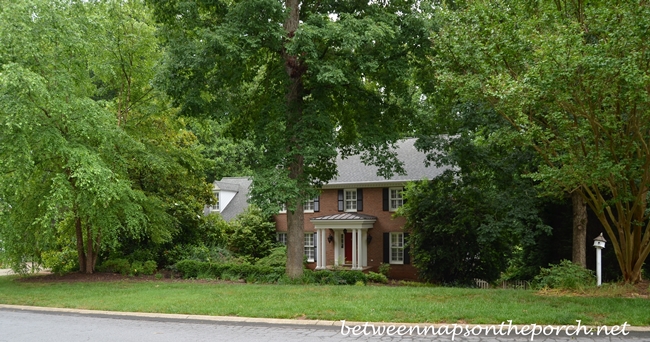 The house was taking on an unkempt appearance. It was slowly disappearing behind a sea of green vegetation. Inside, the rooms were becoming dark and dreary.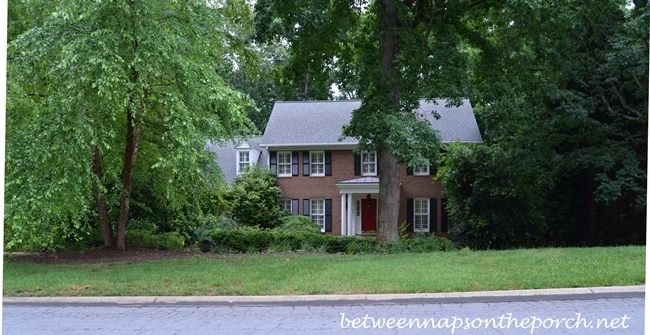 I absolutely hate cutting down a tree, absolutely hate it. But sometimes you just have to.
The holly-bush-that-became -a-tree, on the right side of the house, is an original planting, meaning it's about 30 years old. About 8 years ago I had it drastically cut back since it was completely blocking a window upstairs and downstairs. It was one ticked off holly!
For about two years it just sat there, refusing to put out any new leaves. Just when I was about to give up and have it removed, it started sprouting new leaves everywhere. It still looked terrible but at least it was growing some leaves again.
After a couple more years it once again looked like a holly but it quickly became an out-of-control monster again, completely hiding an upstairs and downstairs window. Not good.
So it's time to say goodbye to the holly and replace it with something that: 1. Isn't a constant maintenance issue and 2. Will not hide the windows. I'd love something that grows tall and skinny and if it has berries for decorating, that would be all the better. I wonder if a Savannah Holly would work there?
The tree guys have been here working today. I'll share how everything looks in Monday's post so you can see the progress. Once you see how much light that area is now getting, I would love any suggestions. It's nice and sunny over there now, you'll see what I mean on Monday. The change is dramatic!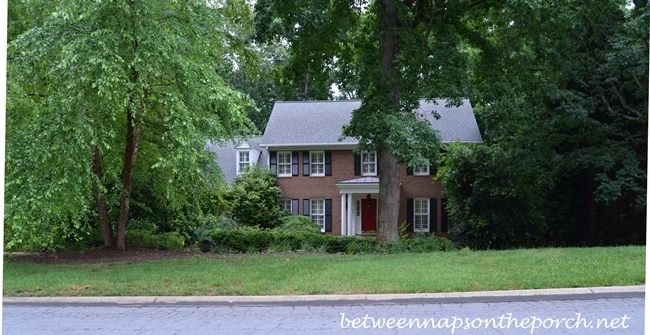 A tree that had to go was the River Birch there on the left. Why does Mr. River Birch have to go?
1. He drops a gazillion limbs every.single.day. Not ocasionally. Not three times a week. DAILY! I can go outside, pick up allllllll the limbs and the next day there are a gazillion more. Drives me crazy! Sometimes the limbs completely block the walkway. At nighttime, that can be a real hazard, tripping folks up. You can see some of them piled up on the left side in the pic below.
They are everywhere. I'll spare you a gazillion pictures of skinny and not-so-skinny limbs all over the yard
The constant dropping of branches was annoying but not nearly as troublesome as the HUGE roots growing above ground all throughout the yard. The roots I have marked below almost reach the road now. They are growing all the way across the front lawn! Try seeding or sodding over that. It's impossible!
The roots are just insane. They will even dig up a nandina bush! In addition to digging up the nandina on the left, they came very, very close to breaking up my brick walkway. I'm lucky because it appears the root took a nosedive and went downward, under the walkway. (See arrow on far left.) Thankfully it didn't do to the walkway what it did to the nandina.
If you visited my home, this is the walkway you would have to navigate to get to the front door. The River Birch has taken it over. It has to go.
See the dark hole off to the right in the picture below? That's the side yard. Once upon a time it was a sunny spot with the nicest grass in the entire yard growing there.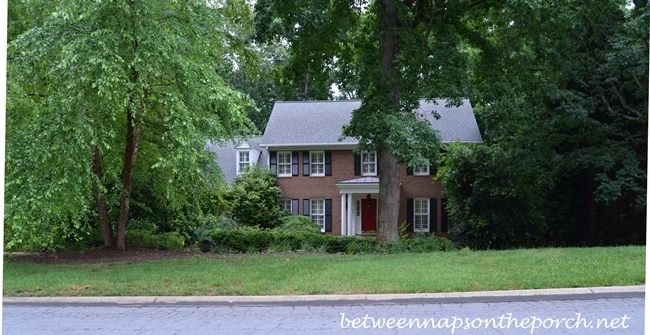 I took this photo this morning when the tree guys were just starting. This is pretty much how dark this area looks and feels much of the time.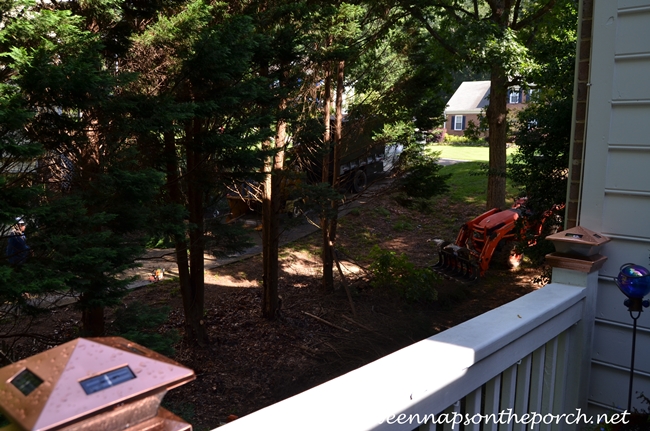 I drastically lightened up one of the photos in Photoshop so you can see the space a bit better, but it feels and looks more like the picture above. The reason this area is so dark is because a couple of years after we moved in, we planted a row of Leyland Cypress for privacy and to help block the hot, west sun that was threatening to fade the rug and furniture in the family room. That was around 20 years ago. Fortunately, I have plantation shutters in the living room now so light control is no longer a problem.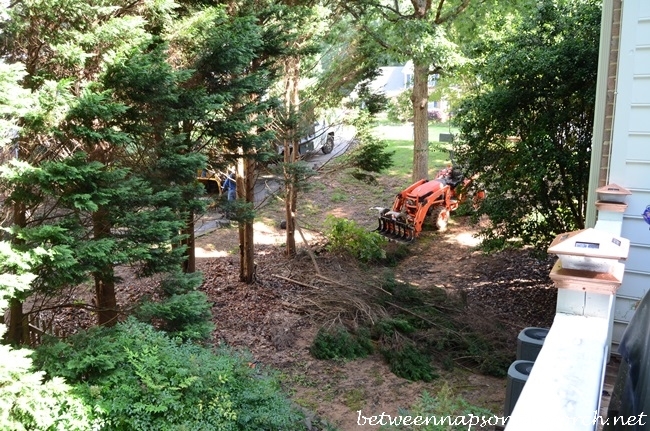 Unfortunately, the life span of a Leyland Crypress is 20-25 years per my tree guy and information I found online. That explains why these guys were really starting to look really sparse throughout. I'm not sure if they were diseased or if it's was just age but they definitely needed to go. The grass has long ceased growing here due to all the shade. That's the monster holly you see on the left of the picture. This area saw a dramatic change today, will share more pics on Monday.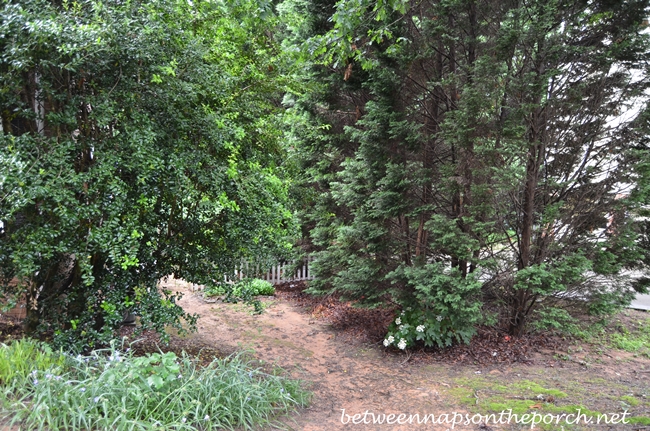 On the other side of the house you'll find my beloved gardenia. Unfortunately, it is being pushed over onto the ground by an Acuba bush. I actually like Acuba (I know some folks don't) but I like my gardenia tree even more. I drastically cut the Acuba back years ago but it bounced right back, so it's time for it to go. Then I'm going to try and coax my gardenia back up off the ground. The small weed tree that's growing up on the other side of the fence behind the gardenia is going, too. I hope I can get it stand back up once the acuba and the weed tree are gone.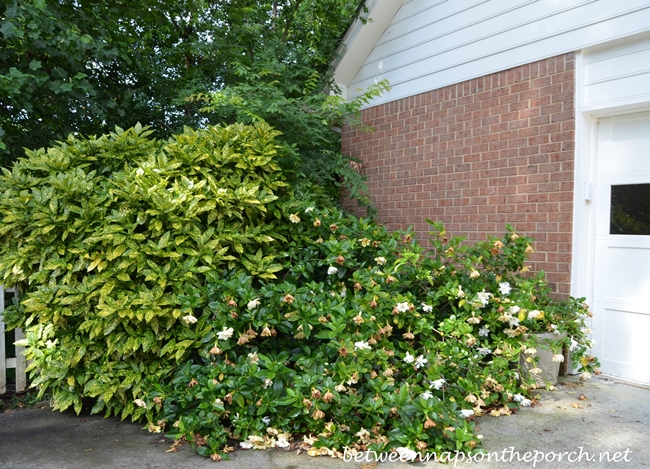 Now about that GIANT oak standing smack dab in front of the house, I'm am not a big fan of trees blocking the view of a house. I like my trees more to the side. But it's there so I'm trying to work with it. The lower branch that's hanging down in front of the tree will be removed and maybe a couple other smaller ones that are growing pointing downward.
This tree is a big problem. It drops a million, gazillion acorns on my yard every year. They aren't even pretty acorns…they are all bald. You have to glue their little hats back onto their heads to use them in decorating. The deluge of acorns each year is like having someone cover your entire yard with a million marbles…miserable to walk on. And everything you try to grow underneath fails. Apparently, the roots suck all the water out of the ground or the decaying acorns destroy the plants.
If you don't get them up immediately, they sprout oak trees all throughout the flower beds and islands. If you don't see the baby oak tree as soon as it starts to grow, once it gets just a few inches tall it is impossible to pull out. You have to DIG it out. With a shovel. It's hard to get out even with a shovel because oak trees send out loooong tap roots. Imagine digging out a gazillion acorn trees out of the islands and beds every year. Ugh.
Do you have a giant oak tree in your yard? How do you deal with the barrage of acorns each year?
For now, it's staying…but man, it's a pain! I live in fear of it falling on the house during a storm. If it ever does, it probably won't stop until it reaches the basement. It's massive!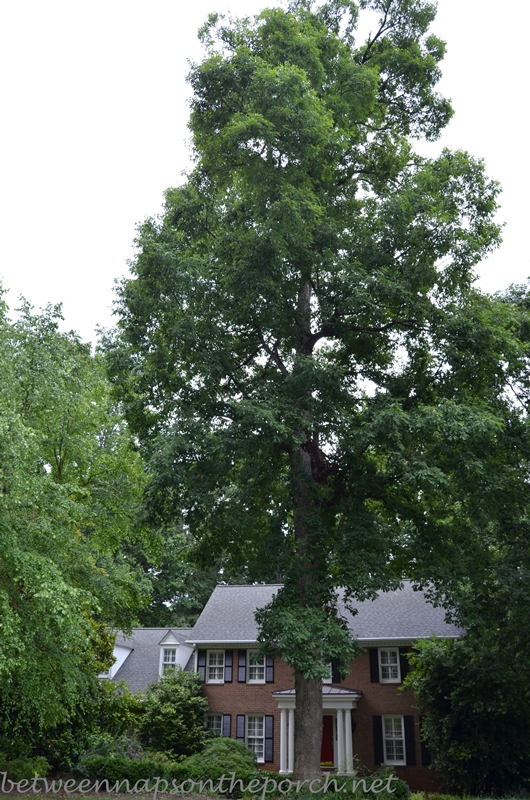 I'm also going to have a few trees taken out in the back yard, more on those later. My tree guy didn't get finished today so he'll be back next week. We had huge storms come through recently so all the tree guys are booked to the max and we've been having a lot of rainy days which has thrown them even further behind.
I have some big plans when all the tree removal and stump grinding process is complete. Have to save my pennies and spread this out, but I'm hoping to sod and do a little landscaping soon. I may be doing all the planting (not sodding) myself to save a few $. I used to do that stuff all the time but I just sort of gave it up when the trees shaded out everything making gardening impossible.
I also have plans for the camellia and the "Waterfall" Japanese Maple in front (on the left) but this post is getting way too long. It's going to be a busy summer! I can't promise a dramatic overnight "Before and After." It will have to get done as my budget allows, but eventually I'll get there. Slow and steady wins the race, right?
Are you working on any landscaping projects?
*If a post is sponsored or a product was provided at no charge, it will be stated in post. Some links may be affiliate links and as an Amazon Associate, I may earn from qualifying purchases. *