When the holiday season rolls around each year, I'm always looking for a yummy treat to give to friends and family and the other dearhearts who give so much to me throughout the year. This year I decided to try something different, something I've never made before. I've always wanted to try my hand at making granola so when Planters offered to send me some of their nuts to try in a recipe, I was totally on board.
After a little research I decided to go with a recipe I found at the National Peanut Board website. It sounded really good and not too complicated. I followed the recipe pretty closely, making only a few minor changes which I'll share below. You'll also find a printable copy of the recipe at the end of this post.
I gathered all my ingredients together; only thing missing in this photo is the apple juice which was still chillin' in the freezer.
To start, preheat your oven to 250 degrees fahrenheit. Coat a cookie sheet or jelly roll pan with non-stick cooking spray.
In a medium bowl, mix together 2 cups of rolled oats and 1 cup of wheat flakes.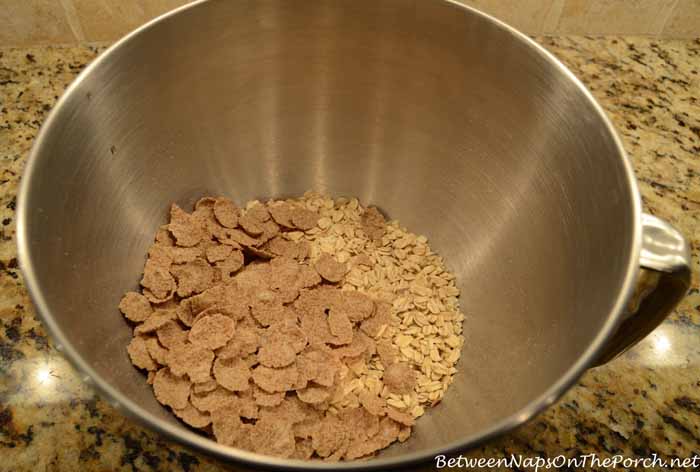 Next add 1/4 cup of thawed, apple juice concentrate, 1/4 cup packed light brown sugar, 1/2 teaspoon of cinnamon and 2 tablespoons of peanut oil. (Thawed apple juice, brown sugar and cinnamon pictured below.)
After adding in all the above ingredients including the peanut oil, stir mixture well until oats and wheat flakes are evenly coated.
Spread your granola mixture on your cookie sheet and pop it into your preheated oven. Bake the mixture stirring and turning it over every 10-15 minutes. Stirring will help it brown more evenly. While the wheat flakes and oats are baking, chop up all the dried fruits into small, bite-size pieces. I had them all ready by the time the granola was done baking. From left to right below are: Planters nuts, dried figs, dried apricots and dried apple rings.
Here's how the oat/wheat mixture looked after browning for approximately 55 minutes. The cooking spray worked well and nothing stuck to the pan.
The recipe called for peanuts and I did use some, but I mainly used Planters mixed nuts and cashews. They contain all of my favorites: cashews, almonds, pecans and pistachios.
Once the wheat/oat mixture was completely cooled, I stirred in my fruits and nuts. I chopped up the larger nuts like the almonds and brazil nuts into smaller pieces before adding those in.
After giving my granola a thorough taste test or five, 😉 I filled some cute little jars found in my local dollar store. With a little added ribbon or embellishment, these would make great hostess gifts, teacher's gifts or gifts for neighbors or co-workers.
This recipe would also be great served as an appetizer for a party or as a snack anytime. It's always nice to have something healthy around to snack on when you're rushing during the holidays. Granola and nuts are definitely some of my fave go-to snacks since they are loaded with the good fats, great fiber and vitamins.
The little ramekins are from the dollar store and were packaged in sets of 3 for $1. I thought they would be so cute for serving this granola at a party or holiday gathering? This is such an easy way to have something ready for guests to munch on when they first arrive for a holiday party.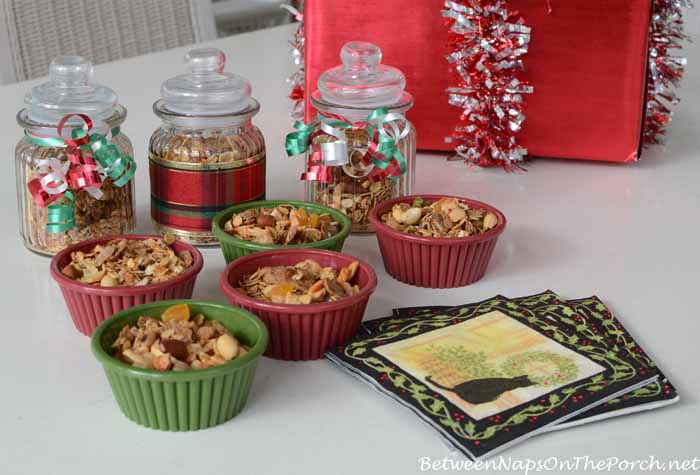 The recipe didn't specify how many servings it made but it appeared to be around 10 snack-size servings.
One tip: The recipe says to bake the wheat and oat mixture for 45-60 minutes. At 45 minutes, mine didn't look that brown, but 10 minutes later it was quite brown. So the last 15 minutes of the cooking time is when you need to really be keeping a close watch.
Below you'll find the recipe for this granola and the only change I made was using Planters mixed nuts in addition to peanuts. I think the mixed nuts really take this recipe up a notch or two! #GoNuts
Print Recipe
Fruit and Nut Granola
Ingredients
Non-stick cooking spray

2

cups

rolled oats

1

cup

wheat flakes

1/4

cup

frozen apple juice concentrate

thawed

1/4

cup

packed light brown sugar

2

tablespoons

peanut oil

1/2

teaspoon

ground cinnamon

1/4

cup

chopped

dried figs

1/4

cup

chopped

dried apple rings

1/4

cup

chopped

dried apricots

1

cup

peanuts

mixed nuts or cashews
Instructions
Preheat oven to 250-degrees F.

Coat a cookie sheet or jelly-roll pan with non-stick cooking spray.

In a medium bowl, combine the oats, wheat flakes, apple juice concentrate, brown sugar, oil and cinnamon.

Mix well.

Spread the oat mixture out onto the prepared pan.

Bake for 45-60 minutes, stirring occasionally.

Check on granola often during last 15 minutes of baking; granola is done when golden brown.

Let mixture completely cool.

Once mixture has cooled stir in the figs, apples, apricots and nuts.

Granola will keep for up to two weeks when stored in an air-tight container.
Have you ever made your own granola? Do you have a favorite recipe you especially love?
I have been selected by Kraft Foods to try their Planters Nuts in a recipe of my choosing. While I have been compensated for my time, my opinions are all my own.
*If a post is sponsored or a product was provided at no charge, it will be stated in post. Some links may be affiliate links and as an Amazon Associate, I may earn from qualifying purchases. *