Welcome to the 601st Metamorphosis Monday!
It's been ages since I shared some updates here in my home office. I put this room together many years ago, Over the years it hasn't changed a ton, but there have been some little updates and tweaks along the way.
The furniture I chose for this room so many years ago was Pottery Barn's Bedford furniture. Bedford furniture was designed to mix and max to accommodate any size office. If you love the look of the Bedford line, one or two pieces have been discontinued but most are still available. (See all the pieces still available here: Bedford Collection.)
A recent change that I made to this space involves the TV and monitors visible in the far corner in the photo below.
These more recent photos below were all taken in the evening, so are a bit darker. I didn't try to edit them, just left them cozy which is how the room feels as nightfall approaches.
The TV above the monitors (visible in the photo above) is gone now. I had the cable (except for internet) disconnected a few years back since I rarely ever watched it. I much prefer to stream a movie or watch Acorn TV when I'm in the mood for something fun to watch. Pretty much the only time I watch a movie/show is while I'm sorting and preparing photos I plan to use in a future post. I love having the movie playing on one monitor while I'm working on the other one.
The monitors have changed, too.
When I was visiting family out of state earlier this year, I purchased a couple of monitors for the mini office I set up in the guest room. Those monitors were a few inches bigger and were so awesome, I purchased two more to take back home.
Not sure if you can tell in the photo below, but they are larger than my previous monitors. If you're in need of a new monitor, I very much recommend these. I purchased them here: Monitor.
Not too many changes on this side of the room. I added some fun dinosaur bookends a while back, do you see them there on the right?
Here's a closer view. I fell in love with these bookends when I purchased a set for my grandsons' dinosaur bedroom makeover last summer. (See that makeover here: Dinosaur Themed Bedroom for Two Dinosaur-Loving Boys.
I found these amazingly realistic fossil bookends here: Dinosaur Fossil Bookends.
There have been a few minor changes on this side of the room. The vintage hat rack I purchased is looking a lot fuller after my recent stay with family.
I forgot to take one of my sunhats with me on that trip and since we spent so much time hiking and walking outdoors, I ended up purchasing two new sunhats during that visit. I think I've maxed out the hat rack now, no more room! Can you spot the new additions?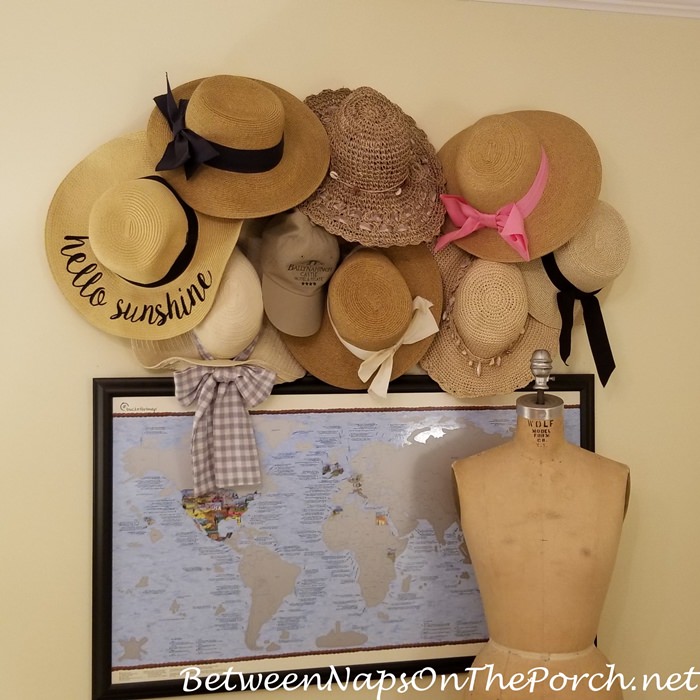 One addition was this adorable sunhat that's available with various embroidered sayings. I was so happy spring had arrived, I chose the "Hello Sunshine" hat. You'll find this one (and hats with other phrases) here: Sun Hat.
The other hat I added to my collection this spring was this one available here: Sun Hat with Ribbon. Both hats were very different from the others I already had back home and super reasonably priced. I really enjoyed wearing them on our walks around the neighborhood and longer hikes through the various parks we visited.
Another change in this room is visible here on the wall between the wrapping paper organizer and the corkboard. My daughter-in-love gave me this wonderful, travel-themed painting since she knows I love a good travel adventure from time to time.
I love it and look forward to the day we can all safely travel the world again! I've been thinking, I'd like my next trip to be out west to see more of the U.S. Think I'll make that a goal for next summer.
One more minor change here in the office…
I enjoyed the pink tape dispenser and stapler I purchased for my mini-office at my son's home (the quality is excellent!) so I decided to buy the same set for my office here at home. I also added the pretty sage green desk mat I used there, as well. Love the soft pinks and green colors and the green desk mat works so well with the other colors in this room. (Tape Dispenser is available in several colors here: Tape Dispenser. The stapler is available here: Stapler.)
Here's how the pink stapler/tape dispenser looks in my daughter-in-love home office. We both love the color pink and are obsessed with these pink additions to our desks.
Did you notice the new tissue holder I added to the office recently? I shared it in a previous post. LOVE it so much! You'll find it available here: Clear Tissue Holder.
I liked it so much, I added one in the smaller size on the chest in this little reading corner. Love how it's clear and doesn't fight the other colors/fabrics in this room.
Sometimes little changes can have a big impact on a room and how it feels/functions. Hope you enjoyed all the little changes I've made in this space. If you have any questions about something in this post, please share them below in the comments. You'll find my previous posts about this room here: Home Office.
To see how this room looked before it was turned into a home office, check out this post: Creating a Home Office: The Journey.
For how I organized the closet space for this room, check out this post: Ikea Expedit Hack: How I Made it Work AND this post: Ikea PJAS Basket Closet Additions.
Looking forward to all the wonderful Before and Afters linked for this week's Met Monday!
Pssst: Did you know Between Naps On The Porch is on Instagram? You'll find me on Instagram here: Between Naps On The Porch.
Like to know when a new blog post is up and available to read? Subscribe for email updates, it's free and your email will never be shared.
Subscribe for free post updates via email here: Subscribe.
Metamorphosis Monday
Metamorphosis Monday is a party that's all about Before and Afters. Please link up your Before and After projects like DIY projects, room makeovers, craft projects even recipes. Any Before and After is great! Please do not link up Table Settings, save those for our Tablescape Thursday party on Thursday. 🙂
If you are participating in Met Monday, please link up using the "permalink" to your MM post and not your general blog address. To get your permalink, click on your post name, then just copy and paste the address that shows up in the address bar at the top of your blog, into the "url" box for InLinkz when prompted.
In order to link up, you'll need to include a link in your MM post back to the party so the other participants will have an opportunity to receive visits from your wonderful blog readers.

This party has ended, click button below for the links to all who participated.
*If a post is sponsored or a product was provided at no charge, it will be stated in post. Some links may be affiliate links and as an Amazon Associate, I may earn from qualifying purchases. *