Thanks again for all your suggestions on where to look for a great Christmas tree. Over the past week, I have visited Home Depot, Lowe's, Hobby Lobby, Old Time Pottery and a semi-local place (it was an hour away) called M.C. Twinklins.
In the end, the tree that stole my heart was the GE Canadian Just Cut Tree with Easy Light Technology. The Easy Light Technology is the new technology where each section of the tree lights up as it slides into the section beneath it. So there's just one cord to plug in. It worked beautifully as I put this tree together last night.
This tree doesn't have a remote, but that wasn't a problem because I'm using the remote control that I've been using for several years and it works great. You can read more about it in this post: Lighting the Christmas Tree Via Remote.
Update: I came across this cute remote that's designed to use with a Christmas tree: Christmas Tree Remote. I loved it's Christmas tree shape and it's working great for my tree!
I wanted to share some photos of the tree during the daytime. I also brought a large light into the room so you could get a better view. This is the way to truly judge how a tree really looks, seeing it completely naked with no ornamentation at all.
A few facts: This tree is 7.5 feet high, has 4,963 "feel-real" branch tips and 1,000 lights. It has more branch tips than any tree I saw during my search and more lights than most of the trees I saw. It's available in a 9 ft height, as well. (Both sizes are available here: Canadian Christmas Tree.)
Doesn't it look real in this photo! One thing I never really liked about the tree I had been using in this room for so many years, was how uniform it looked. It always looked a bit too perfect/fake. I love how this tree has branches in each of the clusters that extend out further from the tree, just like on a real tree. I think that's one of the reasons it looks so real!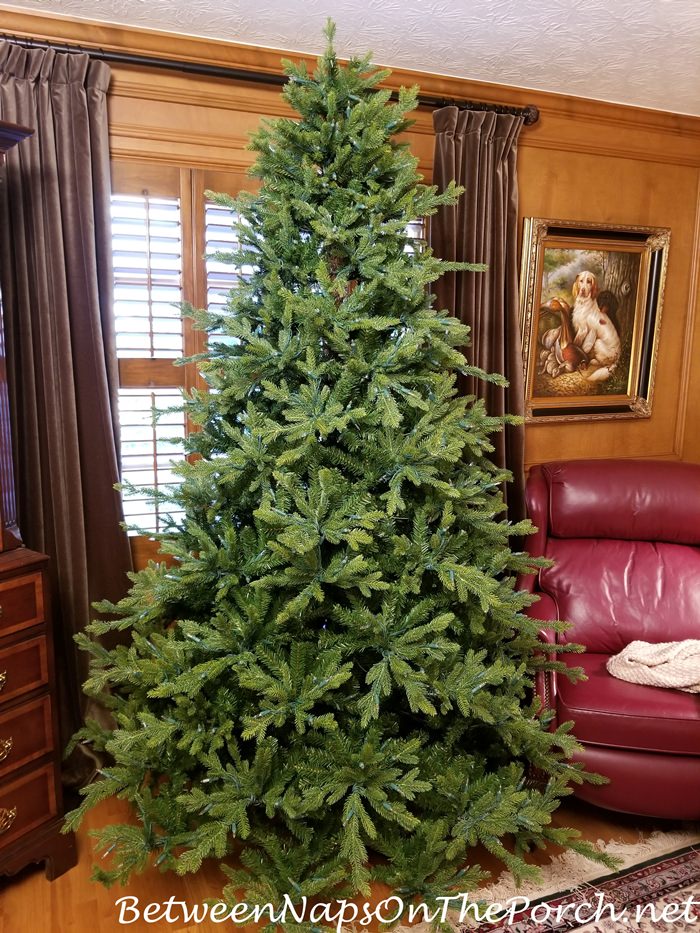 The lighting is done so well, it was super easy to fluff out. Instead of the lighting covering the ends of the branches like a big spider web holding the branches in tight together where they couldn't be spread out, the lighting is the same as it's been on other trees I've had in the past where it runs separately out each little branch. So you can spread out the branches however you wish with ease. Love that!
The lighting was the biggest issue I had with the Balsam Hill tree I purchased a couple of weeks ago and ultimately returned. On that tree, I was unable to spread out the branches very far at all because the lighting was strung on the ends of the branches like a giant spider web holding them all tightly together. It was a truly a nightmare and made the branches impossible to spread apart. Thankfully, that's not a problem with this tree.
Here's a close-up showing how the lighting has been strung. See how each branch gets its own lighting strand? In this photo, notice how realistic the needles/branches look. Another thing I really like about this tree is how the "realistic" looking branches go further back into the tree, so when standing back at a normal distance, you hardly notice the traditional looking branches in the background unless you are really trying to look for them.
A view of the lighting while lit up…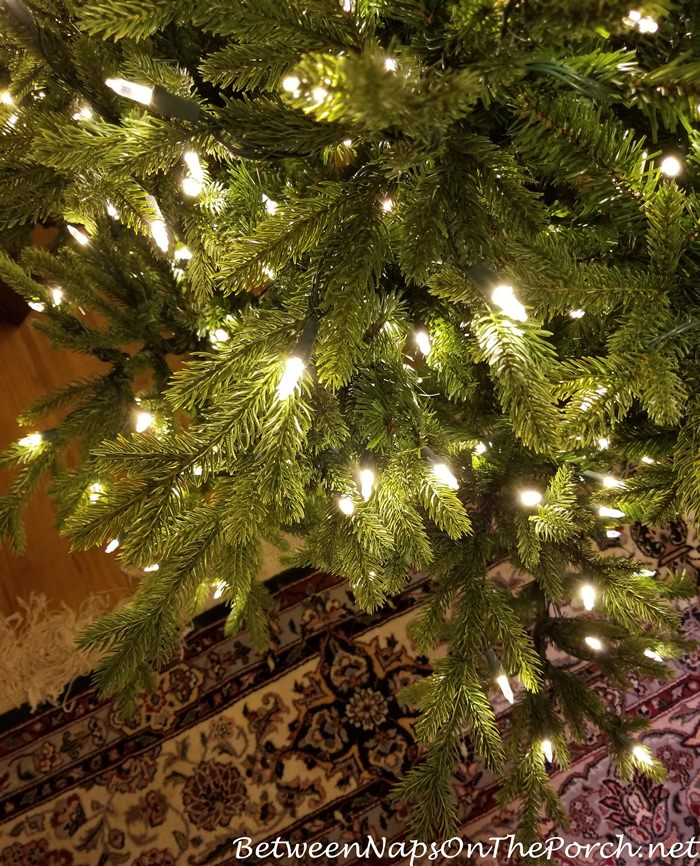 Another important feature that I love about this tree is that it's absolutely covered in lights. As mentioned, it has 1,000 lights and they are super bright! One of the reasons I chose this tree over others I saw in Home Depot was because it had the brightest lights out of all the trees on display. I didn't really realize how bright they were until I got the tree home in my own living room and assembled it. They are stunningly bright and I love that!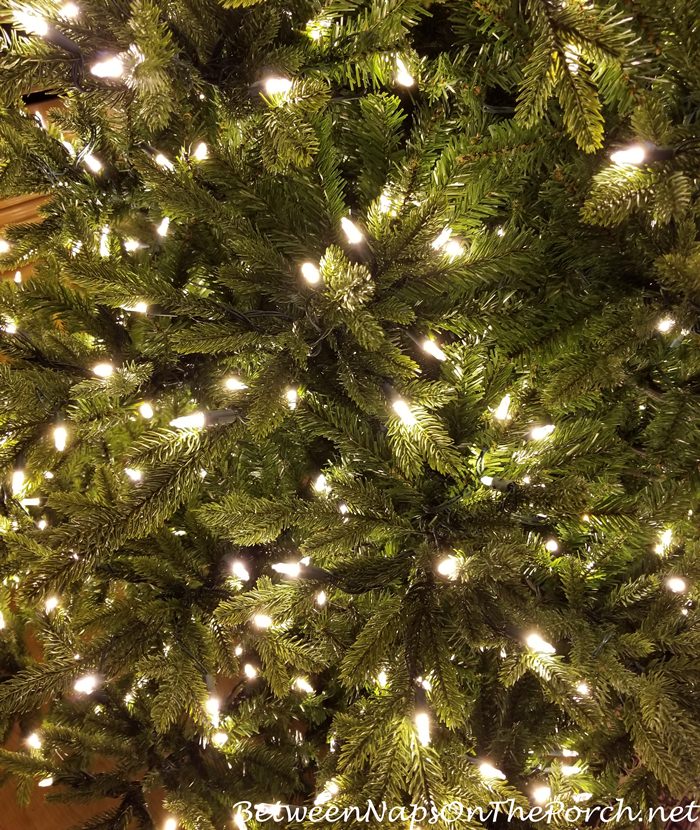 One more thing I love about this tree is how deep the lights go back into the tree. That's very hard to show in a photo since a photo isn't 3-D, so I highlighted just a few of the ones that are actually way back inside the tree. There are so many lights on this tree, I could have highlighted many more in this photo. I can't emphasize enough how awesome the lighting is on this tree!
Here's how it looks with all the lights off in the room. Gorgeous! I'm in love with this tree! Can't wait to decorate it!
Perhaps the most surprising part is the price: $349! When I was shopping for a tree this year, I was prepared to spend $750-$800 to get a really beautiful tree. I can't believe GE makes a tree this nice for that price, and it even includes the easy connect technology.
And just so you know, this is not a sponsored post. I paid in full for my tree at Home Depot, minus my military discount and I've never communicated in any way with GE.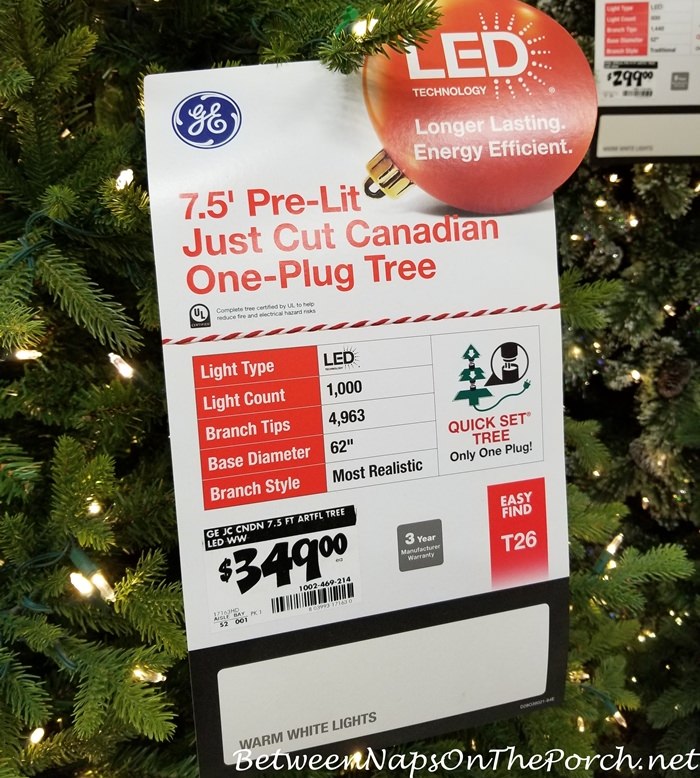 I'm super happy with this tree and would gladly recommend it to anyone. You can read more about this tree here: Just Cut Canadian One Plug Tree.
By the way, I googled to see what type of Canadian tree it could be, and it looks like a tree I saw online called a Canadian Fir tree, so I think that's the tree this one was modeled after, but that's just a guess. One of these days I'm going to visit Canada, it's on the bucket list!
Update: After I took these photos and created the post, the next morning I found three full branches that I never even fluffed out. This tree is so full, even after you have fluffed and fluffed, you'll find more branches to fluff out. I've very pleased with how this tree looks!
Here's how this tree looked when decorated. See and read more about this tree in this post: Christmas Decorating & Gift Wrapping Idea and in this post after adding more ornaments and a tree topper: Making Progress.
Update on December 2020: This beautiful tree is still going strong! Here's an updated photo from this year.
Pssst: I post almost daily to Instagram. Follow Between Naps on the Porch on Instagram here: Between Naps On The Porch. If you enjoyed this post, subscribe for free email updates when a new post is up here: Subscribe for post updates.
*If a post is sponsored or a product was provided at no charge, it will be stated in post. Some links may be affiliate links and as an Amazon Associate, I may earn from qualifying purchases. *