Yesterday I ran a quick errand and while I was out, I stopped by Williams-Sonoma to see what was new for the holiday season. Oh my gosh, if you are in need of Autumn, Thanksgiving or Christmas dishware, they have some of the cutest patterns in that I've seen in a long time!
I went online to see if I could find any good coupons and I noticed they are having a 20% off any item sale along with free shipping when you use the code UPICK. It looks like this is the last day of the sale so that's why I'm posting this today.
I also noticed a lot of the holiday dishware is currently on sale already. So I guess you get the 20% off in addition to the sale! I just hope the eBay sellers aren't buying it all up now that it's on sale. That seems to happen with the popular holiday items each year. They vanish from the stores only to reappear for double or triple the original price on eBay.
Loved this fall pumpkin dishware! This would be cute for a Halloween or Thanksgiving table setting.
It's already on sale, 30% off and is available here: Botanical Pumpkin Dishware
Sets such a beautiful table! What a gorgeous table for fall!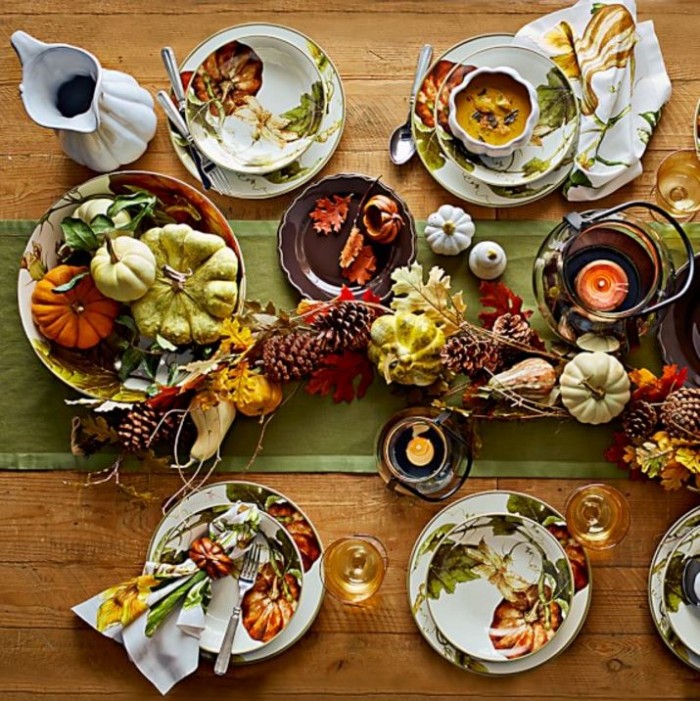 Fell hard for this darling Christmas pattern of Santa flying through the air on Christmas Eve.
Here's the way they used it in a table at my local Williams-Sonoma.
So cute!
It's offered with a variety of plates. I love this pattern so much! It's available here: 'Twas the Night Before Christmas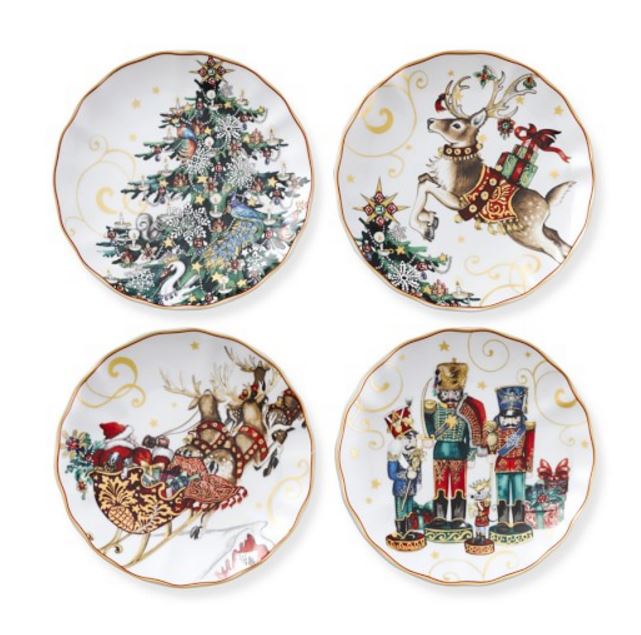 I was seriously drooling over the red stemware they used in that setting. It would be perfect for a Valentine's Day, too. I've always loved this style glassware with the beautiful design etched into the glass. It's available here: Etched Glassware for Christmas
I picked these up several times while shopping. Anything with deer on them always gets me! They are a nice salad or dessert size. They would work well for appetizer plates for a party, too. They are available here: Holiday Plates
It looks like they come in several patterns. Here's the link for the Santa plates: Santa Plates and the link for the darling red house with Santa flying overhead: Red House
They had a really sweet table set for children using non-breakable dishware.
I loved the Santa flatware holders. They have a pocket on the back to hold the flatware. These are the cutest flatware holders I've seen. I like them even more than the stocking ones that Pottery Barn had in years past. I couldn't find them online…guess they aren't available online, yet. Update: Found these cute flatware holders at PB Kids here: Santa Utensil Holder
As I was about to leave the store, I spotted this table.
It was set with this adorable dishware, again perfect for Autumn, Halloween or Thanksgiving.
The platters in this pattern were gorgeous!
It also came with a fat Mr. Turkey. lol I love this!
I noticed they also have the turkey plates in a more colorful version and all of this pattern is on sale! So I guess you get the sale price, plus 20% a set of plates and free shipping. I love the colors! You'll find all these here: Plymouth Turkey
I also love this Heritage Turkey dinnerware from Pottery Barn. Did you know Williams-Sonoma and Pottery Barn are owned by the same company? The Heritage Turkey pattern is available here: Heritage Turkey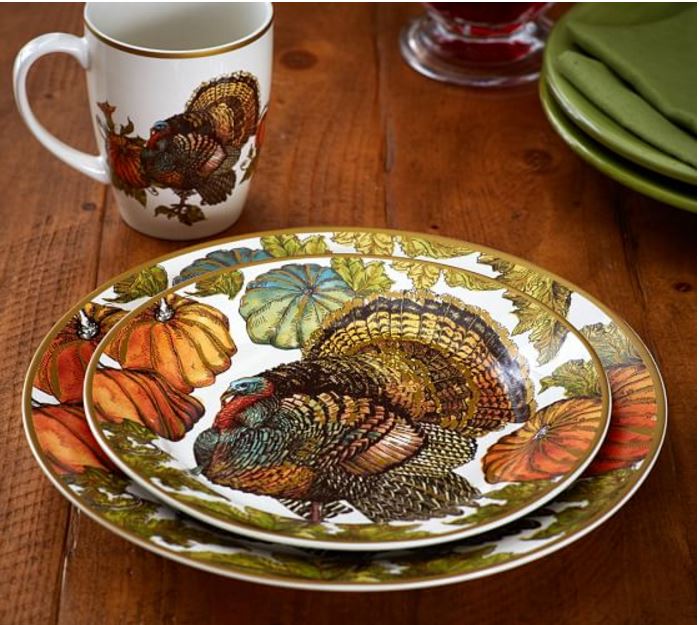 While in Williams-Sonoma, I saw these heavy, iron cookbook holders and was thinking what a great Christmas gift they would make.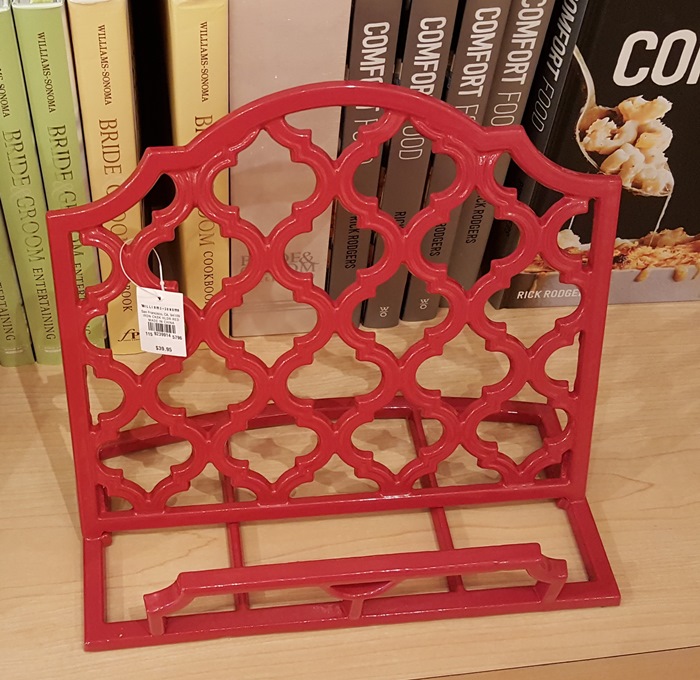 It comes in white too. They are available here: Cookbook Holder
If you love the tartan dishware you've seen me use so often in Christmas tablescapes, they have brought it back! (Tablescape can be viewed here: A Cozy Woodland Setting)
I love tartan for Christmas or really any time during the winter season. (See this tablescape here: Dashing Through The Snow)
It must have been a big seller last year since they brought it back. They don't often do that. I have 8 place settings but I think I'll add another 4 place settings to my collection this year. (See this tablescape here: Christmas Table Setting with Tartan Plates and Christmas Tree Napkin Fold
You'll find it available here: Tartan Dishware The tartan salad plates are available here: Tartan Salad Plates
Just found this photo at the WS site…look how cute the tartan is combined with the deer plates ! Love it!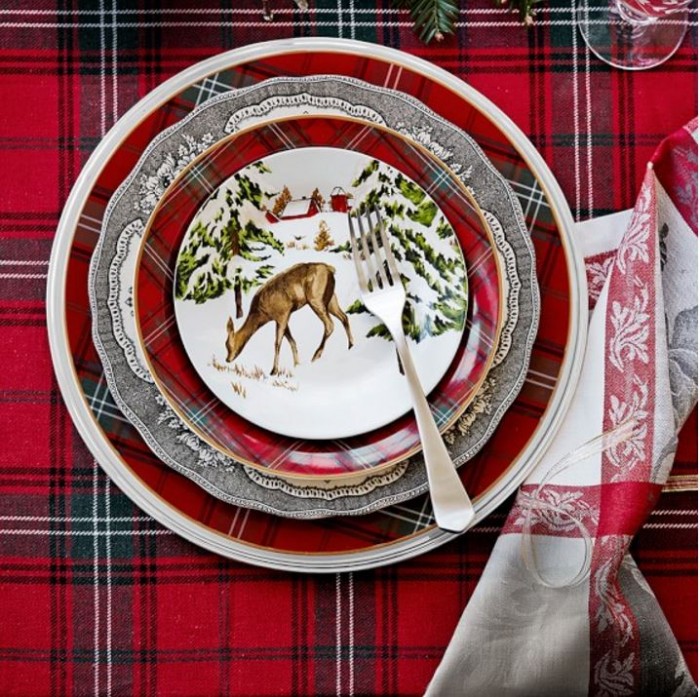 Also, they now have the tartan pattern available in chargers! I'm ordering some of those for this year. The tartan chargers are available here: Tartan Chargers
Happy Holidays! The holiday season is upon us and I'm loving it! I'm off to decorate my front door for the Trick or Treaters who will be calling soon!
*If a post is sponsored or a product was provided at no charge, it will be stated in post. Some links may be affiliate links and as an Amazon Associate, I may earn from qualifying purchases. *