After the hecticness of the holidays and with the cold weather officially here, I've been enjoying being inside and "nesting" a bit more. I know a lot of folks really get into the organizing mood this time of year. At first I thought this urge to get organized at the start of the new year was due to it being a whole "turning over a new leaf" thing. But after giving it some thought, I think the reason I find myself looking for better ways to organize has more to do with the urge to simplify and declutter after all the busyness of the holidays.
Today I'm sharing a few little tricks I've discovered lately that are making life a little cozier and more organized around here. Recently, I shared this picture that caught a glimpse of a lamp I had added to my kitchen counter. I have so enjoyed having it here, especially in the evening time when it gives the kitchen such a cozy, heart-of-the-home feel. I also love the color it adds to the space.
I enjoy having timers on the lamps that I always want on in the evening. For those lamps I've changed over to the Cree bulbs in the soft white. They cast a beautiful natural light and only costs around $1.20 a year to run! Plus, they are estimated to last over 27 years per bulb! Is that not amazing?!
So, now we can cozy up those rooms in the evening with beautiful lamplight, guilt free! For my lamps, I normally buy the Cree bulbs that are equal to a 75 watt bulb. You'll find those here: Cree Bulb, 75 Watt The 60 watt bulbs are available here: Cree Bulb, 60 Watt and the 100 watt here: Cree Bulb, 100 Watt. I hope to eventually change over to these for all my lamps. I'm gradually doing that a few lamps at the time.
Having a timer on the lamp here in the kitchen has been wonderful. It's so nice to come downstairs after dark to a softly lit kitchen, like having a little elf running around making things cozy for me. It's also nice to come home in the evening to an already lit home.
The electrical outlet for this end of the counter is behind that large platter. That's one of the reasons I keep a platter here, it hides the unsightly cords.
Unfortunately, the outlet behind the platter would not work for the TV, the cable box thingy and the timer device I wanted to use on my lamp. I went in search of a power strip with several outlets and found something a whole lot better. The timer, though small, is larger than a normal electrical plug, so I needed something that could accommodate it and the bulky cable plug, too.
I love this thing! The outlets swivel so there's plenty of room for bulky plugs. Such a genius idea!
I also love that it has two USB plugs built into the top. Sometimes when I'm working in the kitchen, I like to listen to a book I've downloaded to my phone from Audible. Now when my phone is charging upstairs, I can bring it down and charge it here and enjoy my book, too.
I like this multi outlet device so much, I purchased an extra one that I'm currently using at my desk area in the kitchen. I also thought it might come in handy when I have guests spending the night. During those times, I could put it in the guest room and my visitors would have extra outlets and USB ports for charging their iPhone, Android phone or iPad. It works with all those devices. It also has a built in surge protector up to 2100 joules. Not bad! You'll find it available here: 6 Outlet, USB Surge Protect Wall Outlet
And it's all hidden away behind the platter.
They also come in black with USB ports on the front. I could kiss the person who invented the swivel outlets! This one is available here: 6 Outlet Swivel Surge Protected Outlet
Another little upgrade I made recently involves my heated bird bath. It's amazing how many birds visit for a drink of water during the hot summer and the cold winters when it's hard to find a fresh source of water that's not frozen over. (Birdbath is available here: Heated Bird Bath)
For the past couple of years during the winter, I have placed a plastic bag over where the birdbath cord connects to the extension cord that's plugged into an outdoor outlet here on the deck. I've never liked how that looked. (see below)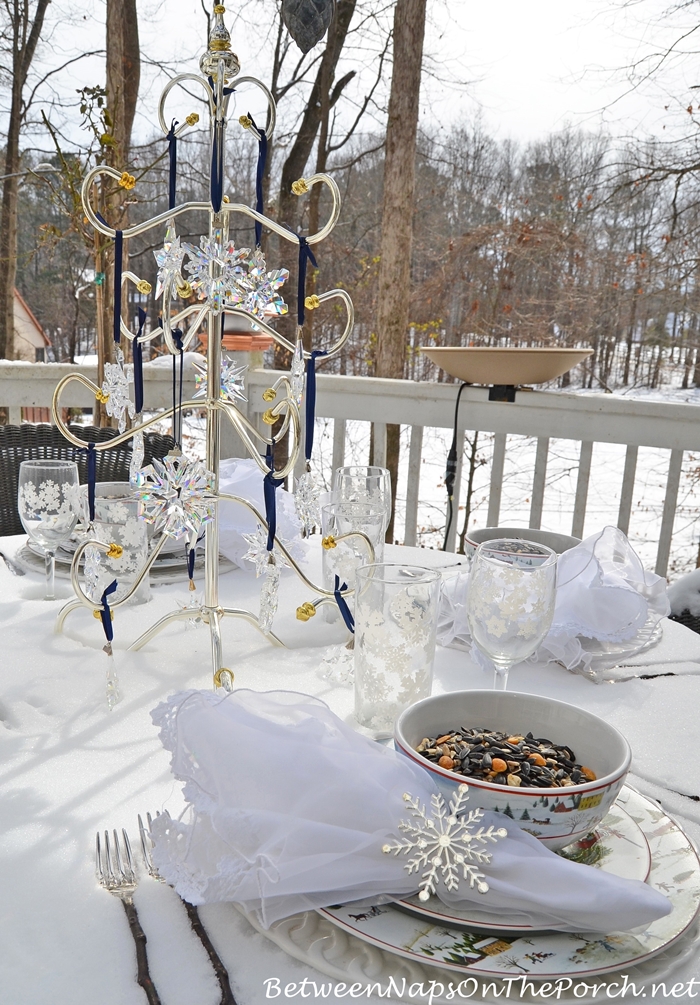 It turns out they make a cord cover for situations like this! I ordered one this fall and it works great! I also ordered a shorter extension cord so that got the long outdoor extension cord off my deck surface. Now the short cord can hang on the other side of the rail and it's well covered without the whole plastic bag business going on. You'll find this water-resistant cord cover here: Cord Cover
Switching gears a little, I treated myself to a few things this Christmas. I just learned about epilators, have you ever tried one? I hate having to shave my legs every few days so I decided to try one of the many epilators I've seen advertised.
This one by Philips had great reviews (after 2,000+ reviews) and the price is very reasonable. I've been very pleased with it and love the time it's freed up with not having to worry about shaving my legs so often. You can read more about it here: Philips Epilator
I liked the results of the Philips epilator so much, I ordered this one for using on smaller areas like underarms. The Philips epilator will work on underarms, too, but this smaller epilator looked like it would be easier to use for those areas where a larger epilator would be a bit awkward. It's also perfect to use on the face, if needed. It's battery operated which is super convenient. You'll find it here: Emjoi Slim Epilator
I justed added two of these warm-mist humidifiers to my home, one for my office and one for my bedroom. They have really helped fight the dry air from having the heat running so much. I love how easy they are to fill up and they go for about 8 hours. So the one I run at night, lasts all night long. You'll find this humidifier available here: Humidifier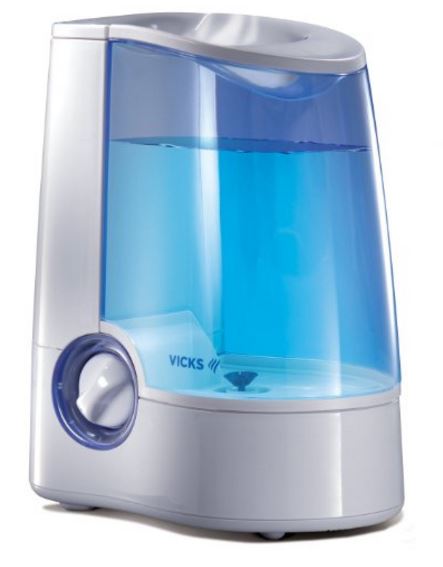 When I started traveling so much, I purchased a new Paperwhite Kindle. I really enjoyed it on all my plane flights but I've been surprised how much I've used it at home. I'm usually listening to books on Audible while I vacuum, clean house, fold clothes, sort through photos for posts, etc… But when I'm stuck in a waiting room, I love pulling out my Kindle.
Since I'm carrying it so much in my purse these days, I decided I'd better buy a cover for it. After looking at all the options online, I decided to go with a leather case. At first I wasn't sure if I liked how dark the leather was, but the 205+ reviews convinced me to try it. After it arrived, I discovered that I like how the darker leather comes across as a neutral and works well with all my purses. It also feels and looks like it should be an antique, which I like. And I love that it automatically puts my Kindle to sleep when I close it…such an important feature!
The fabric on the inside is elegant and kinda stately looking. It feels soft in the hands, not hard or scratchy like some plastic cases can feel. You'll find this leather cover available here: Limited Edition Leather Kindle Cover
A Christmas gift to myself this year was a new purse. I've long coveted Frye boots and have had a pair on my wish list forever. I never expected to buy a Frye purse first, since it was the boots I've been wanting, but when I came across this Frye bag in Nordstrom in this sunshine yellow color, I fell in love! I resisted buying it that night since I was Christmas shopping for family, but it haunted me, popping back into my head for weeks afterwards. When I finally decided to go back and buy it, it was gone! It's that old saying I guess: you snooze, you lose.
Since I couldn't get it in Lemon, not even on the Frye website HERE, I decided that a neutral color would be more practical because I could carry it all year long. The color I purchased is called, Whiskey, and I do love it. The yellow color would probably be more appropriate for spring or summer, although it could work well into fall, a nod to yellow autumn leaves.
The leather Frye used to make this bag is unbelievably soft! The fringe is delightful and so much fun! I can't get over the quality of this bag! Those of you who already own a Frye purse or have Frye boots know what I'm talking about. This being my first Frye purchase, I was delighted by everything about this bag. It's so nice to find a manufacturer who hasn't gone the way of so many companies and started compromising on quality to cut costs. I'd rather a pay a little more and get something that's going to last for many years.
Here's how the interior looks, I love the pinstripe/ticking interior and all the pockets inside.
I don't think the Whiskey color is available at the moment, it seems to be sold out online everywhere I looked today. This bag also comes in a ton of other colors. The beige color is available here: Frye Fringe Bag in Beige
It's available in Black here which seems to be a popular color in the reviews I read online: Frye Fringe Bag in Black
It's available in Grey Suede here: Frye Fringe Bag I would love it in Suede! Can you imagine how soft that must feel!
And in Plum here: Frye Fringe Bag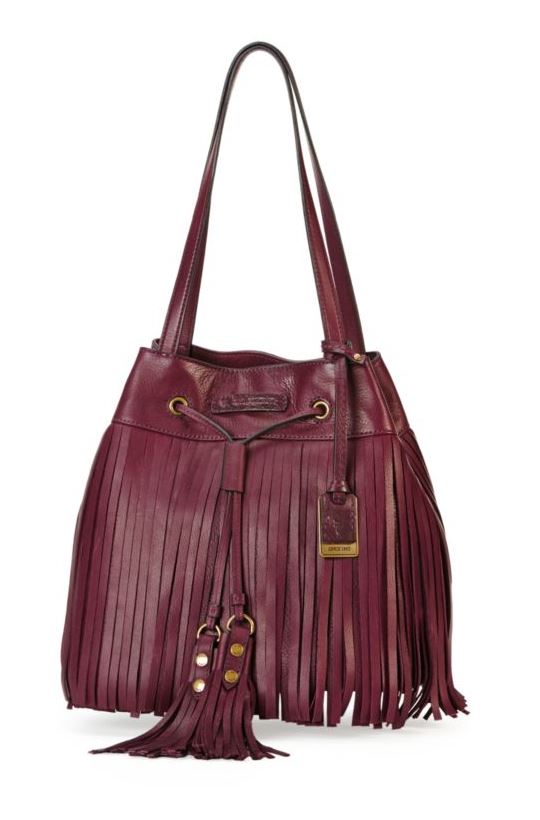 I still couldn't get the Lemon yellow bag out of mind.
I eventually found it in lemon on eBay, New with tags. It's going to be my spring/summer bag this year. If you want a quality leather bag with a little bit of sass, I highly recommend this Frye Fringe Bag. I've gotten so many compliments on the whiskey colored bag.I can't wait to use the lemon one this spring and summer.
What was your favorite gift this Christmas?
Any Frye fans out there? Do you love their boots or have one of their purses?
*If a post is sponsored or a product was provided at no charge, it will be stated in post. Some links may be affiliate links and as an Amazon Associate, I may earn from qualifying purchases. *