Do you ever have something on your mind, then everywhere you turn the universe conspires to surround you with it? As you know, I've had travel on my mind a lot this year. Recently, I was thinking again about amazing Giraffe Manor and how I'd love to visit it one day.
While searching for some additional information, I came across this delightful video on YouTube where two friends visited the manor. While there, they videotaped many of their experiences with the giraffes and other animals who live on the property. (See the video here: A Visit to Giraffe Manor)
Watching that video got me all fired up again, dreaming of one day visiting the manor and seeing the giraffes in person. I noticed underneath the video it mentioned their visit to Giraffe Manor was part of a safari they were on. It didn't sound as if they stayed in the manor overnight, but may have just visited for the day.
I went to bed that night dreaming of "going on safari" and visiting Giraffe Manor. Today, as fate would have it, I came across four beautiful guest cottages for lease in California and ironically, one of the houses was decorated with beautiful African art and safari-animal pictures. Is the universe trying to tell me something here? 😉
This beautiful property is for lease. I'm not sure if it's the whole property that's for lease or just the four guest houses.
I'm sharing a few pictures from three of the four guest cottages and I'll link to the website at the end of this post so you can check them all out in more detail.
All the cottages have wonderful fireplaces. Love that large coffee table and fabulous rock fireplace.
The cottages are all cheerful and bright with lots of natural light streaming in. You can see another one of the cottages there in the distance.
The landscaping is absolutely gorgeous! I think I'd be happy living in the garden. 🙂
White walls make a great background for all the wonderful art throughout the homes.
Love this cozy seating area. I'm pretty sure this is where you'd find me most evenings.
Are you noticing all the wonderful art and photographs? I wonder if the owners took a safari and came back inspired to decorate the cottages with lots of art and decorative pieces reminiscent of their travels.
There's something so calming and relaxing about a room decorated in shades of khaki, brown and green.
The bathroom is what I think of as rustic elegance.
Love all the light-filled rooms!
This cottage had a second living room.
Cottage 2:
The next two cottages are much more colorful. This one was decorated with red accents and red linens.
At first I thought this was the same bedroom, then I realized the quilt was different.
If staying in this cottage, you could shower here, or….
…take a bath outdoors! Would  you be brave enough to bathe here? I might…in my bathing suit! 🙂
Cottage 3:
I love the beds in this cottage!  This bedroom is decorated in shades of green.
The star pendant is beautiful! I would love to see one of these star pendants lit up at night. The shadows it would create on the ceiling and walls must be so pretty! Have you ever seen one in the evening?
This bedroom is decorated in shades of blue and also has a fabulous star pendant. I've seen these pendants in several places including Pottery Barn here: Star Pendant
Another beautiful bathroom with a view of the outdoors. The cottages really do bring the outside in with all their wonderful windows and French doors.
I'll leave you with a few images of the surrounding gardens.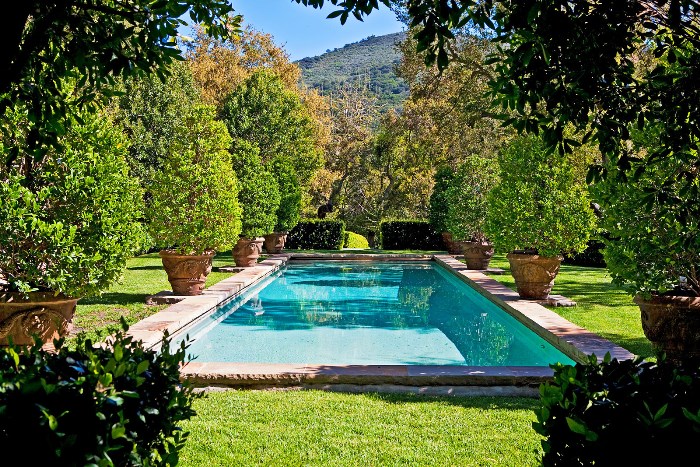 There's even a special place for moonlight dining.
See more of these wonderful cottages where these pictures were found, here: Malibu California Guest Cottages
Tour Giraffe Manor here: Giraffe Manor
*If a post is sponsored or a product was provided at no charge, it will be stated in post. Some links may be affiliate links. *