About a month ago I asked for your thoughts and advice on the many questions I had regarding taking a vacation overseas. Today I've been reading back through all your comments again, taking lots and lots of notes. You left so many great suggestions and advice on that post and I appreciate those so much! If you missed that post, you'll find it here: Wanderlust
I've taken the next big step and I've officially booked my first ever trip to Europe! I'll be traveling there this fall. I got what I think is a great deal on the trip so I'm sharing the details in case you are interested in an overseas vacation this year. The deal I found requires the trip be booked by May 18th, but you can go anytime between September and December 31st.
The trip I chose is one for Tuscany and the Amalfi coast. I've dreamed about visiting Italy forever and apparently, I'm not alone in that wish. The Conde Nast Traveler website shows Italy as the most desired vacation destination, four years straight!
The Deal I Found
I'm super excited about the deal I found with Grand Circle Travel. It's a 17 day trip where I'll be going on 11 guided tours to include: Chianciano & Radicofani • Florence • Pienza & the Orcia Valley • Assisi • Etruscan Museum • Cortona • Sorrento • Amalfi Coast • Pompeii • Montecassino Abbey and a panoramic tour of Rome. On three of the four "free" days built into the schedule, I'll be taking "optional tours" to Positano, the Isle of Capri, and to a Sorrento Farmhouse to participate in a hands on cooking class.
The tour includes 32 meals: 16 breakfasts, 5 lunches and 11 dinners. You can read more about what it includes below.
The special they have running is $1,000 off per couple or $500 off for individuals with the code: TAAU 265. Plus, they gave me another $100 off, more on that in a sec.
So my total cost for the trip (not counting airfare) is: $3,395 – $500 – $100 = $2,795. That cost includes all tips and gratuities, not too bad for a 17 day trip to Europe! I think it would cost that much if I took a vaca in Florida for 17 days, especially when you consider the cost of meals.
One of our meals will actually be a home-hosted meal. Love the idea of visiting and dining in a real home in Italy! 🙂 You can watch a short video about the trip here: Trip Experience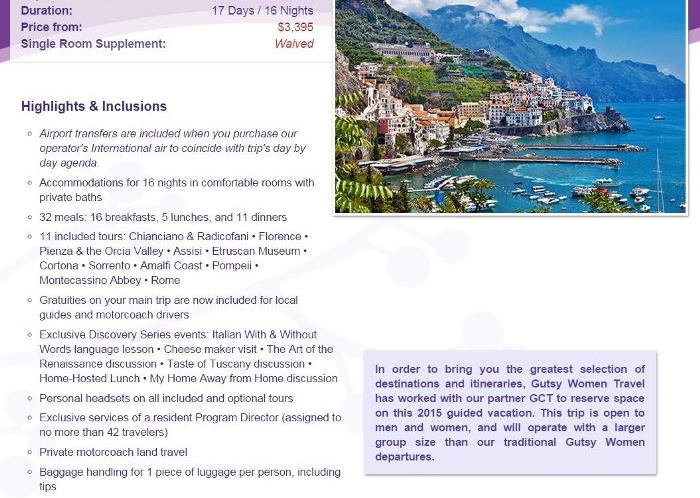 The other thing I love about GCT is they don't charge extra if you want a room to yourself, notice how the single room supplement below says, "Waived." I haven't found another tour company that does that. All the others I looked at (including Rick Steves) charge a hefty fee if you are traveling alone without a roommate/spouse and desire a single room.
GCT does charge a single supplement if it's a cruise since those spaces are more limited, but for land tours, which is what I'm taking, they don't charge extra to give you a room of your own. I noticed the single supplement on their cruises is also cheaper than other companies, too. Their single rooms go pretty quickly though, so it's good to book ahead for a trip if you'll be traveling alone.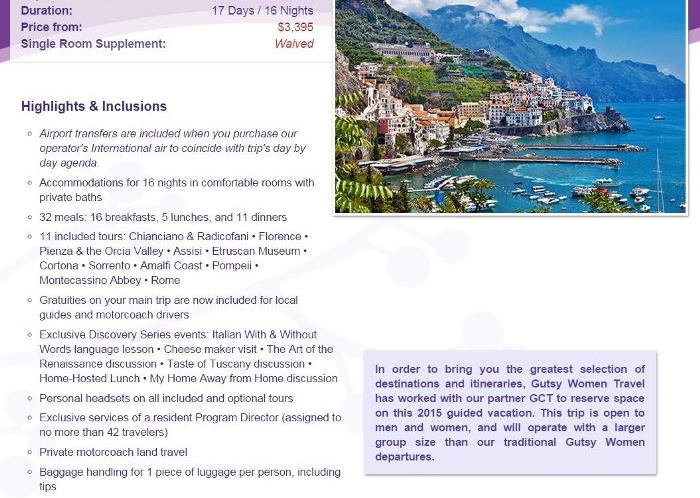 Airfare
For airfare, you can handle that on your own or they will book it for you. I let them book it for me because the pricing they gave was better than what I could find on my own. Plus, it included all taxes, fees and transfers. GCT has a representative meet you at the airport and they take you back to the airport once the tour is over. So when you calculate buying your own airfare, be sure and take all that into consideration.
That's one of the things I love about this company, they do it all! With Rick Steves, you have to figure out your own airfare, something I was dreading. GCT took my Delta frequent flyer number since I requested they book me on Delta, so I'll get my points when I go.
$100 Discount When You Mention My Name or My Referral Number: 2634289
Besides the special they have running now, if you tell them the name of the person who referred you, they will give you an extra $100 off. Plus, the person who referred you will get $100 off their next trip. That's not a special they are just having right now. They always give $100 when booking a trip if you give them the name or the referral number of the person who referred you.
The guy who helped book my trip was being nice and gave me $100 off since I read about them on another site. I don't think he was supposed to do that though because when I received my email receipt, the $100 wasn't showing. I called GCT and the person I spoke with said the $100 hadn't been deducted because the representative I had talked with didn't put the name of the referral person into their system. I told her that I had read about GCT on another site so I didn't have a name to give him. She said they are supposed to have a name or referral number but she went ahead and honored it since he had offered it. I've been so impressed with GCT, their employees are really nice.
So, if you do book a trip with GCT, appreciate so much if you'll mention my name or give them this number for the referral: 2634289. You'll get $100 off your trip (in addition to the special they have going) and they'll put a $100 credit on my account for my next trip with them. I will definitely be using Grand Circle Travel in the future; they have so many tours I'd love to take!
Trip Insurance:
I did not buy my trip insurance with Grand Circle Travel; the quote they gave me for that seemed too high. I ended up buying my trip insurance with USAA, my insurance company. The coverage was excellent and the medical portion was better than any of the other trip insurance companies I checked.
If you want to compare trip insurance between all the companies that offer it, go to this website: InsureMyTrip.com. We have a great consumer advocate here in Atlanta named Clark Howard and "Insure My Trip dot com" is the site he recommends using to compare trip insurance rates. Again, check out the rates elsewhere before buying trip insurance with Grand Circle Travel. Their tours are priced competitively but I found much better rates for trip insurance elsewhere.
Another trip I hope to take with them one day is their "Romantic Villages of Alpine Europe." It's 15 days long and includes Italy, Switzerland, Austria and Germany. It's $2,895 – $500 -$100 (when you mention my name or referral number) making it $2295. I seriously would have considered booking it for next fall (fall 2016) but the special is just good on trips taken between September and December.
You can see all the tours they offer (there are tons!) here: Grand Circle Travel and they can be reached at: 1-800-221-2610.
If you book a trip, let me know! I hope we run into each other in Italy! I'll be the woman stuffing her face with all that amazing Italian food! 🙂
These are some of the other trips I'd love to take one day. I have all these saved in my "Travel Planner" at GCT.
Christmas Markets Along The Rhine…would be so fun in December! (11 days in Switzerland, France, Germany and The Netherlands)
England Scotland & Wales (14 day in London, Cotswolds, Snowdonia, York, Lake District and Edinburgh)
Ireland in Depth (13 days in Galway, Killarney, Cork, Kilkenny and Dublin)
Holland & Belgium in Springtime (11 days in Antwerp, Ghent, Veere, Rotterdam, Kinderdijk, Amsterdam, Keukenhof, Enkhuizen and Hoorn)
*If a post is sponsored or a product was provided at no charge, it will be stated in post. Some links may be affiliate links and as an Amazon Associate, I may earn from qualifying purchases. *