Welcome to the 422nd Metamorphosis Monday!
Did you know there's such a thing as hat drama? lol Okay, I'm being silly but I have had a bit of drama over the past year with finding and holding onto the right hat.
Back in the fall of 2015 when I was planning a trip to Kenya, I did a lot of research about what I should take with me on the trip. One oft recommended item was a hat for sun protection. Since I would be heading to Italy the following month, a hat sounded like a good investment.
In my search, I kept reading good things about Tilley hats. Most looked a bit on the masculine side, especially the ones that were being recommended for safaris, but this one caught my eye. It had that outdoorsy feel, yet also looked stylish.
I especially loved the little decorative banding that gathered together and hung down in back. So cute!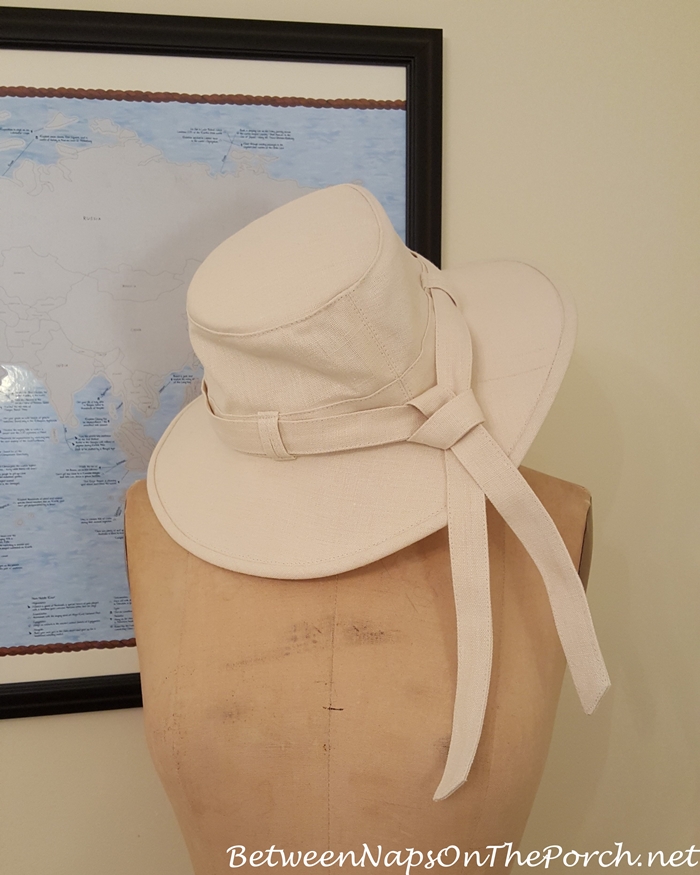 Then, in Susan fashion, I promptly lost it on my very first trip out of the country. It never even made it to Africa, much less Italy. I hadn't wanted to squish it into my suitcase, even though it's supposed to be packable, so I decided to just carry it. Big mistake!
Unfortunately when I got to Paris and was deplaning for my connection to Nairobi, the nice gentleman who offered to retrieve my carry-on luggage from the overhead bin, didn't see my hat. In my tiredness after an overnight flight, I totally forgot it was even up there. I remembered it about 2-1/2 hours later when I was just getting ready to board the Kenya Air flight to Nairobi. It was too late then to go back and search for it. Drat!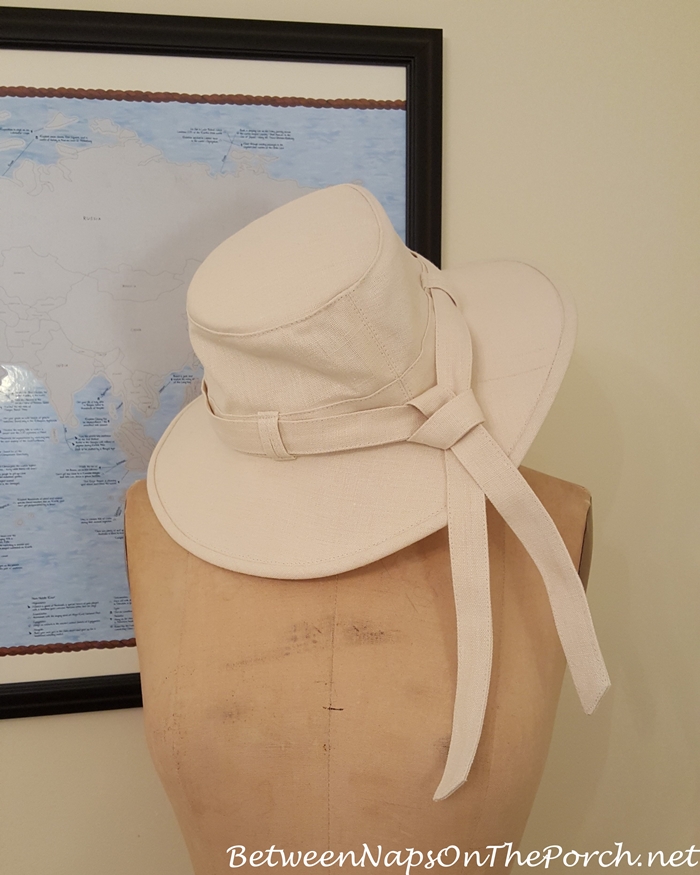 I never got around to replacing it but now that I'm headed back to a sun-filled country where I'll be spending 2-3 days in the desert, I figured I'd better get on that! I had ordered my Tilley hat from Amazon and I remembered when it arrived, tucked down inside the hat was an "Owner's Manual." The manual contained lots of good information, including this statement below under the "Insurance" heading:
If your Hat has been irretrievably lost, stolen or destroyed within 2 years of date of purchase, we will replace it at 50% of current catalogue price, plus shipping and taxes.
What they left off was, "unless you purchased it on Amazon."
When I called Tilley to inquire about purchasing the hat again at half-price, as soon as I stated I had purchased it via Amazon, they told me that they wouldn't honor the warranty. They will only honor the warranty if you buy it directly from them.
On Amazon it sells for $83.95, while at the Tilley website it's $100. I guess that extra $16.05 you pay when you purchase it directly from Tilley is the cost of the insurance. I was disappointed to hear they wouldn't honor the warranty and decided to just purchase it once again on Amazon. (You'll find the hat here: Tilley Hat.)
There's a bit more to this story that you might find interesting. Not too long after my return home from Africa, I received a call from an Air France employee saying they had my hat. I had put my phone number in the hat as recommended in the owner's manual and it had worked. Someone had found it and called me!
I told the Air France employee that I had tucked a $20 bill into the hidden pocket in the inside top of the hat (that's another little tip suggested inside the "owner's manual) and I asked if they would put it in a large envelope and mail it back to me using the money for postage. I told her I'd be happy to reimburse them if the cost was more.
The woman I was talking with said she didn't know and would have to ask her supervisor. I never heard back from her again and never got an answer when I tried calling her back a few times.
More Hat Drama (Hats don't like me!)
After losing my Tilley hat, last summer I purchased another hat that caught my eye. You may remember this adorable sunhat shared in a previous post last summer.
It can be ordered with a black, cream or navy bow and I purchased it in the navy bow version. (Scroll down to see all three colors it comes in here: Straw Bow Hat.)
When it arrived I was disappointed to see that the hat was actually much darker in color than shown in the photo online, so I returned it. Recently when I was trying to decide if I should purchase another Tilley hat or something altogether different, I decided to give the sunhat another try, despite its darker appearance.
This time I purchased it in the cream bow version, thinking that would be nice for summer and go with almost any outfit. See what I mean, it looks so much darker in real life than in the photo above. Or, does it?
This morning on a lark, I took it outside to see how it looks outdoors. Looks a lot lighter, doesn't it? It's still not as light as in the photos from the website, but definitely a lot lighter in appearance than when viewing it indoors.
You'll find this adorable hat available in three different bow colors here: Bow Sunhat.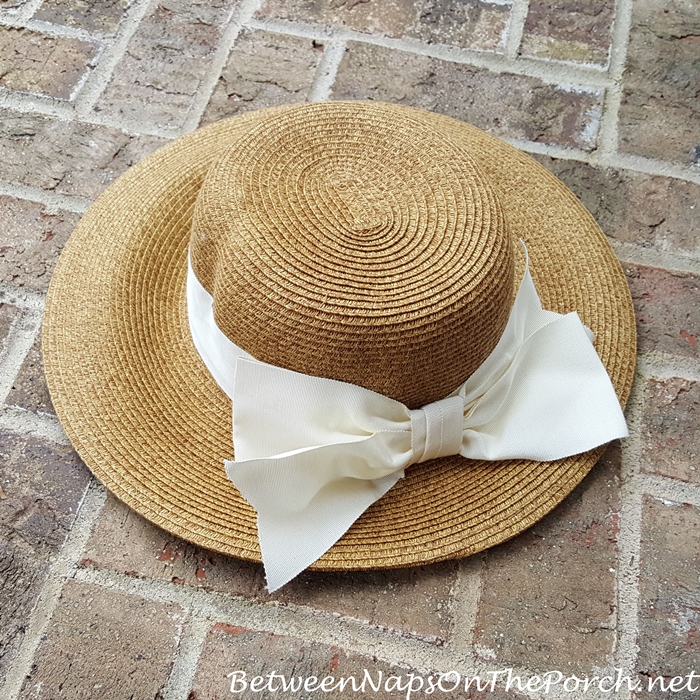 I also broke down and re-ordered the Tilley hat from Amazon again. I think I'll take both hats with me when I travel to Morocco in March. At least if I lose one, I'll have a spare this time! lol They both claim to be packable, so I'm squishing them into my suitcase. Don't want to risk leaving either in an airport or on a plane.
Hat Storage
So, where am I going to store all these hats when I'm not wearing them? Ummm, I have an idea!
I couldn't find the picture that I most wanted to show you, but this one from Sarah Richardson's wonderful beach cottage is close enough. I've always loved the idea of hanging hats around a mirror, especially in an entry. I don't have a place where I can do this, but I did think of another spot that would be cute.
I think I'm going to lower the Bucket List Travel Map I have here in the office down a bit (it's always felt a bit too high anyway) and place a vintage hat rack on the wall above the map. (Travel Scratch off map is available here: Travel Map.
Not sure if it will work or how it's going to look…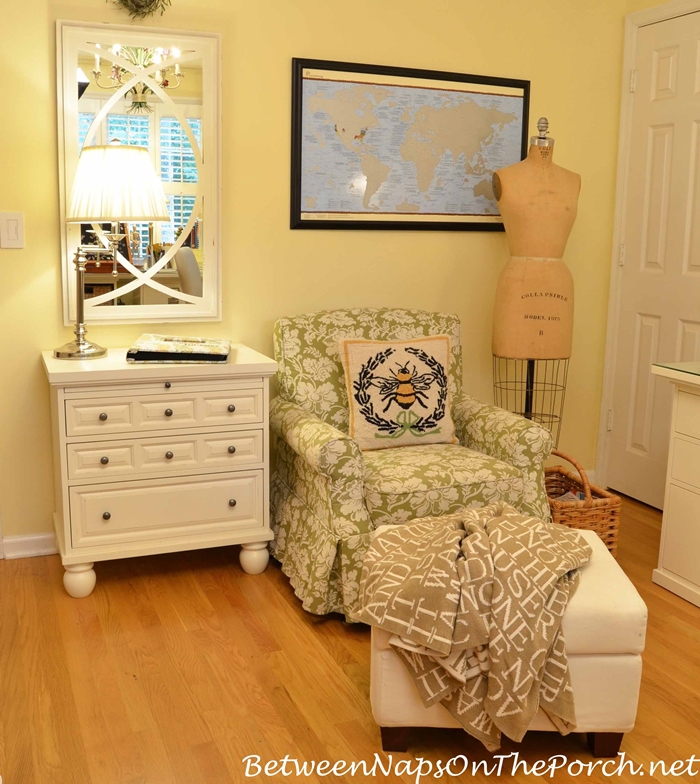 …but a few days ago I ordered this vintage wood wall hat rack on Etsy. It may be too small, but I loved the vintage look of it. It looks like the kind of hat rack you would see on the wall of that marvelous house in the movie, Australia. It just feels sort of British Colonial to me.
I think the warm, wood tone of the hat rack will work nicely with the warm tones of the baskets, ottoman and wood floors here in the office.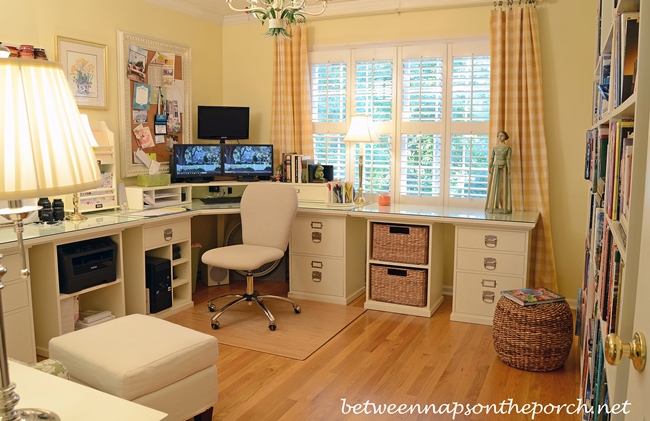 Plus, there's a brown basket beside the chair where I store books/magazines, too. Again, it may turn out to be too small for that area, I'll know once it arrives.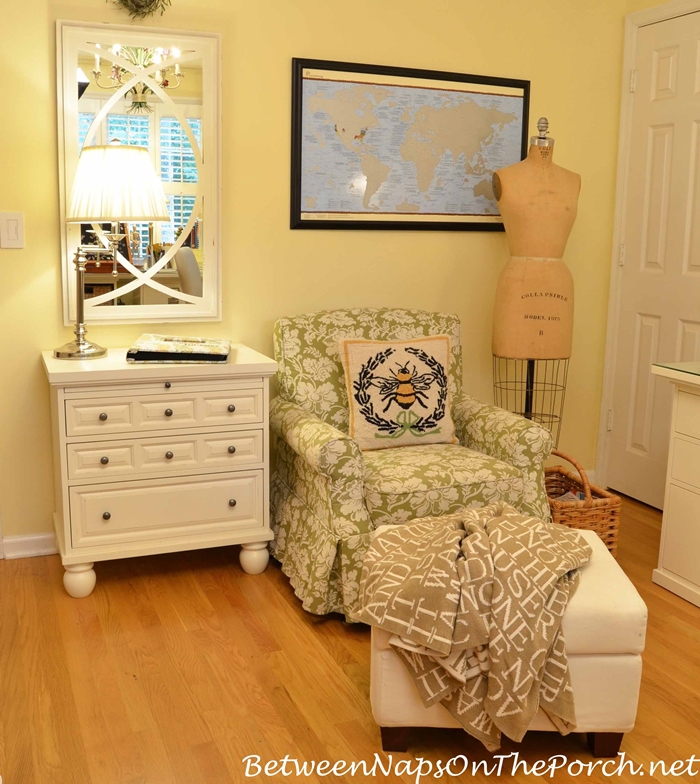 So that's what I'm working on around here right now. Will keep you posted on how the new hat rack works. Hope you have a wonderful week! Winter has returned here so I'm staying snuggled down inside as much as possible.
Metamorphosis Monday
Metamorphosis Monday is a party that's all about Before and Afters. If you are participating in Met Monday, please link up using the "permalink" to your MM post and not your general blog address.
To get your permalink, click on your post name, then just copy and paste the address that shows up in the address bar at the top of your blog, into the "url" box for InLinkz.
In order to link up, you'll need to include a link in your MM post back to the party so the other participants will have an opportunity to receive visits from your wonderful blog readers.
Please observe these few rules:
Please link up Before and After posts that are home, gardening, decorating, crafting, painting, sewing, cooking, fashion or DIY related.
Be sure to include a link back to the party in your post, so your readers will be able to find and visit the other bloggers who are participating.
Do not link up to the party if you're doing so to promote or sell a product.
To those who are linking up: If you notice a shop or store linking up to sell products (yes, unfortunately that does happen) please let me know so I can remove their link from the party. No one wants to click a link expecting a Before and After, only to find a spam link to an online business/store.
*If a post is sponsored or a product was provided at no charge, it will be stated in post. Some links may be affiliate links and as an Amazon Associate, I may earn from qualifying purchases. *