After touring actor/producer/director Ron Howard's beautiful Greenwich estate a few days ago, I came across another home in Greenwich that was too amazing to not share. This home is located in an area of Greenwich known as Khakum Wood and it has the look and feel of a beautiful European manor home.
If you're curious where Khakum Wood is, here's a little map I found at the Greenwich Historical Society's website where you can read all about the history of Greenwich dating back to 1640. Khakum Wood is directly under the N and the W on the map below.
This estate encompasses over 5 acres which is a tremendous amount of land for an estate in this area.
Such a beautiful entrance, really does feel like we're entering a European estate, doesn't it?
Let's go in and take the tour!
The entry/foyer…are those hydrangeas? I bet that's a stunning arrangement to view in person!
Living room with a beautiful Venetian glass mirror…the interiors of this home are the work of  designer, David Easton.
I love a paneled library…
Great kitchen! Now here's something that really caught my eye…look at the refrigerator. I'm guessing that's a Sub-Zero. I've always wished Sub-Zero would make a refrigerator with glass doors on both sides, not that I'd be able to afford one! But I always thought if I ever did have the funds to invest in one, I'd love glass doors on both sides like we see here.
This is the only style I've ever seen. (Photo from Sub-Zero site.) Did they start making them with glass doors on both sides? Anyone know?
I bet the freezer is in the lower section. I just love the idea of being able to see in through the doors to the lovely pitchers of drinks, dishes, fruits, desserts, etc… inside. Anyone else love the sub-zero glass-door refrigerator/freezers?
I think this may be the breakfast room and look at that ceiling! Wish they had given us a better view of that wonderful conservatory/observatory ceiling. You can see it a bit better in the aerial photo of the estate.
You could get your full days dose of vitamin D while having breakfast each morning. Seriously! Wouldn't this be the most wonderful way to start your day, dining in all this wonderful sunshine!
I've left out several rooms so this post isn't a mile long but the dining room was so striking with it blue color scheme, I had to include it in our tour. Notice how the crown molding is either painted gold or maybe even covered in gold leaf…very striking against the blue isn't it? The table definitely has a European feel with the painted chairs.
An elegant bedroom…this bedroom looks as if it should have a mystery chair, doesn't it? Long-time readers of BNOTP will remember that post where we puzzled over our mystery chair.  (You can read more about the mystery chair in this older post: The Mystery Chair)
Beautiful bath! Does the tub remind you of another one we've seen. Hint: It was in a movie featuring a darling English cottage, a cottage we've toured here on the blog.
Did you guess the one in this scene from the movie The Holiday?  Don't they look a lot alike?  (Tour Rosehill Cottage, the English cottage in the movie, The Holiday in this post: The Holiday: Tour Rosehill Cottage )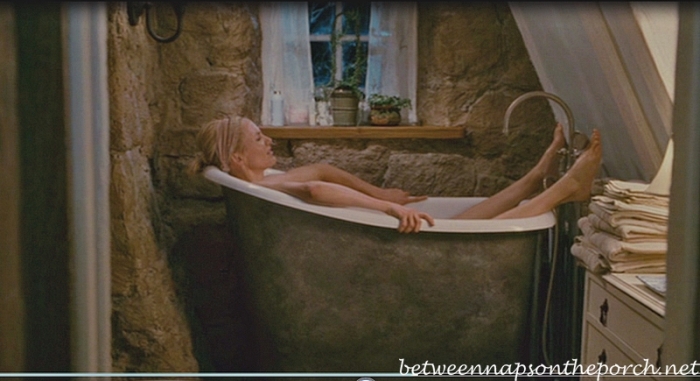 Love the view of the back of this grand estate! I wish they still put this many windows on the sides and backs of the homes being built today! Just beautiful!
Lovely spot from which to enjoy the gardens…
Lots of wonderful outdoor rooms for dining and entertaining.
But the gardens are my favorite!
Did you have a favorite room? Anyone know if Sub-Zero makes a refrigerator with glass doors on both sides?
You can see more of this beautiful home where I found the pictures for this post HERE.
*If a post is sponsored or a product was provided at no charge, it will be stated in post. Some links may be affiliate links. *