Welcome to the 213th Tablescape Thursday!
Last Valentine's Day I created a little "heart" tree for a Valentine's Day Tablescape. (Tablescape can be viewed here: Valentine's Day Tablescape)
Ever since, I've been itching to try that again. Recently, I spied this spooky tree in a Pottery Barn catalog. PB calls it a "Spooky Aspen Branch" and it can be found here where the two photos below were found.
I loved the look of the white branches with the black leaves.
So, I decided to make my own version of the PB "Spooky Aspen Branch" tree.
Only mine is filled with squawking crows, too. 😉
One of my crows took a nose dive and I didn't notice it until I had taken a few pics. Ha! I fixed him later.
I painted some River Birch branches I found in the yard with white paint and tucked them down inside a vase I found a few months ago in Marshalls. Update: I was out shopping and running errands today and two people told me I have paint in my hair. I really need someone to take care of me…seriously!
I'll create a little tutorial in the next few days, just in case you want to make your own spooky-tree centerpiece. Update: You'll find a detailed tutorial for making this Crow/Raven centerpiece in this post: Make a Crow or Raven Tree Centerpiece for Halloween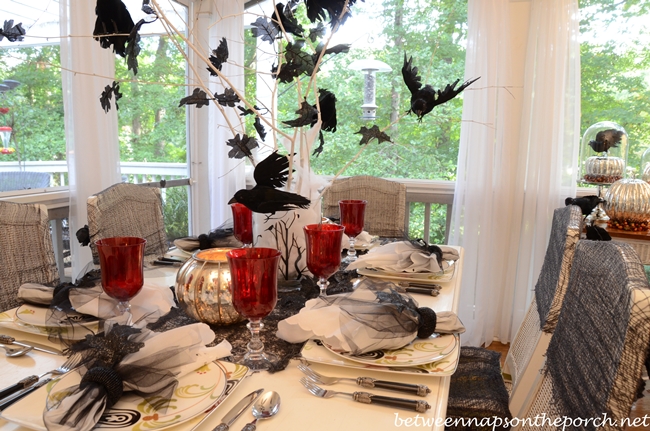 You know I'm never going to grow up…you know that, right? 😉
I decorated the chair backs with "creepy cloth" and black roses from Dollar Tree. I also placed one of the creepy cloths across the seats since my brightly striped summer chairs pads aren't very Halloween-like.
Cost to decorate all 6 chairs was $18, but if you didn't need the creepy cloth across the seats, it would only be $12 to decorate six chairs: $6 to decorate the six backs + $6 for all six flowers with spiders.
Megan, don't look too close. There are spiders crawling on the black flowers. Yikes!
Ruby Goblets are by Mikasa…
The napkin sheaths are made from tulle I purchased and cut up into large squares. I love how it looks over napkins for a Halloween table setting. I had some black leaves left over and tucked one under each beaded napkin ring.
This whimsical dishware was provided by Noritake. You may remember seeing it in this tablescape: Light & Airy Summer Dining. The pattern is called, Combo and the playful pattern was perfect for this fun tablescape.
When I attached the crows to the tree this afternoon, the birds in the yard were squawking up a storm! I mean really squawking!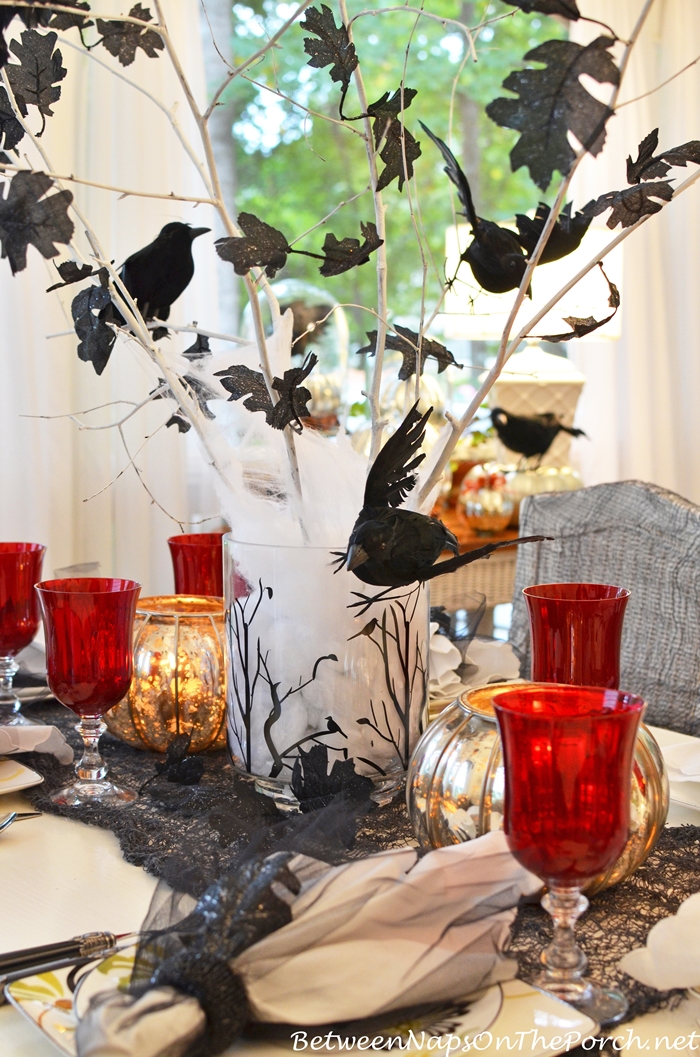 I wasn't sure if it was because they saw all the crows on the porch or if it was due to something else. They eventually settled down or went away…not sure which.
Five of the small crows are from Dollar Tree. They were the perfect size for this little tree. I really wanted to call these guys ravens instead of crows for this post. It just has a more romantic sound to it, doesn't it? But after watching THIS video, I know these are definitely crows and not ravens. Do you know the difference between ravens, crows and blackbirds? I kind of like ravens now, after watching that video. They are a lot nicer than crows.
Ravens make me think of that Edgar Allan Poe poem, The Raven. I placed one of the creepy cloths down the center of the table for a table runner.
Centerpiece only cost around $10 to make: $5 for the vase and $5 for the crows. I already had a couple of the larger crows and the spider web stuff from a previous Halloween. Branches were free from the yard and I used the same white paint I previously used to make the wood flag in this post: Pottery Barn Knock-off Wood Flag
Oh, almost forgot…the leaves were part of a garland from Michaels. It was $4.99 originally but I used a 40% off coupon. So, that makes the centerpiece around $13. Not too bad for a centerpiece this large. It would be cute on an entry table or sideboard for a Halloween party. I think I'll leave it intact and just store it in the basement for future Halloweens.
Detailed tutorial for making this Crow/Raven centerpiece can be found in this post: Make a Crow or Raven Tree Centerpiece for Halloween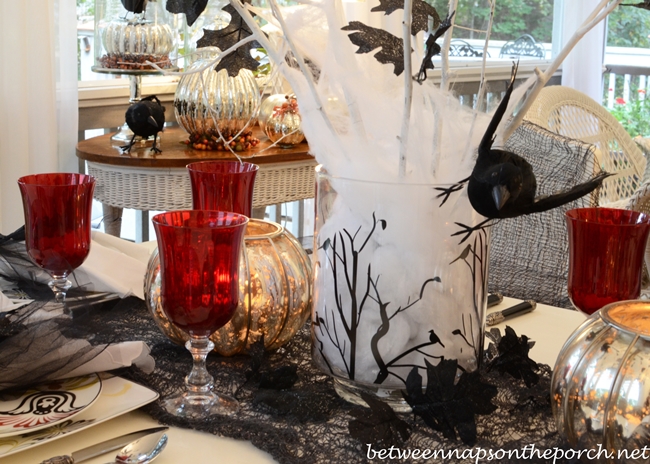 Mercury Glass pumpkins are from Marshalls either last year or the year before. Can't remember now.
Do you have any favorite childhood memories from a past Halloween? Halloween was so much fun for me growing up. I have a lot of great memories from staying out late trick-or treating, not to mention all the candy!
Just as it was getting dark outside, I wondered how this table setting would look with different glassware.
I think I like it better with the amber stemware. Amber glassware was provided by Noritake.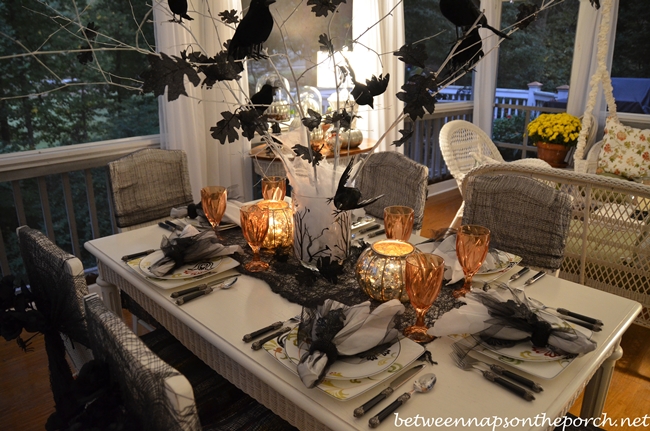 Yep, definitely like the amber better.
The mercury glass pumpkins are so glittery after dark…love that!
You'll find a detailed tutorial showing how I made this crow-tree centerpiece here: Make a Crow Tree Centerpiece for Halloween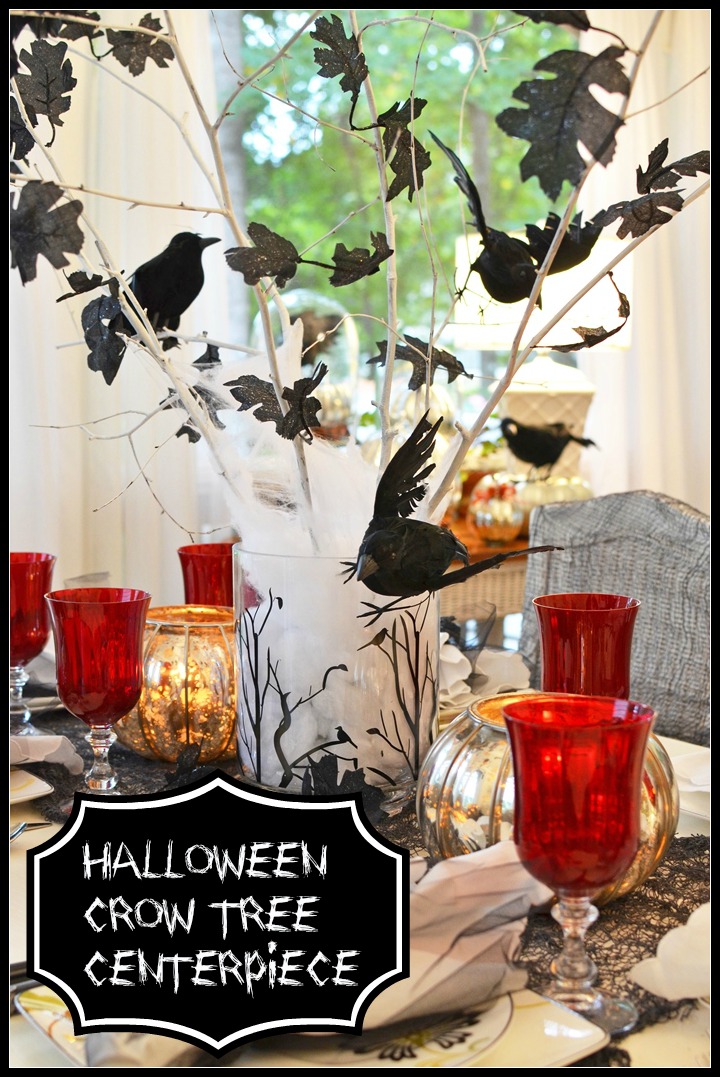 Looking forward to all the beautiful tablescapes posted for this Tablescape Thursday!
Please Read:
If you are participating in Tablescape Thursday, please be sure to add your permalink below, and not your general blog address. To get your permalink, click on your post name, then copy and paste the address that shows in the address bar, into the "url" box when you link up.
You'll need to include a link in your post back to the party in order to link up and participate. That's so visitors to your blog will be able to find the party and the other Tablescape Thursday participants.
If you would like to use the Tablescape Thursday logo button in your post, just copy and paste it to your computer and upload it to your post as you would any photo. If you link the button back to BNOTP, InLinkz will recognize that as a link, as well.
Please, don't add your post name/blog name ALL IN CAPS…it tends to create big spaces between the rows of links. Thanks!
Let's try something fun today! Please visit the person who linked before you and after you…that way everyone will get some visits. Hope you'll visit more, of course!


*If a post is sponsored or a product was provided at no charge, it will be stated in post. Some links may be affiliate links and as an Amazon Associate, I may earn from qualifying purchases. *