Welcome to the 216th Tablescape Thursday!
The Witching Hour:
Ever since I made knock-off Pottery Barn clock plates, I've been eager to use them in a table setting. They are finally making their appearance in a table I'm dubbing, The Witching Hour, a term (per Wikipedia) first used in Washington Irving's short story, The Legend of Sleepy Hollow, to signify midnight.
When I read that in Wikipedia, I instantly thought of the funny (and spooky) scene in the movie, Midnight in the Garden of Good and Evil with Minerva. Do you remember it? It takes place in Bonaventure Cemetery and is totally funny, albeit a little spooky. (Pssst: You can take a tour of Mercer House in this post: Midnight in the Garden of Good and Evil: Touring Mercer House)
Come a bit closer if you dare.
It's a little hard to see but I made a spider-web tablecloth. If you wish to make one for a Halloween party, just start by stretching a long piece of faux spider-web stuff across a table and taping it down underneath the table with clear tape. You can find bags of the faux spider web anywhere that's selling Halloween decorations.
Stretch your web out nice and thin for the most realistic appearance. After I had the table partially covered, I actually found it easier to finish this process by placing the centerpiece on the table which help to hold additional pieces of webbing in place. You can tape the web underneath your centerpiece and the tape won't be visible.
The web is really noticeable in person but hard to share in photos. I tried to capture it for you in this pic. I created a spider web tablecloth for a previous Halloween table setting in 2009. That one was atop a glass table and I placed string lights underneath. It created a great effect with the lights glowing up through the spider web.
Come check out this fun centerpiece.
I found this whimsical witch's hat a couple of months ago in Marshall's for $12 and bought it to use as a door decoration for Halloween. I thought it would be hilarious on the front door with a sign crookedly hanging beneath it declaring, "The Witch is In." 🙂 Wouldn't the Trick-or-Treaters love that?
Unfortunately, a black and white door decoration didn't work with this year's Halloween front porch decorations, but there's always next year.
Do you see the HUGE spider perched on the side of the hat, just above the brim? She's been busy weaving a web all around the candelabras.
The porch crows had to get in on the table setting, too.
I came across these scary looking spider cupcakes at Martha Stewart online and decided to make my own version.
Here's a little view looking down at the spider cupcakes perched atop Pottery Barn Knock-off clock plates. I just noticed, the Gourmet Settings Treble Clef flatware mimics the curl of the top of the witch's hat. How fun is that! This flatware goes so well with any whimsical tablescape. It has become one of my faves. It's available at Amazon here: Gourmet Settings Treble Clef
.
I only have four black dinner plates so I used those along with two white dinner plates, placing the white places at the ends of the table. Don't be afraid to mix and match your china, especially if you don't have enough of one pattern.
The cupcakes are super easy to make. Just bake chocolate cupcakes and cut slivers of marshmallow to create scary fangs. Red hots work well for the eyes.
If you follow Between Naps on the Porch on Facebook, you got a sneak preview of these guys yesterday. At first I shared a pic of just the fangs on a plate and asked what folks thought they were. The answers were so funny!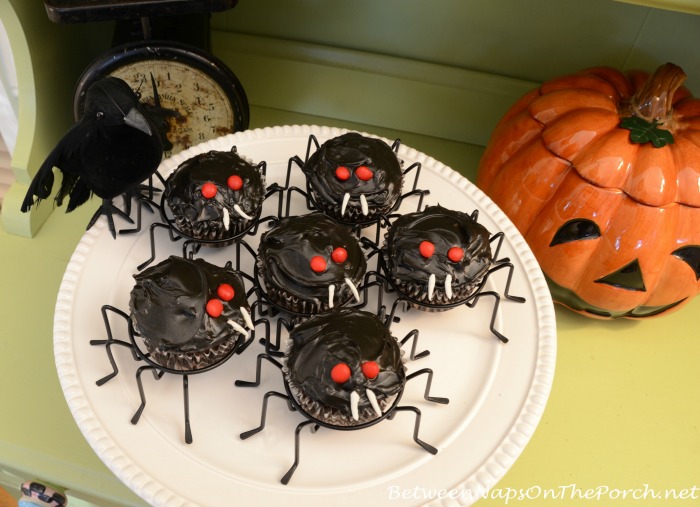 The spider leg cupcake stands are available here: Spider Cupcake Holders
The "numbered" glasses are from Ballard Designs outlet in Alpharetta, Georgia. This one has the number 4 on it…kind of hard to see in this pic.
The first time I saw the glasses they were priced at $2.99 each and I passed them over. A few weeks ago I stopped in again while on the way to a doctor's appointment. This time they were on sale for .99 cents each. You know I can't pass up dollar store pricing. On some of the glasses the number is written out like the "six" below.
On others, it's the actual number itself, like the "7" below. I bought a dozen, numbers 1-12. I thought they would work well with the clock plates.
Evening is approaching and the candles took on a soft glow.
Looking forward to all the wonderful tablescapes posted for this Tablescape Thursday.
You'll find lots more Halloween Tablescapes under the Tablescape/Holiday category or The Holiday Home/Tablescape category at the top of BNOTP. Or, click here: Halloween Tablescapes. You'll also find additional Halloween crafts and decorating ideas under the The Holiday Home category.
Please Read:
If you are participating in Tablescape Thursday, please be sure to add your permalink below, and not your general blog address. To get your permalink, click on your post name, then copy and paste the address that shows in the address bar, into the "url" box when you link up.
You'll need to include a link in your post back to the party in order to link up and participate. That's so visitors to your blog will be able to find the party and the other Tablescape Thursday participants.
If you would like to use the Tablescape Thursday logo button in your post, just copy and paste it to your computer and upload it to your post as you would any photo.
Please, don't add your post name/blog name ALL IN CAPS…it tends to create big spaces between the rows of links. Thanks!


*If a post is sponsored or a product was provided at no charge, it will be stated in post. Some links may be affiliate links and as an Amazon Associate, I may earn from qualifying purchases. *