Welcome to the 652nd Metamorphosis Monday!
Last week I shared a new lamp I had just added to the guest room. This week I'm sharing another update for this room, something I've wanted to do for a long time but could never figure out all the logistics.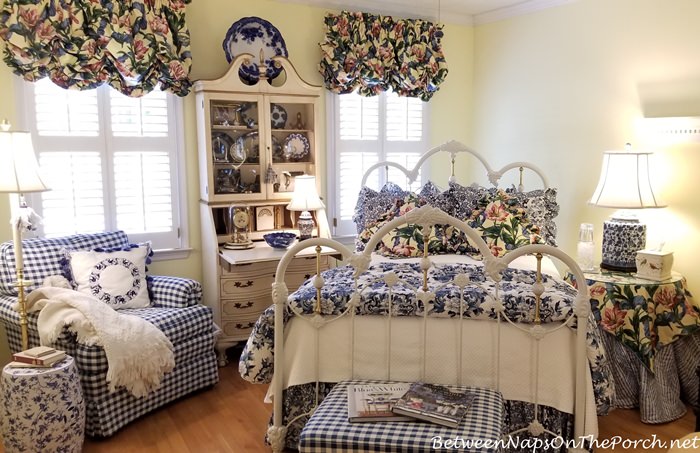 I have a smallish handbag collection and I've always wanted to gather it all together in one spot, as opposed to having it spread out over several closets. At one point I gathered a few of my bags together in one cabinet but I wasn't crazy about how crowded they were and the cabinet didn't really fit in with the other furniture in my master bedroom very well.
So I decided to go for it, to do that thing I've been wanting to do for a long time: gather all my bags together in one area and try to make it decorative as well as functional. I needed a longish wall and decided this wall in the guest room, a room that's rarely in use, would work just fine.
I was pretty sure I would have to move the blue and white chair in the corner to get all the cabinets along that wall. I was reluctant to move the bed from the corner because I love how it looks silhouetted against the window and the shutters. I just don't think I'd like it against the wall near as much. Surprisingly, the only thing I had to move to make room for the cabinets was the blue and white garden stool that was acting as a small table to the left of the chair. (The garden stool is now in the upstairs living room.)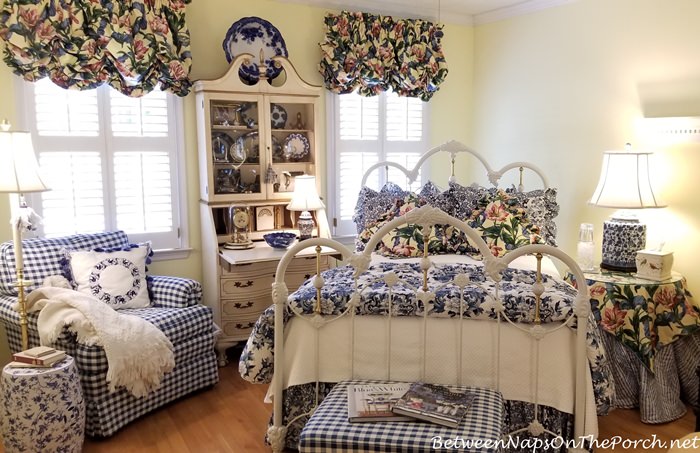 If I push the door all the way back against the wall, here's how the view into the room looks. Normally, I keep the door pulled out from the wall a few inches, but I pushed it back for this photo below. So I was able to keep the chair in the corner which made me happy since I've always liked seeing it in that spot when I pass by the room.
Here's the view into the room with the door in its normal position. The cabinets do not obstruct the view of the room or the entrance into the room. So let's see how the cabinets look!
Here's the arrangement for now. I almost didn't add the boxes across the top but after I placed them there just to see how they would look, I decided I really liked them displayed this way.
In today's post, I thought I'd share a few of the things I learned in the process of creating this handbag storage/display. This project definitely taught me a lot! For one thing, I learned that you shouldn't haul all the parts/pieces for two, glass-door cabinets (I already had one cabinet) up a flight of 14 stairs AND then build/assemble them all in the same day. Bad idea if you want to be able to walk and move normally the next day. lol
It all started with, "I'll just bring everything up for today and then I'll assemble them tomorrow." That progressed to, "I'll just put the cabinets together, but I'll hold off adding the doors until tomorrow." After the cabinets were assembled, I couldn't help myself and had to add at least one set of doors–which then led to adding all the doors. The glass doors are heavy!
Once all the cabinets were built and in place, I HAD to see how a few of my bags looked inside. Two hours later, I was still playing–moving and repositioning shelves, arranging and rearranging all the bags onto the shelves. I started this whole process around 2:30 in the afternoon when the cabinets were delivered and finally forced my achy self to bed around 2 a.m.
One of the things that made the process take so long was trying to figure out how to work in the bags that needed to hang from stands without having the shelves all jingle jangly and awkward looking at different heights. After a lot of trial and error, I discovered the most pleasing arrangement was having the top three shelves in all three cabinets on the same level/plane across all three cabinets, with the section for the longer bags (on display stands) in the lower part of the center cabinet. The bottom row ended up lined up all the way across, too. So I only had to remove one shelf to allow for the longer handbags. The shelves are not all equal distances apart since the bags vary in height, but that didn't matter as long as they lined up with each other from cabinet to cabinet.
I added a few books on the subject of handbags and fashion to spice things up a bit. I really like how those looked mixed in with the bags. You'll see more of that in the pictures below in this post. The Chanel book was a recent purchase here: Chanel Book.
I also mixed in a lot of boxes on the shelves since I didn't have enough bags to fill all the shelves. And, no–I'm not going to start buying bags like crazy to fill them up! Ha! I'm pretty content with my current bag collection.
The little gray cover you see atop the Chanel bag is a very lightweight, strap cover I purchased a few years back here: Strap Covers). I use those to cover the leather and metal chain straps on my Chanel bags to prevent the strap from leaving permanent indentations in the top of the bags during storage. I've seen a lot of Chanel bags over the years with indentations in the sides or tops depending on how they've been stored. Those chain straps can do some damage!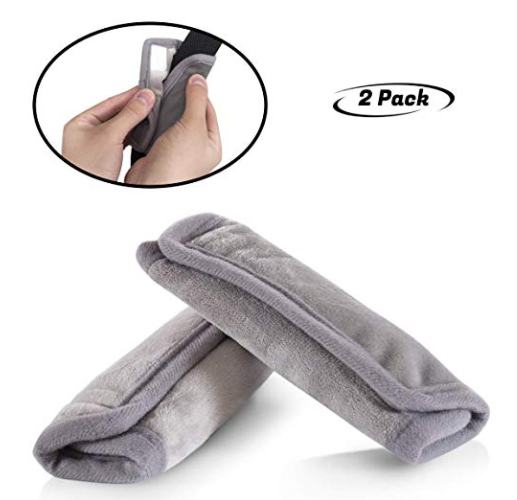 I like how the acrylic, tiered supports designed to hold wallets and other small leather goods (SLGs) looked and worked mixed in with the bags. You can see them in this photo below holding some of my favorite wallets and SLGs. Note the wicker bag–that bag was a big speedbump in the bag arranging process. It doesn't look that tall, but it really is! It would not fit on the majority of the shelves so ended up taking up space I really, really needed for another bag with handles that needed to be upright.
I started to just put it back in my closet since it was the one Tetris piece I couldn't make fit–until I thought of tucking it inside one of the totes I use to protect whatever handbag I'm taking along with me when I travel. I don't like putting my naked handbag onto the conveyor for scanning since you never know what's been on that conveyor, not to mention TSA can be really rough with handbags.
Once the tallish wicker bag was tucked away inside the clear, protective tote, that made room for another wicker bag with handles that needed to be standing upright and not bent over.
The handles on this Gucci "Flora" bag easily lay over so they weren't a problem. This Flora bag was an inexpensive find on eBay many years ago. As I recall, I paid somewhere in the $300 range and its owner said she had rarely ever carried it after purchasing it from the New York boutique. I love its whimsical pattern and the history behind it.
Gucci first designed the "Flora" pattern for a scarf they made for Princess Grace in 1966. Every so often they bring the pattern back again in a new way. In addition to the beautiful florals, there are little bugs hidden away in the design like the grasshopper and butterflies visible below. It looks really cute with a few of my solid-colored, linen Tommy Bahama summer dresses.
You'll see some bags appearing in different spots as I tried them in various places inside the cabinets. Here's another example of where I used two display stands for wallets, key holders, a mini pochette, and a passport holder. I love these stands for holding SLGs! (They are available here: Tiered SLG Holder.)
If you've been following BNOTP for a while, you may remember when I purchased the Dooney and Bourke Giraffe-print Bag (on the bottom shelf) just prior to a trip to Mahali Mzuri and Giraffe Manor. I ended up not taking that bag with me on the trip, but I still love using it because it always reminds me of that trip and Giraffe Manor. The blue bag with the starfish and nautical rope design is a Brahmin bag from the Atlanta, Lenox Square, Brahmin store many years ago. Brahmin bags were always so well made–I hope it's still that way!
In the photo below, you'll see where I mixed in a couple of more books.
Tiffany Style is available here: Tiffany Style. The other book in the photo above is Breakfast at Tiffany's: The Official 50th Anniversary and it's available here: Breakfast at Tiffany's: The Official 50th Anniversary.
This Lady Dior was a lucky find in "like-new" condition at Fashionphile for around half the price it would have been in the boutique. They had another one of these bags a few weeks ago, but it has since sold. Bags do not last long on that site! I would love to add another Lady Dior to my collection one day. I really love the quality of their bags! (See all the Lady Dior bags they currently have in stock here: Lady Dior Bag.)
This bag is an oldie but goodie from Brahmin. I wore this bag almost constantly for a couple of years. It was designed to hold an iPad/notebook and it does an excellent job of that, still.
So remember those two fringe, Frye bags that I was hoping to hang from stands to keep the fringe from getting all crumpled up and bent out of shape?
Here's where they ended up, any Frye boots fans out there? They make amazing bags, too! The only other bag in my collection that really needs to be stored in a hanging position is this Dior Saddlebag. I can't ever buy another bag that needs to be displayed this way because I don't want to change up the current arrangement of shelves. lol
And just in case you're wondering, I always attach cabinets/bookcases to the wall. These Billy Oxberg cabinets especially need that because the glass doors are quite heavy. I attached each of the cabinets to the wall using a long screw that I put right through into a stud. Do you have trouble find studs in a wall when you're trying to hang something or attach a bookcase to the wall?
I always rely on a stud finder to help me when I'm hanging art or securing a cabinet/bookcase to a wall. I use the stud finder as a guide, then I hammer a long, straight pin, the type used for pinning fabric when sewing, into the wall where the stud finder shows there's a stud. If there's really a stud there, the pin will only go in a short distance before it bends and I can feel that I've hit something hard. Then I use needlenose pliers to pull the straight pin back out.
The pencil mark where the stud finder said I'd find a stud is still visible in the photo below–and a straight pin showed me it was right! This is the best method I've found for locating a stud in the wall without putting a gazillion holes in the wall.
One thing I really like about putting these cabinets here in this rarely-used bedroom is this room will finally see a lot more daily use now.
Hope you found this handbag storage/organization helpful! Looking forward to all the great Before and Afters linked for this week's Metamorphosis Monday!
Pssst: Did you know Between Naps On The Porch is on Instagram? You'll find me on Instagram here: Between Naps On The Porch.
Like to know when a new blog post is up and available to read? Subscribe for email updates, it's free and your email will never be shared.
Subscribe for free post updates via email here: Subscribe.
Metamorphosis Monday
Metamorphosis Monday is a party that's all about Before and Afters. Please link up your Before and After projects like DIY projects, room makeovers, craft projects even recipes. Any Before and After is great! Please do not link up Table Settings, save those for our Tablescape Thursday party on Thursday.
If you are participating in Met Monday, please link up using the "permalink" to your MM post and not your general blog address. To get your permalink, click on your post name, then just copy and paste the address that shows up in the address bar at the top of your blog, into the "url" box for InLinkz when prompted.
In order to link up, you'll need to include a link in your MM post back to the party so the other participants will have an opportunity to receive visits from your wonderful blog readers.
This party has ended, click button below for the links to all who participated.
*If a post is sponsored or a product was provided at no charge, it will be stated in post. Some links may be affiliate links and as an Amazon Associate, I may earn from qualifying purchases. *