Welcome to the 427th Metamorphosis Monday!
A couple of months ago I purchased this adorable sunhat pictured below. After it arrived, I liked it so much I ordered a second one in the navy-ribbon style. With my hat collection rapidly growing, I decided it was time to find a better way to store them other than just tossing them onto the top shelf of my master bedroom closet where they were impossible to reach without a stepladder.
You may remember in an earlier post, I mentioned having ordered this vintage/antique hat rack from an Etsy seller about a 1-1/2 months ago. Coming all the way from Bulgaria, it appeared to take quite a while to clear customs. The tracking number showed it languishing away in New York for about a week before finally making its way south toward Georgia.
Tracking showed it was set to arrive the day I was flying out for Morocco. I had my mail held while I was gone, so it was waiting for me when I returned home this past week.
I decided to hang it here in the office…
…right above my Bucket List Travel Map. So I moved the map down some (it had always felt a bit too high anyway) and I hung the hat rack right above the map.
It adds some much-needed personality to this reading corner and this really is the perfect spot for it since so many of my hats have been acquired during my travels or were purchased to wear during a trip.
I purposely hung the rack so the sun hats along the bottom row would slightly overlap onto the map below. I didn't want a gap between the hats and the map, instead, I wanted them to feel connected since they really are in many ways.
Update: I've had several questions about the chest beside my reading chair. When I was furnishing the office, I came across that chest and it was exactly what I needed for this reading corner. You can see more details about the chest in this previous post: Another Piece of the Puzzle. I love that the drawers are dovetailed, so rare to find in today's furniture. It's held up beautifully and is still available here: Chest.
The white hat on the top row (on the far left) was inspired by the hat Diane Keaton wore in the movie, Something's Gotta Give. She looked so adorable in her little beach hat, when I came across this one not long after seeing the movie, I decided I needed one for my next beach vacation.
It's reversible, the other side is a sand/tan color with little white polka-dots. I like to wear it with the white side up and the brim turned up just a little so the tan, polka-dot side is visible, too.
When wearing it, I probably look more like Gilligan than Diane Keaton 😉 but it's still a really cute hat when I want to get my Something's Gotta Give vibe on. (Pssst: Take a tour of the house in the movie in this post: Something's Gotta Give.)
The light-colored sunhat on the bottom row on the far right was purchased during a trip with friends to the "Cotton Pickin' Fair" in Gay, Georgia. The sun was super hot that day as we walked around checking out all the arts and crafts and I remember being so thankful to find one of the booths was selling sun hats. It has little shells all around the brim, so it's a cute one to wear during the summer.
The brown sunhat hanging on the bottom row on the far left was purchased during a trip to Italy in fall, 2015. During that trip we had a free afternoon during our stay in Sorrento, and it happened to fall on one of the few sunny days we had on that trip.
If you were following BNOTP on Instagram back then, you may remember when I posted this photo. I was sitting and enjoying the view while sipping a special Limoncello concoction my server had recommended.
As I sipped and admired this stunning view, I was wearing the sunhat you saw hanging above. I had just purchased it at one of the stores in the shopping area down below.
This was an especially surreal moment because just to the left of all this beauty that you see below…
…was a view of this: Mt. Vesuvius, the volcano that completely buried several cities in AD 79, including Pompeii and Herculaneum! I was very happy to find it peacefully sleeping that day! (Take a tour of Herculaneum in this post: A Visit to Herculaneum, An Ancient City Buried for 1,700 Years)
The little necklace hanging on the dress form says: Not All Who Wander Are Lost. I found it here: Travel Necklace.
I've worn it on several trips, including a safari to Kenya and to Giraffe Manor.
See the sunhat hanging there in the center, the one with the navy bow?
That's the one I purchased right before my recent trip to Morocco. It was the hat I was wearing when I snapped this photo a little over a week ago. I'll never forget that moment in the Sahara Desert, and yes, the sand really is that gorgeous shade of orange!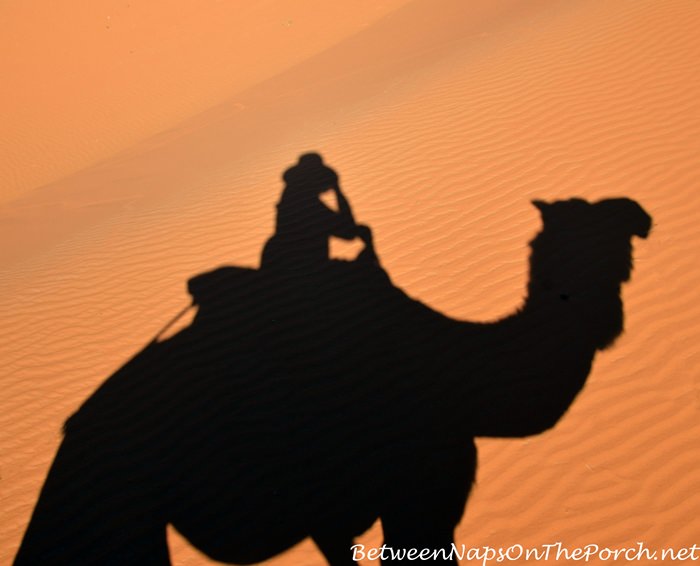 I can't tell you how much I enjoyed wearing that hat all over Morocco the 15 days I was there. I purchased it HERE just before leaving for the trip, and it accompanied me every single day as we ventured out. We had beautiful sunny weather the entire trip and it did an excellent job of protecting my face and neck from the hot Moroccan sun.
I've become a great fan of hats, more so than ever before. Besides the sun protection they offer, they are just so much fun to wear. I hadn't realized how much fun they could be until my trip to Morocco.
Do you have any special hats that always accompany you when you travel?
Metamorphosis Monday
Metamorphosis Monday is a party that's all about Before and Afters. If you are participating in Met Monday, please link up using the "permalink" to your MM post and not your general blog address.
To get your permalink, click on your post name, then just copy and paste the address that shows up in the address bar at the top of your blog, into the "url" box for InLinkz.
In order to link up, you'll need to include a link in your MM post back to the party so the other participants will have an opportunity to receive visits from your wonderful blog readers.
Please observe these few rules:
Please link up Before and After posts that are home, gardening, decorating, crafting, painting, sewing, cooking, fashion or DIY related.
Be sure to include a link back to the party in your post, so your readers will be able to find and visit the other bloggers who are participating.
Do not link up to the party if you're doing so to promote or sell a product.
To those who are linking up: If you notice a shop or store linking up to sell products (yes, unfortunately that does happen) please let me know so I can remove their link from the party. No one wants to click a link expecting a Before and After, only to find a spam link to an online business/store.
*If a post is sponsored or a product was provided at no charge, it will be stated in post. Some links may be affiliate links and as an Amazon Associate, I may earn from qualifying purchases. *