Welcome to the 228th Metamorphosis Monday!
Thank you so much for the loving comments you left on my weekend post and on Facebook. I've read each one and appreciate them more than you know.
Metamorphosis Monday:
Last September Cornelia shared pics of the restoration and renovation process they had started on their historic ski cabin located in the Swiss Alps in the Canton of Grison. The cabin dates back to 1852 and was badly in need of restoration/renovation to make it a more comfortable for overnight stays.
During winter, the only way to reach the cabin is via skis due to the heavy snows. The cabin is a "ski-in, ski-out" cabin and is located just 500m from a ski lift. In this "Before" pic taken last summer, the cabin looked like this.
Here's another "Before" pic taken during the winter. Lots and lots of snow!
The restorations and updates began in Spring 2012 and they continued all summer until the heavy snow arrived. When we last saw the house in September of last year, it had been raised and a new foundation had been added underneath. Cornelia said, "The original was made of stone and mainly wood, it did not have a proper foundation. There were only loose stones under a wooden floor which was rotten." You can read and see more about the addition of the new foundation in this previous post: Historic Swiss Ski Cabin Renovation and Restoration
Once the foundation was built, work began replacing the roof.
They worked quickly to get the new roof on before the winter snows arrived once more.
Views of the cabin during this past winter, winter 2012…
New siding and a new roof were installed just in time.
Now that spring has arrived, work has begun again. Look at that view!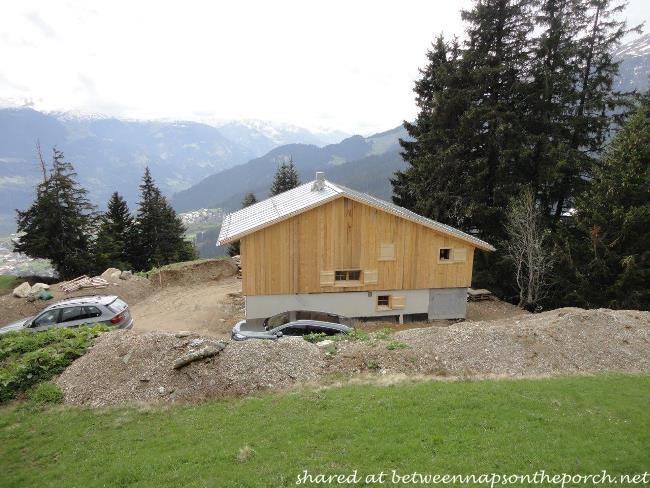 The workers have moved to the interior of the home. The goal is to finish the restoration/renovation before winter returns again.
Here's how this side of the cabin looked right after it was raised and given a new foundation.
And here's the same view after restoration.
This picture is showing the first floor where the living room, a kitchen, a bedroom and a bath will be.
This is the area where the kitchen will be.
You can really see the log walls in this photo below.
As work continues this summer, I'll post again with updates. I can't wait to see how the interior will look when completed! Thanks to Cornelia for taking us along on this amazing restoration and renovation.
To see more of the work that's been done restoring this cabin, check out this previous post: Historic Swiss Ski Cabin Renovation and Restoration
Metamorphosis Monday: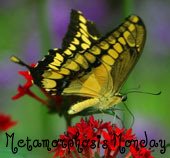 If you are participating in Metamorphosis Monday you will need to link up the "permalink" to your MM post and not your general blog address. To get your permalink, click on your post name, then just copy and paste the address that shows up in the address bar at the top of your blog, into the "url" box for InLinkz.
In order to link up, you'll need to include a link in your MM post back to the party so the other participants will have an opportunity to receive visits from your wonderful blog readers.
Please observe these few rules:
Only link up Before and After posts that are home, gardening, crafting, painting, sewing, cooking, DIY related.
Do not link up if you're doing so to promote a website or product.
Do not link up a post that was just linked last week since a lot of readers will have already seen that post.
Do not type in ALL CAPS. It spreads the links waaaay out.
Let's try something fun today! Please visit the person who linked before you and after you…that way everyone will get some visits.




Welcome! Thanks for coming to the party!
*If a post is sponsored or a product was provided at no charge, it will be stated in post. Some links may be affiliate links and as an Amazon Associate, I may earn from qualifying purchases. *