I love, love, love me some Lilly Pulitzer! Lilly Pulitzer is one of my favorite brands because of their fun, happy, Palm-Beach-style prints.
Last summer and the summer before, I purchased a bunch of their cute Etta shirts. I started out by purchasing two and after they arrived and I saw how light-weight and comfortable they were, I had to have more.
Over the past two summers, I've purchased seven (7) Etta shirts–six are shown below. That tells you how much I love this shirt! They are super flattering on and I love how they come down a bit longer in the back. I was seriously thinking of purchasing a couple of more Etta shirts this summer but that idea has been put on hold.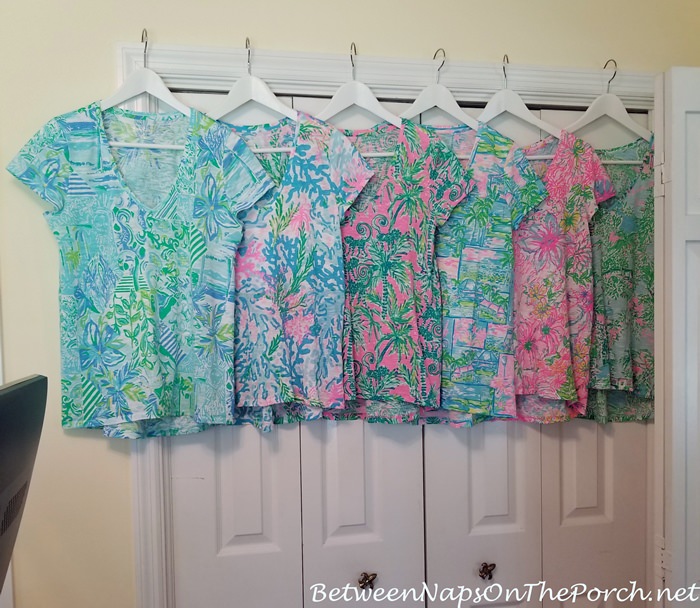 Today, I glanced down and saw that my shirt was turning into swiss cheese! What??? How the heck did this happen? I started racking my brain, trying to think of how or what I could have done to cause this damage? This jogged my memory and I faintly remembered another one of my Etta shirts developing a hole last summer. I was upset when I discovered it and had done my best to sew it up. Ummm, what's going on here? I decided to check my other six Etta shirts and guess what I found?
They are all filled with holes, every last one of them! 🙁 I've always taken such good care of these shirts, handwashing them with a delicate clothes wash in cold water, the same delicate wash that I use to wash all my shirts and dresses. I love the bright colors in the Etta shirts and wanted to make sure they stayed that way so I've always hung them up to dry. They are so light, they easily dry overnight.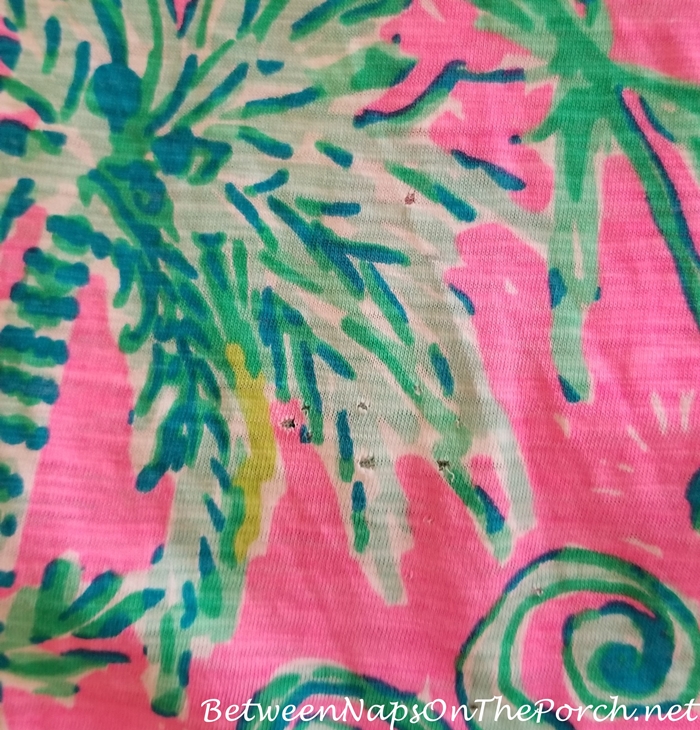 The holes all seem to be across the lower middle section of the shirts. I started investigating what could have caused this. I checked my desk where I sit and work and it's completely smooth across the front. I checked the seat belt in my car and it's completely smooth. Plus, it doesn't really hit my shirt where all the holes have appeared, it falls lower than that across my hips. I checked my kitchen sink where I stand to wash dishes and it's nice and smooth. The Talbots scalloped shorts that I usually wear with my Lilly Pulitzer Etta shirts do not have anything on them that could snag or cause a hole. Such a mystery!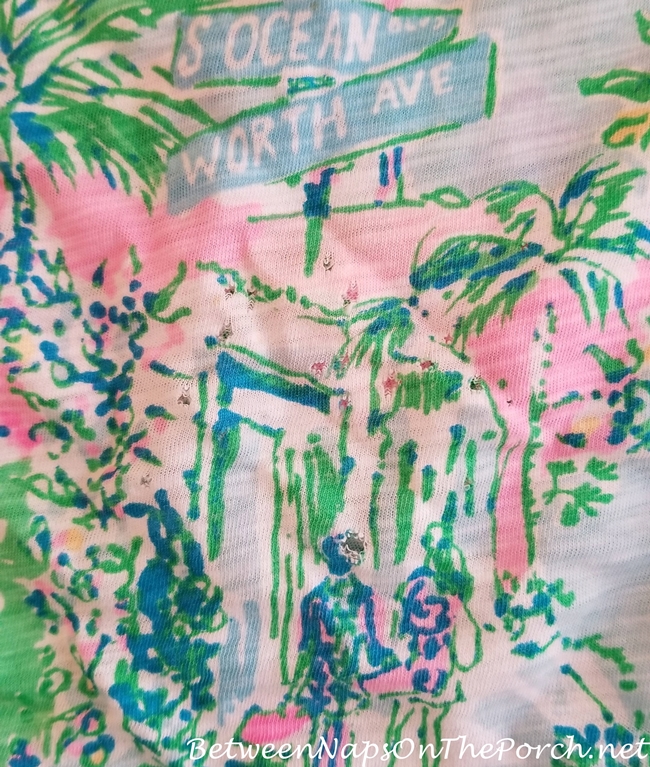 I started wondering if I was the only one having this issue, so I decided to check out the reviews at the LP website. (Read those here: Reviews for Etta Shirt.) I quickly discovered I'm not alone. Reading many of the 1, 2, and 3-star reviews shows a lot of other people are experiencing the exact same issue: holes, holes, and more holes.
One person wrote, "I bought this shirt to go with my Oceanview shorts and after one washing it has a hole!"
Another customer wrote, "I purchased in several colors. The fit and colors are beautiful but the fabric must be defective. After the second wash with cold water delicate cycle, the top has two holes right in front."
Another customer shared, "I just bought this last week. Love the color and fit. But…I've worn it once to work and there were two holes in it by lunchtime."
Another customer wrote, "I love this T-shirt. I have more than one but they ALWAYS end up with holes. Such a disappointment. I'm the fool for still buying them. Like a boyfriend who cheats & I keep taking 'em back thinking it will be different next time"
Another review said, "I love the prints and the styles but….. After only a few months my new shirts have a few small holes in them. I followed all directions and I see from others it is happening alot. I will no longer be buying these tops because of it."
One more review said, "I have many of these. I bought them all at once. I love them but they end up with holes in them. I see another review saying the same thing. 🙁 It is really too bad. For $40 and I take such good care of them to end up with small holes. A true bummer."
There are so many reviews mentioning this "hole" issue–too many to share them all here.
I was slow to notice the holes because the shirt designs and patterns are so colorful and busy. I'm sure most of these holes happened the first summer I wore them because I have just started wearing them again for this summer. I guess it took several holes appearing before I noticed them.
I emailed Lilly Pulitzer today to let them know what has happened to my shirts after just a few wearings/washings. I included photos with my email. From the reviews, it appears this issue has been going on for a while so I'm hoping the Etta shirts they have available this year are not having this issue. I hope they will let me exchange these defective shirts for new ones–that is if the issue has been corrected.
This makes me so sad because I truly LOVE this shirt! It's the coolest, most comfortable shirt I have ever found for our hot Georgia summers. I guess that's part of the problem, it's a little too light if it can develop holes after wearing or washing it just once as several reviews stated on their website. I'll let you know what I hear back from Lilly–hopefully, they will have a solution. It's obvious this has been a super popular shirt for them so I'm hoping they've come out with new designs this year that don't have this problem. Keeping my fingers crossed!
Update: I contacted Lilly Pulitzer twice about the "hole" issue and they never responded. I even sent an email to a sales associate in the Atlanta location (at her request) and she forwarded my email to either their regional or corporate manager. I still never heard back from them.
Do you have any Lilly Pulitzer Etta shirts? If so, have you had any issues with the quality?
*If a post is sponsored or a product was provided at no charge, it will be stated in post. Some links may be affiliate links and as an Amazon Associate, I may earn from qualifying purchases. *