Welcome to the 406th Metamorphosis Monday!
I have several small Before and Afters updates I've been wanting to share, so I'm grouping them all together in one post.
Before we get to those, a couple of folks emailed and messaged me recently to let me know the Better Homes and Garden dishware that many of us have been collecting over the years, is back in stock again. (Thanks for that!) They have added a new salad plate this year that I'm dying to collect. Any idea which one it is in this set below? 🙂
Yup! It's the woody car with the tree! Oh my gosh, I NEED that plate! lol I've collected all the others in past years but the woody car is new for this year. I've been to two Wal-mart stores so far and both had the other three salad plates in stock (the ones I already have) but neither store had the woody car plate.
Of course, one way to get that plate is to buy the 12-piece set below, but I already have plenty of the dinner plates and salad plates in the other patterns, so I'm waiting to see if they get some of the woody plates in. They may just be slow getting those in since they are a new addition to the pattern for this year. This Christmas dinnerware has apparently been a big hit since they continue to bring it back, adding new salad plate designs each Christmas.
If you haven't collected this pattern and would like to, you'll find this 12-piece set available for $39.92 here: Better Home and Gardens Christmas Dinnerware
Update: Thanks so much to Thea who spotted these online here: Woody Salad Plate. I just ordered a set of six because I know these are going to go fast this year, just as they have in year's past. If they show "Out of Stock" check back in a day or so because sometimes they don't keep their website updated even when stock is available.
If you would like to see it in a table setting, here are three previous tables where I used this delightful and very affordable dishware. (Click titles to view those tables in detail.)
Christmas Table Setting Inspired by Nature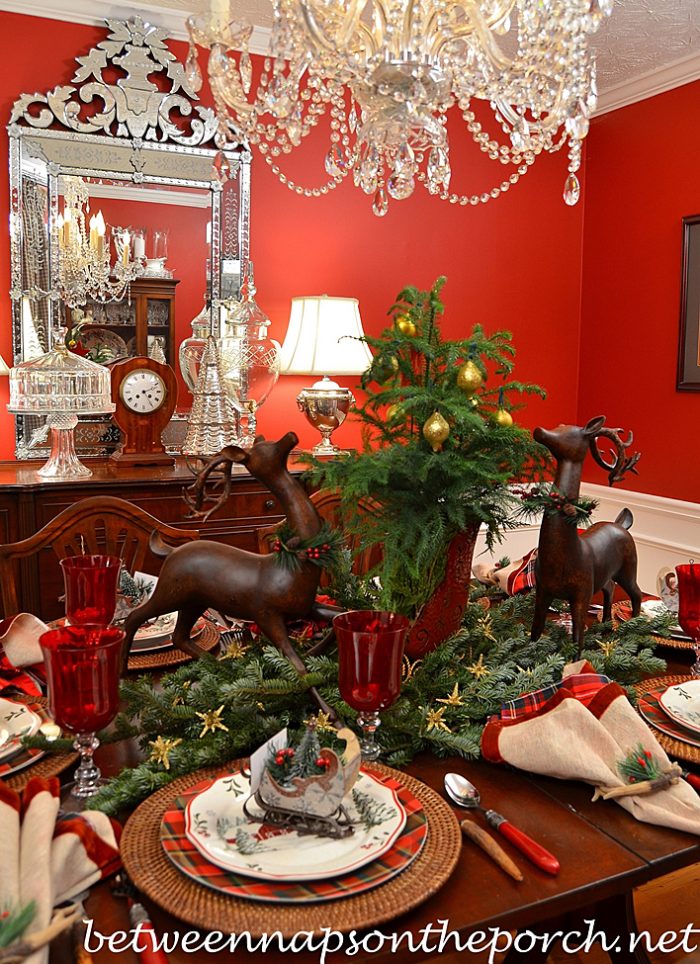 Sparkle with a Touch of Whimsy
Office Chair Update
Okay, now for a few updates that I've been wanting to share for a while now. Remember this chair that I fell in love with a couple of months ago? I loved its design/style and the price was really good. I brought it home, super excited to have found such a beautiful chair for my home office. Unfortunately, I ended up returning it after just a week. 🙁 Broke my heart to return it but it had several major issues that I just couldn't ignore.
The first issue I ran into, but was willing to work with, was the deep apron on the front of the chair. It felt kinda awkward sitting in it, not like a standard office chair that you can kind of curve your legs/feet up under. Hard to explain, but it was just a little awkward, very bulky. I figured I just needed some time to get used to that.
The second issue I noticed was that the seat is sorta dome-shaped. There's no "indention" or sculptured area for your tush like so many chairs have. Sitting in the chair was a bit like sitting upon a giant block of thick foam. Once again, I figured that would get better and it would begin to feel less dome-like after a while.
Unfortunately, after sitting on it just a few times, it began to make the strangest popping sound whenever I stood up, as if there were a giant piece of cardboard under the seat that flexed downward when I sat down, and then popped back up (loudly) when I stood up. I have no idea what was making that sound, but it made the chair sound very cheap, which of course, it was.
Despite all that, I still didn't want to return it because I LOVED how it looked here in the office so much. I rationalized that if I only got a year's use out of it, that would be okay since it wasn't very expensive. But in the end, it had one truly fatal flaw that I couldn't get past no matter how hard I tried.
It reeked!
The chair had a super, strong "chemical" smell, and totally not in a good way. The smell was so bad, after just 10-15 minutes of sitting on it, I had to switch back to my previous desk chair.
I thought the smell would get better with a bit of time, so I pushed the chair over to the other side of the room to give it some time to air out. The smell was so strong, I couldn't even keep it in the same room with me while I worked. I pushed it down the hall into the bonus room where I let it sit for a full week. At the end of the week it still smelled just as strong, so I sadly returned it.
Wish I could find a chair in this color and in a similar design that would work. I'd be willing to pay more, but it has to be functional and not smell like it's going to give me lung cancer within the week. No exaggeration–it was that bad!
After returning it, I saw it again in the store a week or so later and yup, it still reeked. A couple of weeks later it was gone, so apparently someone bought it.
So, I'm back in this chair again. The first one of these that I ordered was super comfortable, but when it wore out after a couple of years and I reordered it, this one has not been as comfortable. It seems to lean a bit too far forward. One day I'm going to find a good chair for this office. One day!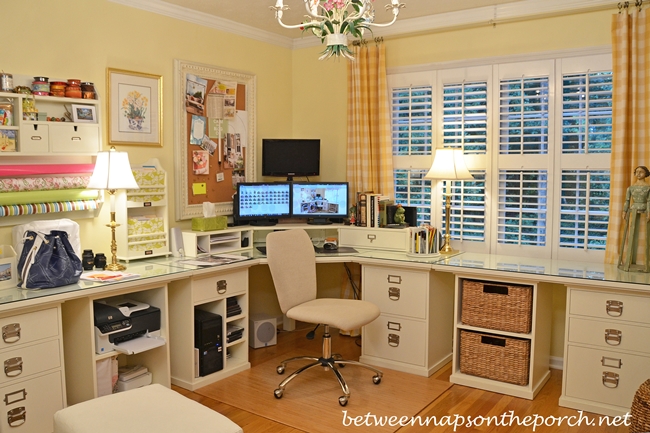 Acorn Escapades
Wanted to give you a little update on my latest acorn escapades. lol The side yard has gone from looking like this…
…to looking like this. The shop-vac method has worked beautifully and I will definitely continue using this method each year when the acorn avalanche hits.
I filled up the shop-vac up six times during two sessions of vacuuming and twice more on another day. So all in all, I vacuumed up 8 shop-vac containers full of acorns from my side yard.
So far I've dumped three bags of acorns into piles in the back yard. Hope I don't live to regret that. Even though there were still a lot of acorns left in the islands near the oak tree, I thought the squirrels and chipmunks might need a few more to stock away for the winter.
If you missed my previous post on how I've been removing acorns from my lawn, you'll find it here: Erma Bombeck Would Have Loved This!
Bird House Update
Remember the copper-roofed bird house I added to the front garden when I landscaped this past summer? I absolutely love how it looks here and have gotten so many compliments from friends and neighbors. It's such a beautiful accent piece for the garden. I'm trying to decide what I'll plant around it. I need to get on that!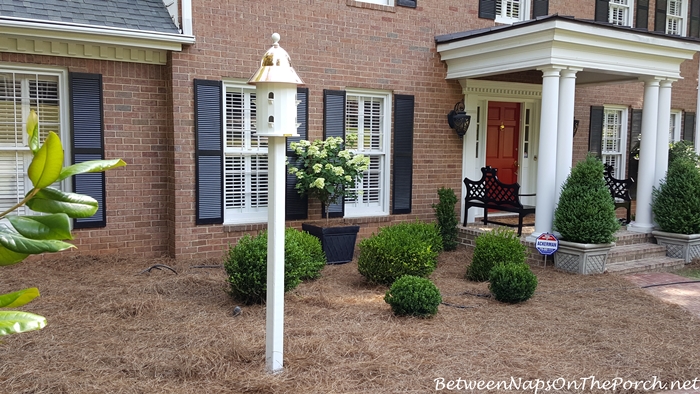 I couldn't get a very good picture, but this cavity is filled with a nice, cushy nest. I'm not sure who I have homesteading here, but I managed a brief glance recently as I walked by on my way to the mailbox. A bird flew out and into the nearby magnolia tree. I'm excited to know this house will provide a bit of shelter this winter for some of my feathered friends. (Birdhouse is available here: Birdhouse)
By the way, if you live in Georgia or any of the areas that are suffering from lack of rain, please consider adding a bird bath to your deck or garden. The birds really need help with getting water right now. My bird bath is more popular with the birds now than my feeders!
I have the heated version which is wonderful for wintertime when so many water sources are frozen over. You'll find the heated version here: Heated Bird Bath and several unheated versions here: Bird Baths
The squirrels really appreciate it, too! Sure hope we get some rain soon, we desperately need it.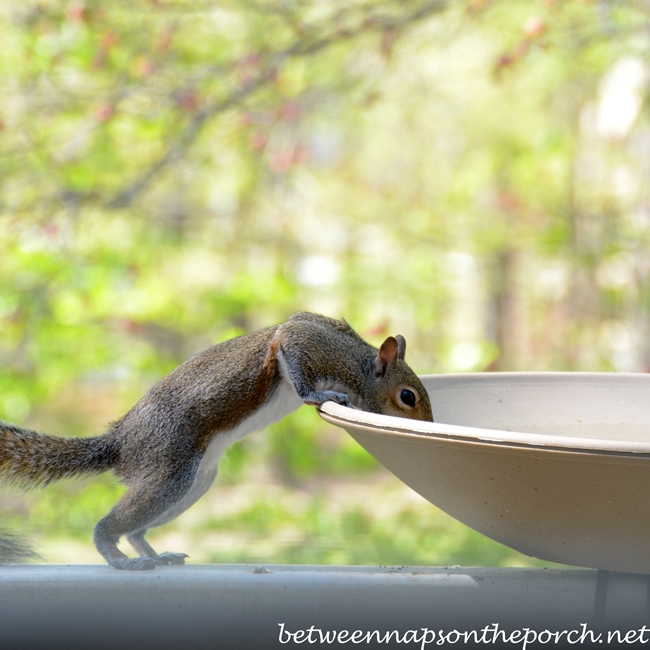 Metamorphosis Monday
Metamorphosis Monday is a party that's all about Before and Afters. If you are participating in Met Monday, please link up using the "permalink" to your MM post and not your general blog address.
To get your permalink, click on your post name, then just copy and paste the address that shows up in the address bar at the top of your blog, into the "url" box for InLinkz.
In order to link up, you'll need to include a link in your MM post back to the party so the other participants will have an opportunity to receive visits from your wonderful blog readers.
Please observe these few rules:
Only link up Before and After posts that are home, gardening, crafting, painting, sewing, cooking or DIY related.
Do not link up to the party if you're doing so to promote a website or sell a product.
Do not link up a post that was just linked up last week since readers would have already seen that post.
*If a post is sponsored or a product was provided at no charge, it will be stated in post. Some links may be affiliate links and as an Amazon Associate, I may earn from qualifying purchases. *