If there's one thing I've learned during this process of having my DNA analyzed with AncestryDNA, it's the more you learn, the more you realize how complicated and involved this whole tracing your DNA heritage can be. The more you learn, the more questions you have. This stuff is intense, but every day the process is getting better and better.
So here's how this process went for me:
I ordered the kit back on April 9th and it arrived the very next day. (I ordered my kit from here: AncestryDNA Kit) (See that previous post here: Where Do I Come From Anyway)
I activated the kit online following the easy directions inside the kit. After I activated it, which is basically just registering the kit with AncestryDNA so that they know you've gotten it, I received this email below.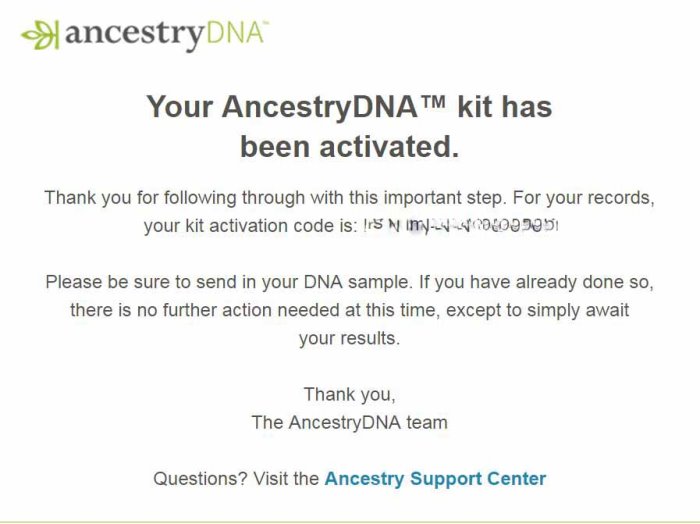 I completed the test the following day (it was super easy…just involved spitting into a little vial a few times) and mailed it in. On May 4th, I received this email:
Yesterday, May 19th, two weeks and a day after that previous email, I received this email below notifying me my results were available. So the whole process from start to finish was under 6 weeks. Pretty fast!
As I stared at that email, my heart skipped a little beat. For some reason I felt a bit nervous about seeing the results, have no idea why!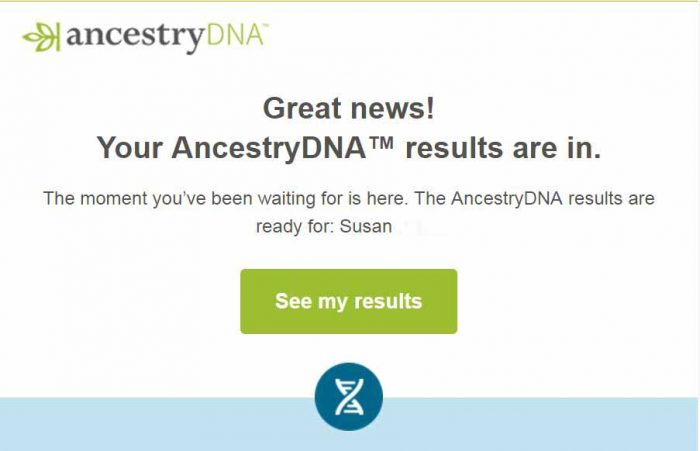 Here's how my DNA test came out.
Ireland: (Ireland & United Kingdom): 27%
Scandinavia (Norway, Sweden, Denmark): 20%
Great Britain (United Kingdom): 18%
Europe West (The Netherlands, Belgium, Germany, France, Austria, Switzerland): 11%
Iberian Peninsula (Spain, Portugal): 7%
So, apparently my DNA indicates 98% Europe and 2% West Asia. When I clicked on "Show all regions," the results showed 0% ethnicity for Africa, Native American, Asia and Pacific Islander.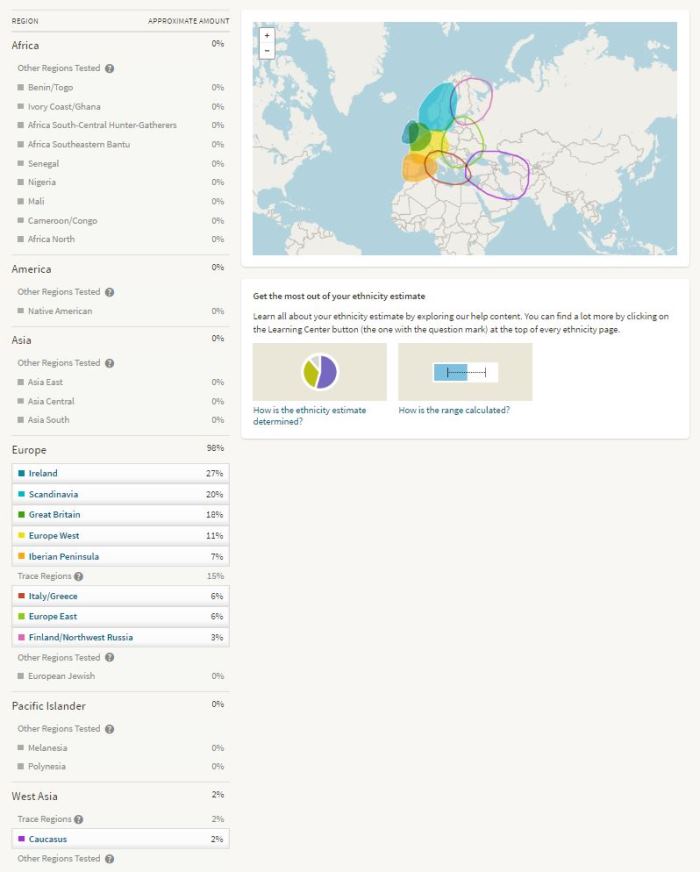 The results indicated traces of Italy/Greece, Europe East, Finland and Northwest Russia and the Caucasus area, but per AncestryDNA, those results are unreliable and may not have any bearing. Here's what they say about the "trace regions."
My baby book indicates my heritage as English, Irish, Scottish and Dutch. Since my maiden name is Scottish, I was thinking Scotland would show up heavily, so that part had me a bit confused. Remember how I said this stuff is kinda complicated?
From reading in the AncestryDNA forums and on their FAQ page, I learned that Ancestry lumps a lot of regions/countries into one area on the report you receive, so "Scandinavian" can include a lot of other areas than you would initially think.
A poster named Liz, who ranks very highly on the Ancestry DNA forum and is apparently very knowledgeable about interpreting DNA results, said that there's a large overlap between Scandinavian, Great Britain and Ireland in DNA, so they can be classified either way.
For example, here's how Liz answered a question from another poster:
I would not necessarily assume you have ANY actual Scandinavian ancestors (at least not in the time frame where you're likely to get to using paper genealogy). I wasn't specific about this in my post, but although I came up as 19% Scandinavian, I have NO Scandinavian ancestors even though I've traced my family back pretty far on all sides. Everyone traces either to England, Scotland, or Ireland (or Germany, Austria, Switzerland for the other bits of my ethnicities which I didn't comment on above). But definitely no Swedes, Norwegians, etc.

Given historical events & migration patterns (Vikings, etc) there is a Scandinavian component present in the DNA of many people with origins in Great Britain & Ireland. So while it's of course possible that you have somewhat recent ancestors from a Scandinavian country, it's also quite possible that it's Irish/Scottish/English that just got classified as Scandinavian, and the Scandinavian comes from those early Vikings rather than anyone you're likely to be able to document in more recent times.
See what I mean, it's complicated. She recommended to another poster that they download their raw data file from AncestryDNA and upload it to a site called GEDmatch.com because it gives a much more detailed breakdown.
I did that late last night and it's still processing everything. The raw data file that you download from AncestryDNA is HUGE. It's in a zip file so it downloads quickly. You're not supposed to unzip it, instead you upload it to GEDmatch in its compressed state.
I'm not sure how long it will take GEDmatch to process the file, but it's been working on it all night long. So, it takes a while. Apparently, it breaks the raw file down into a lot more detail though, so it should be interesting to see the results.
I've really enjoyed this process. I jokingly told my son last night that I need to plan a trip to Ireland so I can meet "my people." He got a good laugh out of that. You know me, always looking for an excuse to travel. This is as good an excuse as any!
An article I found interesting: Recent University of Oxford Study Sheds Light on Estimating Great Britain Ethnicity
DNA Matches
In addition to the breakdown of my DNA, AncestryDNA also found 1,211 ancestor matches. When I clicked on the words "View All DNA Matches," it showed an "Extremely High" chance that I'm 1st cousins with 1 person in their database, and "Extremely High" match that I'm 2nd cousins with another person. There was an "Extremely High" match that I'm 3rd cousins with 4 people.
The other 1,205 folks are all 4th-6th cousins. You indicate if it's okay to be contacted through AncestryDNA (not directly) so potentially you could reach out to these long-lost (or not) relatives if you wished.
This is all way over my head, having never studied genealogy at all, but I do find it all really interesting. I'm not sure I'll pursue it much further than looking at what the GEDmatch site produces, but it was well worth the $99 I spent to have this done. It will also prove helpful for my son if he ever wants to trace his DNA back. I wish this had been around when my parents were alive, would love to have had them tested because the more family members who test, the more information you learn.
If you are interested in tracing your heritage/ethnicity back, you'll find the kit available here: AncestryDNA.
If you decide to order the kit and have your DNA tested, let me know what you discover or if you find any surprises. The time really flew by for me and the results were back before I knew it. Definitely a fun experience and one I'm glad I did!
*If a post is sponsored or a product was provided at no charge, it will be stated in post. Some links may be affiliate links and as an Amazon Associate, I may earn from qualifying purchases. *